Meatloaf Recipe with Best Glaze
Meatloaf Recipe with Best Glaze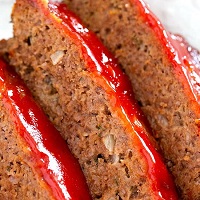 Meatloaf is one of the most traditional and iconic American dishes. Everyone has a meatloaf recipe, but we honestly believe this is the best one out there.
It combines all of the best ingredients into one meatloaf that is topped with a delectable glaze.
This dish follows tradition, but we made sure it was the best we could come up with.
On the interior, the best meatloaf is tender and moist, with a sweet and tangy glaze that adds a lot of flavors.
Serve this simple meatloaf with mashed potatoes and asparagus on the side.
Recipe for Amazing Homemade Meatloaf: Meatloaf Recipe Easy
Meatloaf is made with ground beef, onion, Panko breadcrumbs, fresh parsley, and seasonings are delightfully soft and moist.
This basic meatloaf is enhanced by a sweet and tangy glaze.
Meatloaf Recipe: Guidelines for Making the Best Meatloaf
DO NOT OVERMIX, since this will result in a meatloaf that is tough and dense.
For easier removal of the meatloaf, line your loaf pan with parchment paper, leaving the edges hanging over the pan.
Before serving, keep the pan juices and pour them over the cut meatloaf.
Finely chop the onion and sauté it until it is soft (or sautee onion before adding)
Gently push the meat into the pan to keep it from falling apart.
Allow 10 minutes for the meatloaf to rest before slicing.
What Meat Should You Use for Meatloaf? Best Meat – Meatloaf Recipe
You'll want to utilize ground beef that's at least 85% to 90% lean.
If you choose lean meat, don't worry; the rest of the ingredients will keep your meatloaf moist and juicy.
Meats that are extremely lean should be avoided.
Meatloaf Sauce
With the ideal blend of sweet and acidic tastes, this meatloaf sauce is fantastic as a glaze for meatloaf.
A sauce made with ketchup, brown sugar, garlic and onion powder, salt, pepper, and vinegar is tempting.
The glaze caramelizes as it bakes, and it's delicious!
Meatloaf Recipe with the Best Glaze
Meatloaf Ingredients
2 pounds lean ground beef
½ white onion diced
1 cup dried bread crumbs
½ cup milk
1 large egg
2 tablespoons Worcestershire sauce
1 teaspoon salt
A teaspoon basil
1 teaspoon oregano
½ teaspoon  pepper
½ teaspoon crushed red pepper flakes
For the glaze:
½ cup ketchup
2 tablespoons brown sugar
1 tablespoon Worcestershire sauce
Instructions
Firstly, preheat the oven to 350 degrees and lightly grease a 9×13 pan.
Then, knead together the ground beef, onion, bread crumbs, milk, egg, Worcestershire sauce, salt, basil, oregano, pepper, and red pepper flakes in a large mixing bowl
Thirdly, shape the meat into a loaf and put it into the prepared pan. Then, bake in the 350-degree oven for 45 minutes.
After that, mix up the glaze in a small bowl by whisking together the ketchup, brown sugar, and Worcestershire sauce.  Brush it over the hot meatloaf.
Finally, increase the oven temperature to 400 degrees and bake for an additional 15 minutes, or until the meatloaf reaches an internal temperature of 160 degrees F.
Nutritional Facts
Calories: 324kcal | Carbohydrates: 22g | Protein: 36g | Fat: 9g | Saturated Fat: 4g | Cholesterol: 96mg | Sodium: 896mg | Potassium: 730mg | Fiber: 1g | Sugar: 8g | Vitamin A: 185IU | Vitamin C: 3mg | Calcium: 84mg | Iron: 5mg
Safe Handling Tips
Before cooking, wash your hands with soap and water, and always after touching raw meat.
Keep raw meat separate from other foods.
After handling raw meat, wash all cutting boards, utensils, and dishes.
Do not re-use marinades that have been used on raw meats.
Before using any product, make sure it's clean.
Cook beef until it reaches a temperature of 145°F for medium-rare steaks and 160°F for ground beef roasts.
Refrigerate food as soon as possible.
Can I bake Meatloaf on a baking sheet? Meatloaf Recipe
Bake meatloaf on a baking sheet for crispier edges.
Make a self-made pan with edges out of foil to catch the drippings from the meatloaf while it bakes.
Form the meatloaf into a loaf and wrap it with foil. Carry on following the baking directions.
NOTE: Baking times may vary significantly based on the shape and size of the loaf.
How long does it take to cook meatloaf? Meatloaf Recipe
Cook the meatloaf at 375°F for 40 minutes, and uncovered.
Bake for another 15-20 minutes, or until the internal temperature reaches 160°F.
Cooking time should be increased if using a smaller loaf pan than 9′′x5′′.
What ingredient prevents meatloaf from falling apart?
eggs: Like the breadcrumbs and milk, eggs act as a binder to hold the meatloaf together. We discovered that two eggs did the trick.
Meatloaf leftovers? Meatloaf Recipe
If you have any leftover meatloaf, here are some leftover meatloaf ideas (and I'd love to hear your suggestions in the comments section):
Meatloaf Sandwiches with Leftovers
Make Bolognese Spaghetti (simply add meat to the sauce!)
Beef Tacos – shred the beef and serve it in tacos.
Easy Beef Chili – just stir, cook, and eat!
Is it possible to freeze meatloaf?
Yes, you can freeze meatloaf before cooking it. Prepare meatloaf according to package directions to freeze.
Freeze securely wrapped in plastic wrap and foil.
Refrigerate the raw meatloaf covered to defrost.
Carry on following the baking directions.
Why does my meatloaf crumble?
There are a variety of reasons why your meatloaf crumbles.
The most typical reason is that there aren't enough binding agents in your meatloaf.
Add items like eggs and bread crumbs to help your meatloaf stay together because they are crucial elements that help meat stick together.
Another reason your meatloaf is crumbling is that it has been overdone.
Is it necessary to add milk to meatloaf?
Although milk is the traditional liquid for meatloaf, there are some excellent alternatives.
Milk is used in meatloaf because it soaks the bread crumbs, which gives the meatloaf the moisture it needs.
If you don't want to use milk, consider low sodium beef stock, chicken stock, water, or a non-dairy milk substitute instead.
Is it alright if my meatloaf is somewhat pink?
The color of your meatloaf does not indicate whether it is done or safe to consume.
Take your meatloaf's internal temperature to see if it's thoroughly cooked and safe to eat.
Ground beef must reach an interior minimum temperature of 160 degrees Fahrenheit to be safe and fully cooked.
You can eat your meatloaf when it is just a touch pink but 160 degrees Fahrenheit.
Instructions for storage and reheating
Refrigerate any leftovers in an airtight jar for up to four days.
Microwave single-serving amounts for 30 seconds at a time until warmed through.