Beans and Potato Porridge (Pottage) Recipe
Beans and Potato Porridge is very rich in nutrients and tasty, especially when combined with some vegetables.
However, Beans is one meal most people do not like mostly because of the "gas problem" and other related reactions.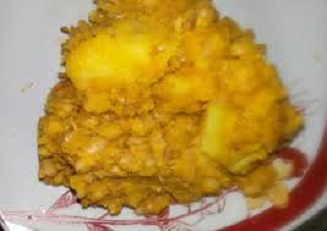 But that doesn't alter the fact that it has many health benefits. It is a good source of protein and fibre, and it aids bowel movement and digestion among others.
Potatoes, on the other hand, are edible tubers, available globally, and all year long. The health benefits include:
See More >>> Potato Porridge (Pottage): A Nigerian Meal
The potato's fiber, vitamin C, potassium, and vitamin B6 content, coupled with its lack of cholesterol, all support heart health.
Potatoes contain huge amounts of fiber. Fiber helps lower the total amount of cholesterol in the blood, thus lessening the risk of heart disease
Potatoes are rich in carotenoids like beta carotene and other carotenoids, which assist to strengthen our eyesight and enhance our immunity to disease.
Potatoes also contain Iron which helps blood cell production.
Beans and Potato Porridge Recipe
There are different methods of cooking sweet potato on beans porridge.
Whichever method that suits you, ensure you boil the beans with onion and salt alone until the beans is soft before adding the ingredients.
3 cups white or brown beans
Sweet potatoes – desired quantity
1 large onion
½ cup of palm oil
2 tbsps. Ground crayfish.
Ground fresh pepper
2 seasoning cube
Salt to taste
A handful of ugu or uziza leaves
Method
Firstly, wash your beans properly in cold water, and then boil for 5 minutes and strain (optional). Though optional, it has become necessary because the insecticide used in preserving these beans in most cases is not good for human consumption.
Also, the pre-cooking process will help reduce gas inducing elements.
Secondly, peel and chop your onions. Then add together with a little salt to the boiling beans.
Similarly, peel and dice your potatoes into 1-inch cubes. Then, set aside.
Thirdly, when the beans become soft, add crayfish, salt, pepper, seasoning cubes, and palm oil.
After that, allow the ingredients to cook properly with the beans for about 5 minutes. At this stage, some people especially those with kids like to mash the beans with a potato masher or the back of the cooking spoon till it thickens.
Then, add diced potatoes. When potatoes are soft, turn beans from the bottom and taste.
Sometimes, we vary it by just adding a handful of ugu or uziza leaves and that's great too.
Finally, your beans porridge is ready. Best served hot/warm.