Eggless Pancake Recipe | Pancake without Eggs | Egg-Free Pancakes
Eggless Pancake Recipe occurs when I find myself without key pancake ingredients like eggs and butter.
Instead of running to the store or settling for a bowl of cereal, I make this simple eggless pancake recipe.
Read More: Pancake Breakfast Recipe
Besides, if there's an egg allergy or sensitivity in the family do not stress out too much – leaving eggs out of a typical baking mix won't ruin the final product.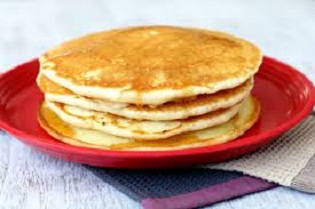 Much to my delight, I noticed that those ingredients weren't required to make a delicious pancake from scratch; the resulting pancakes were fluffy, light, and low on ingredients, vegan, and taste equally good.
Irrespective of why you want to make pancakes without eggs, this eggless pancake recipe makes a stack of fluffy, delicious pancakes that am sure your family will love.
Can You Make Pancakes Without Eggs?
Absolutely! But firstly, let's look at why most recipes use eggs.
What Do Eggs Do In Pancakes?
Generally speaking, Eggs serve multiple purposes in baked goods, from binding the ingredients to helping it rise.
And of course, it provides richness thanks to fat from the yolk
All these are important for making flavorful pancakes that hold together when flipped and are light and airy rather than overly dense.
What Can You Use Instead Of Egg In Pancakes?
Since this recipe is egg-free, let's talk about how to make equally fluffy and delicious pancakes without eggs.
To replace the eggs, I use three simple ingredients- none of which are commercial egg replacements:
Kefir or buttermilk
Butter
Baking powder
Why kefir or buttermilk? These fermented beverages offer fat to aid in binding all the ingredients together. Plus, they provide acidity and acts as a leavening.
Then, butter for that rich, buttery flavor.
Eggless Pancake Recipe
To make pancakes without eggs, all you need are a few simple ingredients, a stove or griddle, and a spatula for flipping.
Ingredients List
All-purpose flour
Baking powder
Granulated sugar
Sea salt
Kefir or buttermilk
Vanilla extract
Butter
Whole milk
Method
Firstly, whisk together the dry ingredients. Stir in the wet ingredients to the dry ingredients. Do not over-mix. Lumps are perfectly fine. Set aside for a couple of minutes.
Secondly, heat a griddle at medium-high heat. Once the pan is hot add the butter and let it melt.
Then, add the melted butter to the pancake batter and return the pan to the stove. Mix the butter into the batter.
After that, pour a ladleful of batter on the pan for each pancake when the pan is hot enough and then cook until bubbles appear on the face of the pancake.
Lastly, carefully flip the pancake and cook until its golden brown.
Eggless Pancake Recipe Cooking Tips
Make a well in the dry ingredients. This helps to combine the wet and dry ingredients and not over-work the batter.
Then, keep the batter thick but still scoopable. You can add a little whole milk at a time to reach the right consistency.
Don't over mix as over mixing can result in dense pancakes; a few lumps in the batter are a good thing
Flip at the right time. For perfectly cooked pancakes, be patient with flipping.
Do not press down on the pancakes while cooking. Pressing down on pancakes with a spatula can press out the air bubbles inside, ensuing in denser pancakes.