Dan Wake | Hausa Food Recipes | Bean Flour Dumplings
 Dan wake, which literally translates to "son of beans," is a northern Nigerian recipe that can also be referred to as "Beans Dumplings" in the English language.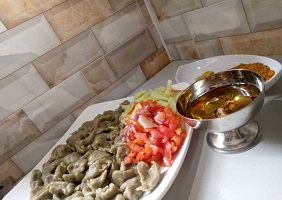 What is the meaning of Dan wake and Origin?
Danwake is a dish prepared with cooked bean flour and kuka powder dough balls (ground baobab leaves).
Checkout >>> Best Chicken & Dumplings Recipe Ever: How to Make
Danwake, which originated in Niger, has become a staple in Nigeria's northern region.
Health Benefit | Nutrition
This meal is high in protein, vitamin C, and other nutrients including alpha and beta carotene, potassium, calcium, glutamic acid, and mucilage, to name a few.
Taste
DanWake is very insipid on its own, like fufu dinners, and it needs a sauce or side dish to make it taste good, just like our fufu meals need Nigerian soups to make them taste good.
DanWake is traditionally served with ground cayenne pepper (yaji), but you can also use Suya Pepper, hardboiled eggs, sautéed vegetables like onions, cabbage, and tomatoes, and some people even crush stock cubes and put them on top. Whatever you want to do, the DanWake is up for it.
Recipe
If you can find already mixed flour, it can be produced in less than 20 minutes.
To begin, you'll need the dan wake flour.
Alternatively, you can use a mixture of powdered beans flour or ground beans powder (2 cups), bao bao ( kuka) (3 tablespoons), and potash (1 teaspoon).
Ground dry pepper, groundnut oil, tomatoes, egg, cucumber, carrots, and cabbages make up the rest (the vegetables are optional).
Remember to dilute the solid potash with a half cup of water instead of using it straight.
It is just preferable to have the 'ready-made' dan wake flour rather than mixing it yourself. Whatever the case may be, you're fine.
Opinion: Stop Buying Dan Wake Flour, See How to Make It Your Self
How To Make Danwake Flour from Scratch
You'll need guinea corn, dried cassava, and white beans to produce your own Danwake Flour.
Not much, right? It's also quick and simple to prepare. Here's what I came up with:
Preparation
To eliminate any dirt or stones, wash the Guinea corn and put it out to dry.
If required, pound the dried cassava and turn it in a basin.
Pick the soil from the beans and place it in the bowl (we don't want to use much of the beans because we don't want the Danwake to smell).
Mix in the dry Guinea corn then ground it.
After grinding, spread in the center and set aside to cool.
You can sieve it all together and store it in a tight container, or you can sieve it every time you want to make danwake.
Dan wake Recipe | Hausa Foods
Dan wake fufu is a widespread food in Hausa land, the recipe is an easy one and can be made in just 20 minutes.
Ingredients
Grounded beans powder (2 cups)
Bao bao (kuka) (3 teaspoons)
Potash (1 teaspoon).
For Serving:
Ground cayenne pepper (yaji)
Suya (suya pepper or spice)
Sliced Vegetables (onions, cabbage, tomatoes, cucumber)
Vegetable/beef sauce.
Stock Cubes
Hard-boiled eggs
How To Make Dan Wake Fufu?
Here's how to make the "Dan wake."
Firstly, you get Dan wake flour, which is readily available.
Secondly, to form a thick paste, combine the flour with a little water.
Thirdly, when you're finished with the paste, boil some water in a pot and move on to the next step.
After that, continue to roll the paste into little balls and throw them into the boiling water when the water begins to boil.
Then, allow for a 10-minute boil time (the balls will rise to the top when they are done).
Finally, the water is then strained and rinsed with cold water once more. Then, remove the strainer and place it on a platter.