Best Chicken & Dumplings Recipe Ever: How to Make
Chicken & Dumplings is a super simple old-fashioned recipe. Flat and yummy strips of dough simmered in a yummy broth and tender chicken.
There is no other recipe that screams comfort food from the scratch quite like easy chicken and dumplings. This meal will warm up and comfort any soul on a cold day!
There's nothing like classic homemade chicken and dumplings for a filling, comforting meal.
Best Chicken & Dumplings: What Is Chicken Dumpling?
Chicken and dumplings is a meal that comprises of a chicken cooked in water, with the ensuing chicken broth being used to cook the dumplings by boiling.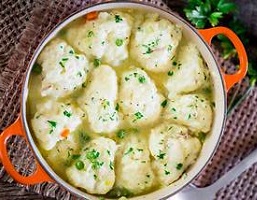 A dumpling-as used in this context-is a biscuit dough, which is a combination of flour, shortening, and liquid (milk, water, buttermilk, or chicken stock).
Best Homemade Chicken & Dumplings Recipe in the World
This chicken and dumplings soup is super easy to make using a crockpot, but you can make it even easier!
Please Read >>> Momos | Chicken Momos Recipe | A Step by Step Guide
This recipe calls for cooked chicken; instead of cooking the chicken yourself and taking the time to shred it;
You can pick up some shredded rotisserie chicken from the grocery store so all the prep work is already done for you.
Ingredients
3 cups chicken (about 2-3 chicken breasts)
2 quarts chicken broth
Two cups all-purpose flour
½ tsp. baking powder
2 tbsps. cold salted butter, cubed
1 cup milk
2 tbsps. olive oil
salt and pepper, to taste
Instructions
Firstly, preheat the oven to 350F degrees. Then, spray a baking sheet with nonstick cooking spray.
Secondly, place chicken breast on the baking sheet and Drizzle a little olive oil on the chicken, and season with salt and pepper.
Thirdly, bake the chicken for about 45 minutes. Once the chicken is cooked, shred it with two forks.
Fourthly, pour 2 quarts of chicken stock or broth into a large pot and start warming it up on the stovetop while you make the dumplings.
Now, in a medium bowl, combine flour and baking powder. Then add in cubed butter.
After that, combine using your fingers, fork, or pastry cutter and then, pour in the milk. Mix it all.
Then, dust your counter with a generous amount of flour. Place dumpling dough on the counter and dust it with more flour.
Now, with a rolling pin, roll the dough out to about ¼" thickness. Be sure to add flour as necessary to keep it from sticking underneath or to your rolling pin.
Making use of a knife or a pizza cutter, start cutting out your dumplings into squares.
Dust the dumplings with a bit more flour. The extra flour will help keep them from sticking but will thicken your chicken broth some as well when you add them to the pot.
After that, bring chicken broth up to a boil. Add in shredded chicken and stir.
Start adding dumplings one at a time to avoid sticking together. Stir frequently while adding them.
Let the dumplings cook for about 15-20 minutes. After that, take one out and taste test it. It shouldn't have a doughy taste anymore.
Bon Appetit!