Popular Nigerian Foods: Nigerian Foods Everyone Must Try
If you are in Nigeria looking for something to eat namely: Popular Nigerian Foods for weight loss or weight gain, Popular Nigerian Foods rich in iron/fiber/protein, for diabetic patients, Nigerian Foods that reduce blood sugar, calories, etc.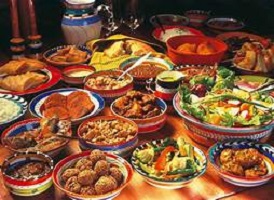 Or you are visiting and looking for fun ideas or new Nigerian Foods to try, 9jafoods.com has fascinating Nigerian Food ideas for you.
Popular Nigerian Foods
As a multi-ethnic country, Nigeria is a fertile ground for superbly delicious Nigerian Food delicacies.
From the East, West, North, and South to almost every corner in-between the country, there is an overabundance of spice-rich flavorful dishes that bond Nigerians together.
Related >>> Nigerian Dishes: Learn How to Cook 27 Different Nigerian Foods
Though there are many other African countries that share-alike traditions and recipes, Nigeria is the zenith of so many amazing foods!
In actual fact, you would be a waste to travel there without fully submerging yourself in the incredible range of flavors found at street food vendors, restaurants or in the homes of local Nigerians.
To make it easy for you, here's a collection of popular Nigerian foods to get you started on this journey of taste buds.
Thus, without further ado, join us as we explore the greatest dishes that stand for this great giant of Africa!
List of Popular Nigerian Foods
Egusi Soup with Pounded Yam
Jollof Rice
Efo Riro
Afang Soup
Moi Moi
Tuwo Shinkafa
Peppered Gizzard
Ukwa – A traditional porridge
Pepper Soup
Nkwobi
Ewa Aganyin
Amala and Ewedu
Abacha and Ugba (African Salad)
Eba with okro and stew
Ofe Ora
Edikang Ikong
Ogbono Soup
Okra Soup
Ekpang Nkukwo
Bitterleaf soup
Ofada Rice
Adalu
Fufu
Pepper soup
Garri/Eba
Please Read: Budget-Friendly Nigerian Foods That Will Save You Money
Nigerian Snacks
Chin Chin
Nigerian Egg Roll
Puff Puff
Meat/Fish pie
Sausage Roll
Ijebu Garri and Groundnut
Doughnut
Fish roll
Dodo – Crunchy fried plantain chips
Nigerian Street Food Dishes
Akara/Kosai
Kilishi
Suya
Dambu Nama
Roasted Corn
Shawarma
Boli and Groundnut
Fried yam
Dabino/Ofio
Ewa Agoyin with Agege bread
Abacha
In case, you cannot make these foods at home due to maybe lack of foodstuff, don't worry because you can comfortably buy them from fast food joints in Nigeria
Top 5 Fast Food Choices in Nigeria
Fast food in Nigeria has taken over like never before. Did you know? Fast food is estimated to contribute about 200 billion Naira to the Nigerian economy each year.
Homegrown chains have jumped all over the country offering traditional Nigerian food.
In the meantime, international players such as McDonald's and Domino's Pizza have arrived in the country. In this piece below we take a look at the best options for fast food around the country starting with our top choice:
Bigg's
With over 160 franchised restaurants in Nigeria, Mr. Bigg's is pretty damn big. In fact, it's red and yellow branded eateries are becoming signature in Nigeria's largest cities.
Sweet Sensation
Do you have a sweet tooth? If yes, look no further than Sweet Sensation. Kehinde Kamson, the founder of Sweet Sensation, started the company after quitting her job as an accountant and chasing her love of cooking and baking
Tastee Fried Chicken
Tastee Fried Chicken was founded by a Nigerian entrepreneur Olayinka Pamela Adedayo who was encouraged by the success of Kentucky Fried Chicken.
Mama Cass
Nigerian foods have gone international thanks to Mama Cass' larger than life owner Charis Onabowale.
Mama Cass, the cultural Nigerian fast-food chain, has opened overseas with its first branch serving London's Nigerian ex-pat community in Burnt Oak
Domino's Pizza 
It's taken some time but at long last major international fast-food chains are opening up shops in Nigeria. One of the best options is the American pizza chain Domino's Pizza.
What do you think of our food list? Maybe you know many more dishes that you think should be on the list? Drop your comment below and let us know about it. We enjoy hearing from you.