Fried Chicken Legs – Crispy Fried Drumsticks Recipe
Fried Chicken Legs – Crispy Fried Drumsticks Recipe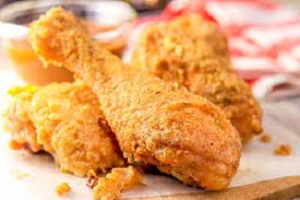 There's something insanely irresistible about hot, crispy fried chicken legs – and once you learn how to fry drumstick at home, you'll never look back.
I hope we're all in agreement that the best-fried chicken legs are mouthwateringly tender on the inside, tooth shatteringly crispy and flakey on the outside, and bursting with a flavor all over. This recipe will give you exactly that.
Everyone (chefs and grandmas alike!) claim to have the "perfect" recipe, using their special coating and signature spice blends, but the truth is that anyone can learn how to make fried chicken perfectly-you just need to get the hang of it.
Fried Chicken Legs – Crispy Fried Drumsticks
Deep-frying can be intimidating to many home cooks, but it shouldn't be: You just need a few simple tools and a little bit of time—we'll walk you through it!
Don't be turned off by all the oil—you can reuse it when you're done. Just let the oil cool completely after frying, then strain it, refrigerate it, and use it again (never pour oil down the drain).
One of the best things about fried chicken legs is that you can eat it at room temperature (we even love it cold from the fridge!). Follow this foolproof recipe and you're good to go.
There are seemingly endless ways to fry chicken legs full of flavor. Some of these are Pan Fried, Oven Fried, Chinese Fried, Tempura Batter Fried Cornstarch, with Buttermilk, without Buttermilk, etc.
What are Chicken Legs? Fried Chicken Legs
Chicken legs come from the legs of the chicken, all the way from claw to what would be the animal's hip.
It comes in two parts – the drumstick and the thigh – either attached or as separate cuts (called a leg quarter).
Like the wing, this part of the bird gets a lot of exercise in comparison to other muscles, which is why chicken legs have darker meat. This also means a bit fatter, an addition that adds to the leg's flavor and juiciness.
How Does Fried Chicken Legs Taste Like?
Everyone knows the phrase, "tastes like chicken," and that's exactly what chicken legs taste like.
They tend to have a more unctuous texture and mouth-feel thanks to the dark, fatty meat. You'll also find the flavor a little stronger than chicken breast.
For the best flavor, source chicken from farms that raise them in a pasture.
Pan-fried chicken – Pan-fried chicken drumsticks recipe is quick and cooks in 30 minutes.
The stove-top chicken legs are flavorful, easy to make, the inside moist and tender, and the skin crispy.
This is the best-pan-fried chicken drumsticks recipe because it's simple, quick and you get delicious, well-cooked chicken.
Oven-fried chicken – This is perfect for filling your fried chicken fix without the hot, smelly grease.
Our Crispy Oven-fried Drumsticks is a baked fried chicken recipe with a satisfyingly crunchy texture.
Fried Chicken Leg Nutrition
drumstick, bone removed (49g)
Calories from Fat 61. Calories 120.
15% Cholesterol 44mg.
2% Sodium 44mg.
3% Potassium 112mg.
10% Total Fat 6.7g.
9% Saturated Fat 1.8g.
0% Total Carbohydrates 0.8g.
Chinese Fried Chicken Legs
The Cantonese Chinese Fried Chicken style is a very famous dish in China.
This cooking method can be used for fried chicken meat, chicken legs, and chicken wings.
How long to marinate chicken in buttermilk?
A minimum of 4 hours, a maximum of 24 hours.
How to marinate chicken in buttermilk (quick summary)
Pour your buttermilk into a suitably sized bowl and add your seasoning.
Stir to combine.
Add your chicken and fully coat.
Pop over cling film and marinate in the fridge for a minimum of 4 hours and up to 24 hours.
Fried Chicken without Buttermilk
While most fried chicken recipes recommend buttermilk for various reasons, this easy recipe is made without.
Not needing buttermilk or a buttermilk replacement is a great way to avoid a quick trip to the store and can allow you the fun of making chicken without tracking down miscellaneous ingredients
What kind of chicken should I buy?
We like skin-on, bone-in chicken for frying—the skin gets crispy and the meat stays nice and juicy.
Any chicken part can be fried—even the wings. You can buy a package of chicken parts at the store or you can buy a whole chicken and cut it into pieces yourself (breasts, drumsticks, thighs, and wings).
Do I need special equipment for frying chicken?
You probably already have everything you need!
Fried Chicken Legs in Air Fryer
A Cast-Iron Skillet
Dutch Oven
Long Tongs on Hand
A Deep-Fry Thermometer or Candy Thermometer
A Meat Thermometer
How do you know when fried chicken legs are done?
To test for doneness:
Cut into the thickest part of a drumstick. The juices should run clear and the meat should be opaque throughout.
How long does it take to fry drumsticks in oil?
About 12 to 15 minutes
The oil in the pan must reach 350 degrees for optimal crisping of the fried chicken batter. You'll turn the chicken over partway through the frying process until the entire drumstick is crisp and browned.
Why do you boil chicken legs before frying?
The idea behind boiling chicken before frying it is that precooking speeds up the preparation and cook time. This also ensures that you are getting thoroughly cooked chicken.
Can you pan fry without flour?
Can you fry chicken without flour? Absolutely! Any part of chicken is good and I will show you an easy way to cook it.
How long do you deep fry frozen chicken legs?
In a deep fryer, the frozen chicken will need to cook for about 18 to 22 minutes.
On the stove, it will need to fry the chicken for 9 to 12 minutes before flipping and cooking the other side of the meat for another 9 to 12 minutes.
What is the best oil to fry chicken?
Peanut oil, vegetable oil, canola oil, or peanut oil. Don't use olive oil or butter—they both have lower smoke points.
The ideal temperature for frying chicken is 350˚ to 365˚, and you'll want to make sure that you bring the oil back to temperature between batches.
Fried Chicken Legs Recipe
Ingredients
2 fryer chickens, each cut into 8 pieces
4 ½ cup buttermilk
5 cup all-purpose flour
2 tsp. paprika
3 tbsp. seasoned salt, such as Lawry's
2 tsp. freshly ground black pepper
2 tsp. ground dried thyme
1 tsp. cayenne pepper, plus more for seasoning
¼ cup milk
Canola or vegetable oil, for frying
Directions
To start, thoroughly rinse the chicken legs pieces, then place them in a bowl and cover with 4 cups of buttermilk. Then, soak in the fridge overnight or up to 24 hours.
When you're ready to fry the chicken, remove the bowl from the fridge and allow sitting on the counter for 30 minutes, just to take the chill off.
Meanwhile, preheat the oven to 360˚ and mix up the breading. Then, place the flour, seasoned salt, paprika, black pepper, thyme, and cayenne (plus extra cayenne if you like heat) in a very large bowl. Stir together well.
After that, combine the remaining ¼ cup buttermilk and the milk in a small bowl. Then, pour the milk mixture into the flour mixture and gradually mix with a fork until there are little lumps throughout
These will stick to the chicken and make for a crispier breading. If necessary, add a little more flour or milk to make the breading slightly lumpy.
Now, heat 1 ½ to 2 inches of oil in a deep skillet or Dutch oven over medium-high heat until a deep-fry thermometer reaches 365˚. Lower the heat slightly, if necessary, to keep the oil from getting hotter.
Working in batches, thoroughly coat each chicken piece with breading, pressing extra breading onto the chicken if necessary. Place the breaded pieces on a plate.
Add the breaded chicken to the oil, 3 or 4 pieces at a time; make sure they don't stick together. Cover the pan and fry for 5 to 7 minutes, checking occasionally to make sure the chicken isn't getting too brown.
Turn the pieces over, cover them again, and cook for 3 to 5 minutes more. All the while, monitor the temperature of the oil to make sure the chicken doesn't burn.
Transfer the fried chicken leg to a baking sheet and continue frying the rest of the chicken.
Finally, when all the chicken legs and thighs have been fried, remove them and put them on a rack set over a paper towel-lined baking sheet, and keep covered