Lettuce Salad: Healthy Recipe That Goes Beyond Salad
Lettuce Salad: Healthy Recipe That Goes Beyond Salad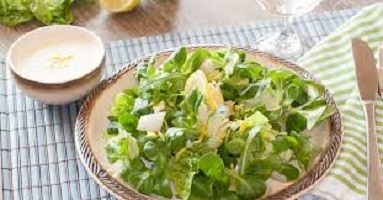 Do you want to eat more healthily? Trying to incorporate more greens into your diet but don't know how to prepare lettuce salad?
I understand. Until I discovered these recipes, I wasn't always a fan of using this leafy vegetable as the centerpiece of a meal. I can't get enough of it now!
These lettuce recipes are not only simple to make, but they will also likely expand your knowledge of the various vegetable options available at your local supermarket.
It's easy to overlook the variety of lettuces available; from butterhead to Batavia, and even leaf lettuce, the type you choose can alter the flavor and texture of your salad.
Sometimes all you need to accompany your favorite dinner recipe is a simple green salad.
Nothing beats a simple green salad when it comes to versatility. It's a simple go-to that complements almost every meal. However, just because the salad is basic doesn't mean the dressing can't be unique.
Lettuce Salad is a must-try! It's piled high with fresh vegetables and served on a bed of crisp lettuce. You'll also enjoy the simple, healthy lemon dressing that ties everything together!
The perfect and healthy salad for the whole family and entertaining visitors is lettuce salad with fresh crisp vegetables and light lemon vinaigrette.
Serve with grilled fish or chicken as a side dish, and you've got yourself a healthy dinner!
Recipe Varieties
Lettuce and Cucumber Salad, Lettuce, Cucumber and Mayonnaise Salad, Lettuce, Tomato, and Cucumber Salad, Lettuce and Cucumber Salad, Lettuce and Cucumber Salad with Lemon, and so on.
There are several ways to make Lettuce Salad, some of which are:
Lettuce and Tomato Salad with Mayonnaise, Lettuce, and Cucumber Salad, and lastly Lettuce, Tomatoes, and Cucumber Salad.
What Is Lettuce and Why Should You Care?
Lettuce is a leafy vegetable that serves as the foundation for salads. There are several varieties of lettuce, all of which are known by the scientific name Lactuca sativa.
Lettuce's health benefits are primarily due to its vitamin content. The health benefits of lettuce vary depending on the type consumed.
All lettuces are classified into one of four types:
Capitata lettuce (head)
Crispa lettuce (leaf)
Romaine lettuce (longifolia)
Lettuce (celtuce) (Augustana)
What Is the Best Lettuce for Salad?
Romaine lettuce
This lettuce has a great crunch and is delicious served in a salad or on top of a sandwich
Romaine can even be lightly grilled for a unique, slightly charred flavor. It's also the primary ingredient in Caesar salad.
The round shape of head lettuce gives it its name. Iceberg and butterhead lettuces, both of which are commonly found in supermarkets, are included in this group.
Leaf lettuces are connected to a stem rather than forming ahead. Some of these lettuces have reddish leaves or are darker in color.
Celtuce lettuce, also known as asparagus lettuce or stem lettuce, has a large stem that stands out. This lettuce variety is popular in China, but not so much in the West.
Lettuce Varieties
Lettuce comes in 20 different varieties.
Leaf Lettuce
Boston Lettuce
Bibb Lettuce
Romaine Lettuce
Iceberg Lettuce
Butter Lettuce
Lettuce with arugula
Lettuce Escarole
Kale
Lettuce with Radicchio
Belgian Endives (nine)
Batavia Lettuce
Lettuce with Mustard
Dandelion Greens
Lamb's Lettuce
Little Gem Lettuce
Mesclun Lettuce
Mizuna
Purslane
Beet Greens (Baby)
Lettuce Benefits
The health benefits of lettuce vary depending on the nutritional content of the different varieties.
Iceberg lettuce is the type of lettuce that contains the fewest nutrients and calories
Bone Strength: Lettuce is high in vitamin K, which supports bone health.
Hydration: Water accounts for over 95% of the weight of raw lettuce.
Better Vision: Lettuce is high in vitamin A, which is important for eye health.
Better Sleep: Extracts from a variety of lettuce types have been shown to help people sleep better.
Ingredients
Lettuce
Cucumbers
Carrots
The avocado
Eggs, hard-boiled
Red Onion
Lemon juice, extra virgin olive oil, salt, and black pepper are all you need for the dressing. It's a fantastic salad dressing that goes well with a variety of salads!
Salad Cutting Instructions
Firstly, cut the lettuce's core off at the end
Secondly, separate the lettuce leaves and rinse them thoroughly.
Then, spin the lettuce leaves in a salad spinner to dry them. If you don't have a salad spinner, absorb the extra water with a clean kitchen towel or excellent quality paper towel.
On a chopping board, stack a quarter of the dry lettuce leaves.
After that, cut the leaves in half across the center.
Lastly, chop the leaves into small pieces.
Best Lettuce Salad Recipe – How to Make Salad with Lettuce
Here is the recipe for you to enjoy!
Firstly, on a large tray, combine chopped lettuce, shredded carrots, sliced cucumber, sliced avocado, sliced hard-boiled egg, and sliced red onion.
Secondly, to make the dressing, whisk together freshly squeezed lemon juice, extra virgin olive oil, black pepper, and salt in a mixing bowl or liquid measuring cup.
To serve the salad, grab the veggies with salad tongs and set them on a plate or in a salad bowl. Dressing can be drizzled on top if desired.
Lettuce Salad: How Many Calories Does It Contain?
This Salad has 193 calories per serving. This takes into account the fact that not all of the salad dressing is used.
Storage
I poured the remaining dressing into a tiny container, sealed it tightly, and refrigerated it to use on additional salads.
Notes on the Recipe
I used green lettuce, but other types of lettuce, such as romaine or iceberg, would work well as well.
This salad's dressing is a touch more than necessary. Refrigerate the remaining dressing to use on other salads, such as Chicken Avocado Salad or Avocado Salad.
The nutritional information is an estimate that takes into account the fact that not all of the salad dressing is in use.
Tomatoes or bell peppers could be substituted for the carrots.