Jollof Rice and Chicken – Chicken Jollof Rice Recipe
Jollof Rice and Chicken – Chicken Jollof Rice Recipe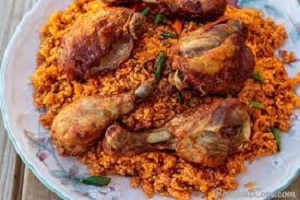 How To Prepare Jollof Rice with Chicken and Plantain – A Nigerian Recipe
West African – Style Jollof Rice with Jerk Chicken
How to make tasty Jollof Rice with Chicken Nigerian! I love how this recipe makes a complete meal with rice, chicken, and veggies! It is incredibly flavorful and works well for dinner or entertaining.
It is a one-pot delicious Nigerian dish. You can skip the chicken and still enjoy this African delightful fluffy rice that's full of fantastic flavor coming from warm spices and vegetables like bell pepper, onion, and garlic which you can serve alongside any grilled meat.
But we are not interested in skipping the Chicken right now, are we?
Jollof rice with chicken is very flavorful with the blend of spices used. No bland rice here. Also, it contains no strange ingredients so almost anyone can make this.
With added veggies, this recipe makes a balanced meal. Alternately you could make the rice without added veggies and serve with a simple salad on the side.
Everyone needs a good chicken and rice recipe they can make whether for dinner or special occasions.
There are different versions of this dish because it got popular in various South and West African countries like Ghana, South Africa, and Cameroon, and they have added their touch to it like:
Jollof rice and chicken stew
Jollof rice recipe the UK
African Chicken and rice
Jollof rice and chicken with salad
South African chicken and rice recipes
jollof rice with chicken drumsticks
Rice Jollof with meat
jollof rice with chicken and plantain
Jollof rice and chicken wings
This is a chicken, tomato, and rice-based dish that is widely loved and eaten across West and Central Africa.
Typically, the rice is cooked in a flavorful tomatoey liquid. There are varying methods of making Jollof Rice and chicken across the countries where it is eaten.
It is a dish that is easy to fall in love with. The combination of rice, chicken tomatoes, and aromatics just works.
Jollof Rice can be made with chicken, beef, or fish. It could even be made vegan. It is such a versatile dish that works well for dinner or parties. But our main area of concentration today is "jollof rice with chicken".
In Nigeria, where I come from Jollof Rice is the ever-present dish at parties. The menu is just not complete without it.
WHY YOU'LL LOVE THIS NIGERIAN JOLLOF RICE WITH CHICKEN RECIPE
It's really tasty;
It's made with simple ingredients;
There are no superfluous ingredients!
The rice cooks in one pot!
The chicken is tasty.
The chicken can be fried or baked.
It's a supper that impresses!
RECIPE FOR JOLLOF RICE WITH CHICKEN
I've seen recipes advertised as Jollof Rice recipes that use ingredients that aren't native to Jollof.
Also, soggy Jollof rice is not the way to go. Jollof Rice's should be fully cooked and fluffy. It's not mushy.
ESSENTIAL INGREDIENTS
Long Grain Rice: I used Jasmine rice for this dish. Basmati rice and parboiled rice are also excellent choices for Jollof rice.
Tomatoes: Fresh tomatoes combined with tomato sauce or paste make amazing Jollof rice.
Use Roma tomatoes since they are less acidic than other types of tomatoes. Jollof Rice should be tomatoey, but not acidic from the tomatoes.
Onions: Add flavor to Jollof rice with onions.
Oil: Used to sauté onions and make tomato sauce. Any oil with a neutral flavor will do. Light olive oil, vegetable oil, peanut oil, or canola oil all work nicely in Jollof rice.
Chicken: This is essential for flavoring the use. Ideally, the stock used to cook Jollof Rice should come from the cooking of the chicken or beef that will accompany the rice.
Stock Cubes: Stock cubes, often known as bouillon cubes or Maggi, are essential for flavoring Jollof Rice.
Garlic and Ginger: The combination of garlic and ginger does wonders in making Jollof Rice delicious. Do not skip it.
White pepper, bay leaves, dried or fresh thyme, basil, parsley celery, fresh or dried rosemary, curry powder, habanero (or scotch bonnet pepper for heat), smoked paprika or regular paprika, and smoked paprika or regular paprika are some other ingredients that could really take your Jollof Rice to the next level.
Jollof Rice with Chicken Recipe
In this Jollof Rice recipe, I did not use all of the ingredients indicated above. For a taste boost, I combined the main ingredients with some herbs and spices. I'd like to share with you a variety of herbs and spices that you might use in your Jollof Rice.
JOLLOF RICE WITH CHICKEN: HOW TO COOK IT
Here are the methods for making Jollof Rice with Chicken in a nutshell:
Season the chicken with garlic and ginger paste, onions, salt, and white pepper. To make chicken stock, cook the chicken with seasonings and water.
Remove the chicken from the liquid and either fry or broil till golden brown in the oven.
Puree the tomatoes until they form a paste.
Sauté the onions, then add the cooked tomatoes and tomato sauce or paste. Cook until the tomatoes begin to shrink and adhere to the bottom of the pot.
Stir in the dried thyme, garlic and ginger paste, and white pepper. To blend, stir everything together.
Pour in the chicken stock and water. Combine the salt and chicken bouillon powder in a mixing bowl.
Include washed
Pour in the rinsed rice, cover, and simmer on low heat until the rice is fluffy.
If preferred, add carrots and green beans to rice. Serve the chicken with the Jollof Rice.
Jollof Rice and Chicken Near Me in Lagos Nigeria
Ibile Foods & Lounge Ilupeju | Best Restaurants in Lagos Nigeria
African Kitchen
Yakoyo Abula Joint – Amala and Abula | Ofada Rice | Jollof Rice | Fried Rice | Native Rice | Igbo Soups
African Kitchen
Smokey Jollof
Jollof Etcetera Lagos
Yellow Chilli Restaurant & Bar
African finger foods
All Spice Foods Buka
Togo jollof rice
Chicken Republic – Ilupeju
Kitchen Afrikana
Yellow Chilli
Just Delish Restaurant
Mama Mayowa's Jollof Rice & Catering Services
Iya Ayo Jollof Rice
Chicken Republic – Gbagada
Awoof Berekete (Obanikoro)
Fejiro Kitchen
The Place Restaurant Maryland