Meat Pie Recipe in Nigeria: Best Classic Nigerian Meat Pie
Meat Pie Recipe in Nigeria: Best Classic Nigerian Meat Pie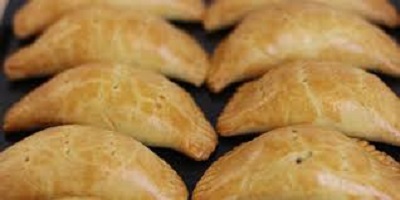 Meat Pie Recipe – Nigerian Meat Pie is an old-fashioned Nigerian dish that is enjoyed by all. The buttery shortcrust pastry is stuffed with richly flavored mincemeat.
It's quite tasty, and you won't be able to stop at just one. Are you interested in learning how to prepare a delicious meat pie? This easy recipe for you.
Related >>>>
Meat Pie Recipe
The meat pie filling (beef mince filling), as well as the shortcrust pastry, must be flawless; else, the pie will be dry and chewy.
Making shortcrust pastry is difficult, but with enough experience and patience, you'll be able to perfect it and figure out what works best for you.
I don't use eggs in my puff pastry because they aren't necessary. Making buttery shortcrust pastry without eggs is simple.
This homemade snack is simple to make and can be made in any size you like. Alternatively, you can prepare the pie in a deep dish or separately in ramekins if you're feeling adventurous.
Growing up, though, I always looked forward to when my mother made Meat Pie or when my father bought us some for being good.
Especially if it comes from one of the well-known confectioneries (Mr. Biggs or Sweet Sensations).
The West African meat pie has a lot in common with the British pasty though, over time, we (Nigerians) have figured out how to make our pies to our liking.
Surprisingly, they can be eaten for breakfast, brunch, or as a snack.
What Is Meat Pie? Meat Pie Recipe
Meat pie is just what it sounds like – a flaky pastry filled with minced meat. It's usually stuffed with various savory ingredients like potatoes and carrots, and seasoned to perfection.
It's also known as a tourtiere in Canada, and it's a famous French-Canadian holiday dish, especially around the holidays.
The Origins of Meat Pie – Where did the meat pie originate from?
Meat pies are a European creation with origins in ancient Greece and Rome. The meat was stuffed into pastry shells made from flour and water and roasted over coals. The better the meat you had to stuff your pie, the wealthier you were. During dinner, some Romans even offered fish pies.
What was the original name of meat pies?
The original pies were savory meat pies with a tall, straight-sided crust, known as "coffins" or "coffyns." "Traps" are open-crust pastries that lack tops or lids.
Meat pies come in a wide variety of flavors. They're a worldwide favorite snack.
Indian Meat Samosa
British Pork Pie – English Meat Pie
British Shepherd's Pie.
American Chicken Pot Pie.
British Steak and Kidney Pie.
Chinese Meat Pie (Xian Bing)
Irish Lamb Pie
Moroccan Pigeon Pie (B'stilla)
Lebanese Sfija/Sfeeha
Irish Beef and Guinness Pie
Australian Meat Pie
Canadian Tourtière (Québécois Meat Pie)
Scottish Haggis Pies
Italian Easter Pie (Pizza Gain, a.k.a. Pizza Rustica)
Greek Kreatopita
Russian Pierogi
Iranian Khoresht Mast
Moroccan Tajine Pie
Israeli Knish
Types of Meat Pies
There are five types of Meat Pies
Pasty
Pigeon Pot Pie
Steak and Guinness Pie
Sfeeha (Middle Eastern Meat Pie)
Natchitoches Meat Pie
What is the flavor of Meat Pie? Meat Pie Recipe
Nigerian meat pies are delectable pastries stuffed with minced beef, potatoes, and carrots. The filling is moist and tasty, and the dough is somewhat flaky and rich in flavor.
In West Africa and Nigeria, these meat pies are very popular. If you haven't tried the best Nigerian meat pie yet, you must do it immediately; it is the ultimate comfort food!
What is the nutritional value of a beef pie? How unhealthy/Healthy is a meat pie?
A typical individual meat pie contains roughly 450 calories, but the major issue is the 12 grams of saturated fat it contains, which is more than half of the daily recommended amount.
The fat level of your dinner will be much higher if you serve it with buttery mashed potatoes or chips on the side. It's best to save pies for special occasions.
How do you thicken meat pie filling? Meat Pie Recipe
If you've ever made a meat pie, stew, or sauce, you know how difficult it is to achieve the desired consistency. It shouldn't be too thin or too thick.
Adding a small amount of flour or corn starch is one of the most typical solutions in this situation. Here, a tablespoon can already work miracles.
Meat pie dough: Why is the dough crumbling?
Your dough is too crumbly to work with.
If you try to roll out your pie crust and it splits and crumbles, it's too dry. This is a rather simple remedy.
Simply use your fingers to sprinkle some cold water over the dough and gently mix it in.
If your dough becomes too warm, place it in the refrigerator to cool down.
Meat Pie Recipe in Nigeria
The Nigerian meat pie, also known as West African meat pie, is light and flaky and filled with well-seasoned ground beef (minced beef), potatoes, and carrots.
These meat pies will warm your heart and satisfy your taste buds.
Meat pie Ingredients and Procedure – For the pastry:
4 cups (500g) all-purpose flour
1 teaspoon salt
¼ cup (60ml) cold water
1 teaspoon baking powder
200g cold Butter, cubed
1 tablespoon sugar
2 Eggs
For the filling:
¾-pound (350g) Ground beef
1 Potato, peeled and diced into small cubes
2 tablespoons Oil
1 egg for brushing
Salt to taste
1 cup (240ml) Water/beef broth
2 tablespoons flour
1 teaspoon thyme
A Large Onion, chopped
1 Large Carrot, peeled and diced
Pepper to taste
Directions on How to Make a Pie
Firstly, to make the pastry, combine flour, sugar, salt, and baking powder in a large mixing basin. Then, rub the cubed butter into the flour until it forms a crumbly texture.
Secondly, combine 2 eggs and cold water in a mixing bowl, then add to the flour mixture and stir until a dough forms. Make sure not to overmix! Refrigerate the dough for 30 minutes after wrapping it with cling film.
Thirdly, in a big skillet, heat the oil and make the filling. Sauté for 5-6 minutes, or until onion is transparent. Then, cook for 3-4 minutes after adding the diced carrots.
Cook for another 4-5 minutes, breaking up the meat as it cooks until it is no longer pink. Now, add salt, pepper, thyme, and flour to taste. After that, cook for about 2 minutes, stirring sporadically.
Stir in the cubed potatoes thoroughly. Pour the water/broth into the pot. Stir.
Over medium-high heat, bring to a simmer. Reduce the heat to low and continue to cook for 15 minutes, or until the sauce has thickened.
Preheat the oven to 350 degrees Fahrenheit (175C). Using a meat pie cutter, cut the dough into 2-4 pieces and set aside (you also can roll the whole dough, dividing it just making it easier to work).
Roll out the dough to a thickness of 1/8 inch (1/4 cm). Cut out a spherical shape in the size you choose. To make more circles, combine all of the leftover dough and roll it out again.
Spoon about 1-2 tablespoons of the meat mixture into the center of the dough, wet the edges, and fold the dough over. It can be sealed with your fingers or a fork. While baking, poke the pies with a fork to make a steam vent and brush the pies with beaten egg.
Bake until golden brown, about 25-30 minutes. Before serving, allow it to cool somewhat.
FAQ
Why is my Nigerian meat pie so hard to eat? Meat Pie Recipe
First and foremost: It's possible that you rolled out the dough too thinly before filling it.
As you bake, a thin dough will stiffen and then crack open. Another reason is that the meat pie crust has too much filling.
I hope you found these meat pie recipe suggestions useful.
What's the best way to protect meat pies from going bad? How do you keep meat pies from spoiling?
Freshly cooked beef pie will stay in the fridge for 3 to 5 days if covered with aluminum foil or plastic wrap.
Is it possible to freeze pork pie? Yes, you can freeze meat pies by wrapping them tightly in aluminum foil or plastic freezer wrap or placing them in a freezer bag.