Nigerian Meat Pie Recipe: Oven Bake/Stove Bake Styles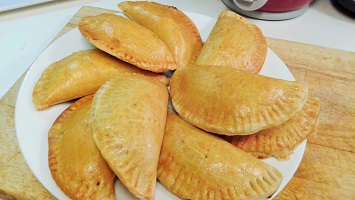 Nigerian meat pie recipe is one of the popular snacks Nigerians love to eat. Yes! That's how amazing our Nigerian meat pie is.
This meat pie is a classic masterpiece and is usually among the first choice when it comes to Nigerian snacks.
The best Meat Pie Recipe is moist and yummy with buttery shortcrust pastry that is filled with mincemeat, and vegetables (usually potatoes & carrots).
However, you can add other meat pie ingredients of cyour hoice. The pastry is slightly flaky and very rich in flavor; the filling is creamy, flavorful, and very healthy. Based on the recipe, one small size meat pie is about 260 calories
Making meat pie is quite easy, you can even use the same recipe for fish pie or Chicken pie, just replace the minced meat with minced fish or minced chicken and you're good to go.
Where to Buy Nigerian MeatPie – Nigerian meat pie recipe
Meat pie is one of the snacks I look forward to eating when I was in school
Be it at Mr. Biggs, tantalizers, Sweet Sensations, or any of the confectioneries.
I buy on the streets near me at times. On the road, while on the go, or I order meat pie from any of the online stores.
The flavor profile is very similar – a crumbly exterior with meaty filling.
Meat pies are also popular in other parts of Africa and not just in Nigeria alone. These easy Nigerian snacks are also eaten in Ghana, Uganda, Gambia, Liberia, sierra Leone, Jamaica as well as other countries.
Our Nigerian Meat pie is also comparable to Latin American Beef Empanadas, beef patties, or pastelillos.
The price of meat pie in Nigeria is relatively affordable but it is still cheaper when homemade.
Healthy Nigerian Meat Pie Recipe: How to Make Meat Pie from Scratch
Here is an easy meat pie recipe step-by-step guide to making the best Nigerian meat pie ever.
Now, let's begin…
Meat Pie Ingredients for Filling
Minced meat
Irish potatoes
Carrot
Thyme
Onion
Salt to taste
Red onion (chopped)
One Knorr cube
2 Tablespoon flour
Direction on Nigerian meat pie recipe
Firstly, place a large saucepan on medium heat; add the minced meat and onion. Cook until meat is browned.
Afterward add in the salt, diced carrots, and potatoes, Knorr cube, and Stir. Add about ½ a cup of water, and over until thoroughly cooked.
Then, dissolve 2 tablespoons of flour with ½ cup of water very well, and add the flour mix into the sauce (this will thicken the sauce and keep the pie moist).
Lastly, remove from heat and put aside.
Ingredients for the Meat pie Dough
4 cups all-purpose flour
1 Table Spoon Baking powder
A pinch of salt
1 teaspoon sugar (optional)
Baking Margarine
¼ – ½ cup ice cold water
2 eggs
Direction on how to make meat pie dough soft
To start with, add the flour, baking powder, and, salt to a large bowl. Mix the ingredients thoroughly.
After that scoop, the margarine into small quantities and add the dry ingredients. With your fingers tips blend the ingredients until margarine is well incorporated.
Thirdly and most importantly, add cold water in bits into the dough while kneading the dough until water is fully absorbed. Rest the dough in the fridge or leave it in a bowl for about 10 minutes to increase its elasticity.
Lastly, add some flour to a smooth surface and use a rolling pin to shape and flatten the dough. Cut the dough into big circles using a round bowl or meat pie cutter. Remove the excess dough from around the circles.
The Method
Preheat the oven to 350 degrees F or 180 degrees C.
Then, put about 1 teaspoon and a half of filling into the middle of the circle, Be careful not to overfill the circles.  Afterward, turn over the dough filling to enclose, forming a semi-circle.
After that, press down edges together to close using the back of a fork.
Put in a foil paper-lined baking sheet
Similarly, repeat with the remaining filling
Lastly, brush the pies generously with the egg wash and bake in preheated oven for about 20-25 minutes or until golden brown.
The meat pie is ready, Enjoy! Best served and eaten while hot…
How to Make Meat Pie with Stove
Try this Nigerian stove meat pie recipe if you don't have an oven or do not want to use an oven.
Continuing from No. 6 (under method), brush the meat pies with egg wash to ensure a golden brown look when done.
After that, set the tray in the preheated pot filled with sand or tiny stones and bake for 30 to 40 minutes.
Timing depends hugely on the type and heating capacity of your stove.
You can confirm that the meat pie is done when it starts browning – open the pot occasionally to turn the meat pie using a spatula until it is golden brown
How to Fry Meat Pie
This method is very easy. Instead of baking meat pie in the oven or using the stove, you can simply fry it. Yes! Fried meat pie is possible. Simply follow the steps below:
Firstly, fry in hot oil on medium heat until golden brown.
Then, remove from other il and place in a paper towel to drain excess oil.
That's it! Your fried meat pies are ready to be enjoyed.
Please Note:
This pie is classic comfort food, though with thick pastry, meat, and gravy that tends to be high in fat and calories and low in nutrition.
Consuming this is usually NOT great when you are following a weight loss plan.
For healthier and more beneficial meat pies, you need to substitute with whole wheat flour instead of bleached white flour.
Also, with 99% lean ground turkey/beef instead of ground beef and lastly, Canola oil instead of butter.
FAQ–Frequently Asked Questions on Nigerian Meat Pie Recipe
Q: How to Preserve Meat Pie
A: Freshly baked meat pie will keep for about 3 to 5 days in the fridge; refrigerate covered with aluminum foil or plastic wrap.
Q: Can you freeze the meatpie?
A: Yes, to freeze: wrap meat pie tightly with aluminum foil or plastic freezer wrap, or place in a Za Ziploc bag.
Q: How long does meat pie last in the freezer?
A: When stored properly, it will maintain the best quality for about 1 to 2 months; however it will remain safe beyond that time.
A: Why is my Nigerian Meat Pie so hard?
Q: First, it's possible you rolled out the dough too thinly before filling it. As you bake, a thin dough will stiffen and then crack open. Another reason is that the meat pie crust has too much filling. I hope you found these suggestions useful.
Q: How to heat a frozen pie in the microwave
A: Microwave on full power for about 3 – 3.5 minutes (depending on your microwave).
Unwrap your pie, let stand for a minute, add sauce, and eat carefully because it will be very hot.
If you enjoy my Nigerian Meat pie I am sure you will like another meat pie recipe like Shepherd's Pie Recipe
What is a pie filled with meat called?
A meat pie is a pie with a meat filling and at times other savory ingredients. They are found in cuisines globally.
What is in a mmidsummermeat pie?
1 lb. Ground Beef (85/15)
3 cups grated Red Potato (we left the skins on)
¼ cup chopped Yellow Onion.
¼ tsp Nutmeg.
1 tbsp Butter.
¼ chopped Fresh Parsley.
1 ½ tsp Dried Dill.
½ tsp Allspice.
What iaremutton pies made of?
A Scotch pie or mutton pie is a lesser, double-crust meat pie filled with minced mutton, haggis, or other types of meat.
How long does Nigerian meat pie last in the ridge?
Storage
Comparable to any other meat pie, your Nigerian meat pie should be kept refrigerated. As soon as it is covered with aluminum foil or plastic wrap, the pie will stay for 4-5 days in the fridge.
On the other hand, you can freeze your pie for up to 2-3 months.
What country makes the best meat pies?
The Top 8 Best Meat Pies in the World
Aussie Meat Pie (Australia)
Beef and Guinness Pie (Ireland)
Sfija/Sfeeha (Lebanon)
Pork Pie (Great Britain)
Pastilla (Morocco)
Pirog (Russia)
Shepherd's Pie (Great Britain)
Kreatopita (Greece)
What are the different meat pies?
Five Amazing Meat Pies
Steak and Guinness Pie ~ made with round steak (at times with sirloin, ribeye, or hanger steak), onions and bacon.
Sfeeha (Middle Eastern Meat Pie)
Pasty
Fun Facts About Pie
Pigeon Pot Pie
Natchitoches Meat Pie
What is a meat pie called in England?
The beef hand pie's British equivalent is the Cornish pasty.
Which kind of meat is in a meat pie?
Your "meat pie" doesn't have to contain beef. Meat pies can be made using muscle meat from buffalo, camel, cattle, deer, goat, hare, pig, poultry, or sheep; the type of animal used need not be mentioned on the label.
Does beef pie contain eggs?
For the pastry: 500g or 4 cups of all-purpose flour. 200g cold, diced butter. 2 Eggs
What is a meat pie called?
Ground meat, onions, spices, and herbs are baked in a conventional pie crust to create tourtière, sometimes referred to as pig pie or meat pie.
Why are meat pies bad for you? Why are meat pies unhealthy?
Sadly, they are not a wonderful addition to a regular diet.
The average individual meat pie has about 450 calories, but the 12g of saturated fat it contains – more than half the daily recommendation – is the major issue.
The amount of fat in your meal will increase if you add buttery mashed potatoes or chips.
What do you eat with meat pie?
What to Serve With Meat Pie –Delicious Side Dishes
Beef broth gravy.
Horseradish mash.
Garlic green beans with parmesan.
Southern baked beans.
Minted mushy peas.
Roasted garlic butter potatoes.
Pickled red cabbage.
Sweet potato fries.
Why is my Nigerian meat pie so hard?
This is because different ovens have different heating capacities, and by testing it you would be able to tell when the meat pies start to stiffen and brown.
Make sure to remove them from the oven as soon as it is through baking and let them cool outside rather than within.
Is it  meat pie junk food?
Describe junk food. The majority of fast food, sweet drinks, lollipops, chocolates, sweet snacks, chips and crisps, crunchy snack foods, biscuits, cakes, pies, sausage rolls, jam, and honey are considered to be junk food.
How long does meat pie keep? How many days can meat pie last?
About 3 to 5 days
When left out for longer than two hours at room temperature, pork pie should be thrown away because bacteria can quickly grow at temperatures between 40 °F and 140 °F.
How long would a meat pie keep in the refrigerator? The refrigerator will hold a freshly baked meat pie for about 3 to 5 days if it is covered with aluminum foil or plastic wrap.
How long will Nigerian meat pie preserve in the refrigerator?
Storage
The Nigerian meat pie should be stored in the refrigerator, just like any other meat pie.
The pie will stay in the fridge for 4-5 days once it has been wrapped in plastic wrap or aluminum foil.
You could also freeze your pie for up to two or three months.
How can you tell when a meat pie has finished cooking?
As per your recipe's instructions, move the pie to the upper rack of your oven and bake it for an additional 25 minutes or so, or until the crust is golden and the filling is bubbling and steaming.
Do meat pies need to be kept in the fridge?
Staphylococcus aureus, is  common pathogen that can be discovered in improperly preserved meat pies and which can result in vomiting, abdominal cramps, and diarrhea.
Therefore, put any remaining hot pies as soon as possible into the refrigerator and don't leave them out at room temperature for more than two hours before reheating.
Can you microwave pie to reheat it? Warming up your pies
Better better, avoid microwaving your pie or pastry at all because it simply ruins the pastry's texture.
Here is the recommended heating technique: Pies that Have Been Fully Baked: Turn on the oven to 350 degrees.
How is leftover meat pie reheated?
The pie should be taken out of its foil plate and heated for 8 minutes in an 800watt microwave.
Return the pie to the foil dish, set it on a baking sheet, and preheat the oven to 200°C (400°F)
Bake for 15 to 20 minutes, making sure the pie is always piping hot. Before serving, let the pie stand for two to three minutes.
How do you keep the bottom of a meat pie from getting soggy?
Add a Layer
Before filling and baking in the oven, sprinkle crushed cornflakes, dry breadcrumbs, or other types of cereal on the bottom crust. By doing so, the filling won't cause the crust to become mushy.
How do you thicken meat pie filling?
If you've ever made a meat pie, stew or sauce you know that one of the problems is to obtain that correct consistency.
You don't want it to be either too thick or too runny. One of the most typical strategies you may have employed in this situation is to add a small amount of flour or corn starch.
Here, a tablespoon already does wonders.
Can you consume a cold meat pie?
Traditional English meat pies like the pork pie are typically served cold or at room temperature (although often served hot in Yorkshire).
Can I bake meat pie in microwave?
3 to 5 minutes at maximum power in the microwave (depending on your microwave). Take care when eating your pie once it has been unwrapped and given time to sit.
Can a meat pie be made the night before?
The group's favorite is always classic meat pie.
It's simple to prepare this Classic Meat Pie dish in advance. The meat pies can be sealed, filled, and refrigerated for 24 hours or frozen for up to a week.