Baked Scotch Eggs | How to Bake Scotch Eggs
Baked Scotch Eggs | Scotch Eggs in the Oven – This is a baked version of the famous pub Scotch eggs. There's no need to fry anything here. Without the mess of frying, it tastes just like the fried version. Serve immediately with your favorite mustard.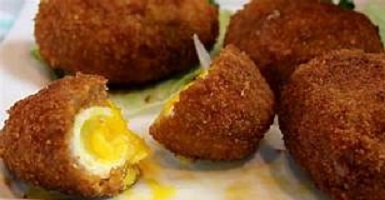 Scotch eggs are another common snack in Nigeria. They're so famous that local fast-food restaurants profit handsomely from their regular sales!
Checkout >>> How to Poach Eggs in the Microwave (Easy and Fast Way)
Scotch eggs, as common as they are in Nigeria, are neither a Nigerian nor a Scottish invention, despite their name! According to research into the origins of these famous snacks, Fortnum & Mason, a renowned luxury British food shop, claims to have invented scotch eggs.
Another theory claims that scotch eggs originated from an Indian kofta dish, which also contains eggs and minced meat.
According to Fortnum & Mason, the first scotch eggs were created in the 1730s for long-distance carriage travelers who wanted some kind of food or snack to keep them going on their journey.
Baked Scotch Eggs
Hard-boiled eggs and sausage meat are used to make Scotch eggs as we know them today (and as they were back then). The meat for the sausages may be pork, beef, or turkey. And the eggs could come from hens, ducks, quail, or geese.
The word "scotch eggs" (previously known as scotched eggs) is thought to refer to the method of making the eggs (which usually includes wrapping them in sausage meat, covering them in breadcrumbs, and cooking (often frying)) rather than the eggs themselves.
Baked Scotch Eggs Recipe
Scotch eggs are usually deep-fried, but I wanted to bake them to reduce the fat absorbed during deep-frying…
Baked Scotch Eggs Ingredients
1 (8 ounces) package bulk pork sausage)
4 big hard-boiled eggs, peeled
1 large egg
½ cup Italian bread crumbs
Instructions
Preheat the oven to 450°F (230°C) (230 degrees C). Aluminum foil can be used to line a baking pan. Over the foil, place a wire rack.
Pork sausage should be cut into 2-ounce patties, then in the center of each patty, place a hard-boiled egg and press sausage around it.
In a small cup, whisk together a raw egg. In a separate dish, combine the bread crumbs. Each patty should be dipped in the egg and then rolled in the bread crumbs to cover. After that, place the coated patties on a wire rack to cool.
Lastly, cook for 20 to 22 minutes in a preheated oven until golden brown. Serve immediately.
Nutritional Information per Serving:
297 calories; 17.6 grams of protein; 11.3 grams of carbohydrates; 19.5 grams of fat; 291 milligrams of cholesterol; 848 milligrams of sodium