Nigerian Chin Chin Recipe: Popular Snack from Nigeria
Please Watch >>>>
The Nigerian chin chin recipe you've been looking for is right here, so stop searching. This crunchy West African snack is delightfully tasty.
Sounds swaggering right? That is, however, a reality! Try it out to see what happens. Chin chin is a common deep-fried snack not only in Nigeria but also throughout West Africa.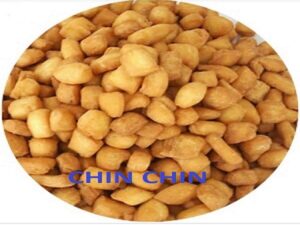 Chin Chin Nigerian food has been a common snack for decades. The 'legendary' snack can be found in almost every supermarket in the world.
Soft Nigerian chin chin is indistinguishable from the Scandinavian snack klenat, a crunchy doughnut-like confectionary made from wheat flour and other ingredients that can be baked or fried.
Some of the spices and flavors found in Nigeria's common Chin Chin include cinnamon, groundnuts, ginger, chili, and nutmeg (an amazing spice that has a long list of health benefits).
The basic ingredients for a typical Nigerian Chin Chin recipe are sugar, flour, and milk. Other optional ingredients, such as egg, baking powder, and nutmeg, can be used if desired.
Guests are usually served the snack at every gathering. In addition to serving Chin Chin wraps as a substitute for other snacks, the snack comes in handy during special occasions such as movie nights.
Chin Chin's popularity is rapidly growing, just like popcorn's, and there are many reasons why reaching for the snack is always a good idea. It's easy to make and can be eaten as an appetizer.
Nigerian Chin Chin Recipes | Chin Chin Recipes from Nigeria | How to make Soft Nigerian Chin Chin
Depending on the quantity you want to make, here is a common calculation for a smaller quantity of chin chin.
WARNING: You'll need to be restrained to avoid munching once you've started.
Even though this snack is common in Nigeria, not all chin chins are created equal. Others are blatantly sweet or flavorless, while others are a greasy mess.
During the Christmas season, I used to help my mother make chinchin a lot. During the Christmas holidays, we (my siblings & I) still looked forward to making this delicious snack.
Every Christmas, we took a trip. As a result, this chin chin served as both a snack and a gift to tourists. We never got tired of eating these, and I'm sure you won't either.
Please read the preceding warning.
On the inside, they're smooth and almost crumbly, and on the outside, they're crunchy. But don't worry, there aren't any jawbreakers here.
Now, let's get to this incredible chin chin recipe, shall we?
Note: For commercial purposes, it is critical to master the art of frying the chin-chin without it being burnt, as this could result in significant business losses, as no consumer wants to eat a burnt chin-chin.
Products Recommended For Making the Best Chin Chin
Pottella deep square 9.5″ copper pan, which comes with a frying basket and a steamer tray, as well as a free cookbook.
Frying spoon: This one is part of a three-piece collection. The best deal.
A package of six 32 oz clear plastic storage jars is included.
Oggi acrylic four-piece canister set: Also useful for storing objects.
Paper Towel: After frying and before storing, use this to absorb excess oil.
Serving bowls: These are ideal for presenting your chinchin.
Servings: 10
Course: Snack
Cuisine: West African
Nigerian Chin Chin Nutritional Value
Calories 355 Calories from Fat 90.
Fat 10g15%
Saturated Fat 5g31%
Cholesterol 48mg16%
Sodium 284mg12%
Potassium 74mg2%
Carbohydrates 62g21%
Fiber 6g25%
Ingredients with Measurement
All-purpose flour (1 ¾ cup + 2 Tbsps.)
granulated sugar, 82g (⅓ cup)
57g salted butter (4 tbsps.) – without butter (optional)
½ tablespoon baking powder
1 egg, large
½ tablespoon nutmeg powder
A quarter-cup of evaporated milk
Oil for Deep-frying
Detailed instructions
Firstly, in a cup, measure and combine the dry ingredients and set aside.
Secondly, combine all of the wet ingredients, except the butter, in a mixing bowl.
Thirdly, rub the butter into the dry ingredients with your fingertips until fully mixed.
Fourthly, add the remaining wet ingredients and stir until a dough forms. It should come together into a perfect dough, but if it's too dry, add a tablespoon of water or milk.
If it's too sticky, apply a tablespoon or two of flour. Remember Not To Overwork The Dough.
After that, enable resting on the counter for about 5 minutes after wrapping in saran wrap. This helps flavors to mingle and the gluten to form, making the cutting process easier.
Now, unwrap the rested dough; since the dough is thin, you can either roll it out all at once or divide it into two portions and roll each separately. Since the dough will rise when fried, roll it out to about a quarter-inch thickness.
Then, cut the dough vertically and horizontally with a knife, pizza cutter, or even a dough divider to shape little squares.
Sprinkle a little flour on the little squares in a bowl and shake them to prevent sticking.
Lastly, preheat the oil. Fry until golden brown. Remove with a slotted spoon and cool on a tray lined with paper towels. When hot, the chin chin is tender, but it hardens as it cools.
Bon Appétit! Your Nigerian Chin Chin is ready
Q&A with a Nigerian Chin Chin Recipe
Why Does My Chinchin Take In Too Much Oil?
Here are a few reasons why you may notice your chin is soggy or has absorbed a lot of oil.
There wasn't enough heat in the oil.
There wasn't enough oil to fry the chin chin dough.
Congestion of the oil with dough: Ensure you have enough oil to fry your dough. Excessive dough overcrowds the oil and doesn't allow satisfactory frying by lowering the temperature of the oil and we're back to point 1 above
How to Prevent Chinchin from Soaking Up an Incredible Amount of Oil When Frying
Before you fry the chin chin, often measure the hot oil by dropping a slice of chin chin in it. When the oil bubbles and the piece of chin chin rise to the surface, the oil is ready for frying.
How Do I Prevent The Oil From Bubbling Over And Spilling While Frying Chin Chin?
This usually occurs while you're cooking the second batch of chin chin dough. I've noticed that this only happens when I use butter in my dough.
I can fry the whole batch of chin chin with the same batch of oil without the oil bubbling up and spilling over when I make chin chin with margarine.
However, since I prefer the texture and flavor of chin chin made with butter, here are some suggestions.
If you're making a big batch, fill a large pot halfway with oil to fit large chin chin dough and change the oil after each batch.
If you are making a small amount, use a big pot to accommodate the amount of oil required to fry the chin-chin in one set.
How to Preserve Chin Chin
Answer: It can be preserved in an airtight container and a dry place and stays good for up to 3 months.
What is the best way to package chin-chin for sale in Nigeria?
Chin-chin can be sold in a variety of clear plastic containers of various shapes and sizes.
Chin-chin can also be packed and sealed in clear nylon bags.
It is packed and sold locally by tying specific measures into nylons
The price of the chin-chin is determined by the quality of the packaging material used to seal the chin-chin.
For industrial packaging of chin-chin an Automatic Chin-Chin Packing Machine should be used while a simple packaging machine is good for small scale production
To successfully package chin-chin for sale in Nigeria, you must first determine how big you want to go.
For small businesses, you can produce chin-chin at home, manually seal them, and deliver them to retail outlets for sale and consumption in a short period.
However, if you want to do a large-scale production, you'll need to gather everything listed above.
Referrals