ChinChin: Nigerian Chin Chin Recipe: Easy African Snack
ChinChin: Nigerian Chin Chin Recipe: Easy African Snack. Please watch >>>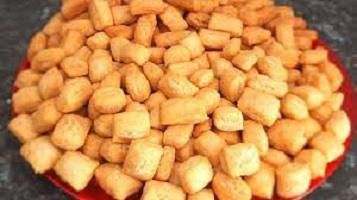 ChinChin Recipe – Deep-fried sweet crunchy treats made with flour, sugar, milk, butter, and fragrant spice powders like nutmeg or cinnamon.
I understand that there are a lot of Chin Chin rmenu on the internet. However, this is the best Chin Chin recipe.
Every ingredient in this recipe comes together brilliantly to make ChinChin that is properly crispy but not too hard.
Chin chin, also known in Ghana as Achomo, is a famous Nigerian snack that also comes in a savory variety that is more popular in Ghana (a West African country). A lot of onion, ginger, and chili powder is used in the savory version.
If you've been looking for a Simple Nigerian Chin Chin recipe, look no further! You can be a winner with this Nigerian ChinChin recipe. Try this African chinchin out and see what happens.
Related >>>
What Is Chinchin
Chin chin is a popular West African fried snack enjoyed throughout the region, especially in Nigeria.  Chin Chin Nigerian is a crunchy deep-fried snack with a lot of flavors that are relatively simple to prepare.
The Cin Cin snack originally was designed to be served only on rare occasions. It has progressed from a special occasion delicacy to a snack item that can be found on street corners, kiosks, and supermarkets.
What Is The Taste Of Chin Chin? Chinchin recipe
ChinChin is a sweet, crunchy snack Shynahk. It has a fried cookie flavor to it. Depending on the flavors used, the taste may differ somewhat.
Chin-Chin is always at the top of the list of small chops to serve at festive seasons or Nigerian gatherings as appetizers. At parties, guests love to nibble on this crunchy goodness before the main course is served.
This is a good way to calm down hungry guests while also getting them to focus on party activities before the food is served. It even gives them hope that something good will happen in the future.
It's a nice quick snack for guests and a family movie night snack; kids enjoy it as well. WARNING: You'll need to be restrained to stop chewing once you've started.
Even though this food is popular in Nigeria, not all chin chins are created equal. Some are overly sugary or tasteless, while others are a greasy mess.
Chin-Chin is popular not only because of its best flavor but also because it keeps for a long time (approximately 4 weeks) when stored properly in airtight containers.
It's so easy that even if you've never made a Nigerian snack before, you can succeed with the Nigerian Chin Chin.
Recipe chin chin
People have a wide range of tastes, ranging from extremely hard to extremely soft. My taste is somewhere in the middle, and that is the recipe I've included here.
I've also included some suggestions below on how to build the soft or hard version, so you may pick your preference.
If you want your finished product to be much harder, leave out the baking powder, skip the egg, and add ½ cup additional flour. Thereby, making it one of the easiest Nigerian snacks to make.
Make any necessary changes to the recipe to suit your needs. Simply double or quadruple the recipe if you need to create two or four times the amount.
Ingredients and Measurement for Best Nigerian Chin Chin
1kg of all-purpose flour(plain flour)
Milk or 70g of powdered milk)
Half teaspoon of baking powder (optional) – with/without baking powder
100g of granulated sugar
200g butter or margarine (softened)
150 ml whole milk (100ml of evaporated milk or 75ml condensed
Vegetable oil (for frying)
Half a teaspoon of salt
1 teaspoonful of ground nutmeg
2 to 3 raw eggs (optional)
Water(add gradually if you are not using whole milk)
(add 50 ml if using evaporated milk,
add 75ml is using condensed milk,
also, add 100ml if using Powdered milk)
How to make Chin Chin
Beat the eggs and set them aside if you're using them.
Pour the sugar into a small mixing bowl, then add the milk and stir well.
Combine the flour, baking powder, salt, and nutmeg in a larger mixing bowl.
Stir in the softened butter or margarine until thoroughly combined. With your hands, thoroughly combine until the mixture resembles fine bread crumbs.
Whisk together the eggs and the milk-sugar mixture in a mixing bowl until a smooth but stiff dough forms. If using powdered milk, a little water can be added to achieve this consistency.
Knead the dough for about a minute on a floured flat surface.
Then, using a rolling pin, flatten the dough and cut it into any desired shape. When you put the dough in the hot oil, it doubles in size, so don't cut it too big.
Heat the oil to a high temperature and fry the Chin Chin dough. Stir constantly until all of the chin chin has turned golden brown.
Tip:
To avoid "oil-soaked chin chin," fry the chin chin in batches and make sure you don't fry too much at a time.
Place the fried Chin chin on a flat pan or tray to cool completely before transferring to an airtight container. Enjoy!
The Nigerian Chin Chin can be enjoyed in a variety of ways. It goes well with a good drink or beverage and can be eaten at any time of day or for any occasion.
FAQ
What can I do to make my chin softer?
Extra eggs can be added to the recipe to make the chin chin softer and less crunchy.
Why does my oil foam when I fry chinchin, especially in the third batch?
This is a common chin chin question, and you're not alone. It's usually caused by moisture in the dough you're frying, but it can also occur if the oil is already "dirty" (has particles or crumbs from the previous batch).
It also happens a lot if you dust the chin chin with too much flour after cutting, so try to use as little flour as possible. Additionally, try to fry the chin chin in small batches.
I usually change my oil as soon as it begins to foam, but I've noticed that adding a little fresh oil to the used one reduces foaming as well. However, I recommend that you change the oil (don't throw it away o) and replace it with new oil.
Finally, note that while frying Chin Chin, some foaming is to be expected. Even if you do everything correctly, your oil may softly bubble after a few frying sessions or if you're using previously used oil.
How do I keep the Nigerian chin chin in good condition? Preservation technique
It can be stored for up to three months in an airtight container in a dry environment.
Can you tell me how to make chin chin for sale?
If you plan on selling chinchin, the recipe above is ideal, but most commercially produced chinchin do not contain egg or milk due to increased production costs, so you must decide what you want in your own chinchin.
Note that, you can still produce soft chinchin without eggs, it depends on the techniques uused.
Can I make my chin chin with chocolate or coco powder?
Yes, you can; this is the traditional Nigerian chin chin recipe, but feel free to experiment with other flavors.
Instructions for making vanilla chin chin
To make a tasty vanilla chin chin, simply mix vanilla essence or flavor into your chicn chin dough while mixing.
What is the best way to make chin chin with yeast?
Baking powder is used as a leavening agent in chin chin because yeast produces a soft chin chin instead of a crunchy chin chin.
Is it possible to make gluten-free Chin Chin?
Yes, any all-purpose gluten-free flour can be used to make gluten-free chinchin.
Here are a few reasons why you might notice your chin is moist or has absorbed a lot of oil.
There wasn't enough heat in the oil.
Or maybe there wasn't enough oil to fry all of the chin chin dough
There was an overabundance of oil. When the oil is overcrowded, the temperature drops, and we're back to point 1 above.
How to Keep Chinchin from Soaking Up Too Much Oil While Frying
Before you fry the chinchin, the oil wasn't hot enough.
Always test the hot oil by dropping a piece of chinchin in it. When the oil bubbles and the piece of chin-chin rises to the surface, the oil is ready to fry.
The amount of oil required was insufficient for the chin chin dough
Always use enough oil to fry your chin chin. Frying chin chin necessitates deep frying, which requires a sufficient amount of oil.
Putting too much dough in the oil: Make sure you have adequate oil to cook your dough. By reducing the temperature of the oil and causing the dough to soak up oil, too much dough overcrowds the pan and prevents optimal frying.