Nigerian Akara, Moi Moi, and Gbegiri with Beans Flour
Nigerian Akara, Moi Moi, and Gbegiri with Beans Flour make your life easier since you get to skip the bean skin removal stage in the making processes.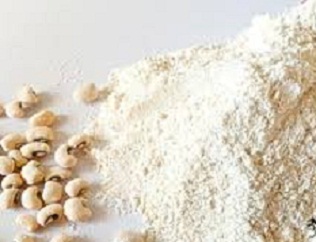 Bean flour comprises of beans that have been ground into powdered form and can be preserved for later use.
This bean flour can be used for other functions too, like in making Moi Moi, Akara and Gbegiri, etc. it also serves as a quick substitute when making beans pudding.
Please Read: Homemade Beans Flour – Steps in Making Beans Flour
You can buy it at supermarkets and shops near you in Nigeria or better still prepare it at home, check the above link on how to prepare beans flour at home:
You still need to use the blender to add the other ingredients needed to make this delicious side dish.
I enjoy making Moi Moi, Akara and Gbegiri with beans flour because it is hassle-free, I simply add the beans flour and other ingredients into the blender and blend till smooth, before adding more ingredients in a bowl mix.
This mouthwatering goodness will delight your taste buds and the best part is it's very easy to make.
Recipe: How to Make Nigerian  Akara, Moi Moi,, and Gbegiri Using Beans Flour
This snap recipe is so stress-free, easy, and fast!!  It might not be exactly like the original made with fresh beans from scratch but it's equally delicious.
How to Make Nigerian Akara with Beans Flour
Akara (Bean cake) is a popular Nigerian breakfast dish. Starting from soaking to the peeling of beans and then blending, the method of making Akara can be very tedious.
Moreover, what if you stay where you can't buy beans, or you simply do not want to go through the stress of making Akara from scratch?
Then, at such moments bean flour becomes the solution to this problem.
The way yam can be blended into powder to make Amala, that's how beans can be grounded into a powder thereby removing the most stressful step in the preparation of Nigerian Akara.
Nigerian Akara with Beans Flour Recipe
Making Akara with Beans flour is not a difficult task. It's quite straightforward, and below is a list of ingredients needed.
Bean Flour
Chopped Onion
Chopped Bell Pepper and/or Scotch Bonnet Warm Water
Seasoning cubes
Salt
Oil for frying Eggs (Optional)
How to Make Nigerian Akara Using Bean Flour
Firstly, mix the flour with the warm water, until it forms a paste (thick paste to enable it to form a ball).
Secondly, add the chopped onion and Bell pepper and/or Scotch bonnet to the paste, and then mix thoroughly.
Thirdly, add salt and seasoning cube to make it tasty. Pour the oil into the frying pan and heat it till the oil is hot,
After that, use a deep round bottom spoon to measure the mixture, and then pour it gently into the hot oil.
Then, wait till the Akara starts to sizzle and turn when one side is brown. Take out the Akara when both sides are brown.
Lastly, repeat until you are done with the whole mixture. Now, that wasn't so difficult, right?
Like your Nigerian Moi Moi, pair your Nigerian Akara with pap (Ogi/Akamu), custard, steamed cornmeal (Eko), Jollof rice, bread, etc.
How to Make Nigerian Moi Moi with Beans Flour
Moi-Moi is one of the foods that unite all tribes in Nigeria, whether you are from the western, northern, southern, eastern part of Nigeria, you will always find this Nigerian food,
It is often pronounced as mai mai,  moyin moyin,  moin moin, moy moy, etc.
It is usually served as a side dish at parties, dedication, birthdays wedding ceremonies, and other merry occasions.
Ingredients
6 servings
2 ½ cup beans flour
1 red bell pepper
4 Scotch bonnet
1 onion
Boiled eggs
1 cup of Vegetable oil
½ tsp Salt
Smoked fish
½ cup hot water
½ cup stock
Uma leaves
Seasoning cubes
Steps
Firstly, wash your onion, and red bell pepper, scotch bonnet, chop your onion and transfer into your blender.
Then, add in your beans flour, hot water, and stock. Cover and blend all for 3 minutes
Thirdly, after blending, allow resting for 20 minutes.
Fourthly, transfer into a bowl, add in your salt, crayfish, seasoning cubes, and vegetable oil and mix everything together.
Wash and fold your uma leaves, pour in some moi moi batter, add some eggs and fish, then close it up properly.
Lastly, set your pot on low heat, add in 1½ cup of water, place some uma leaves at the bottom of your pot, drop in your wrapped moi moi and cook for about 25 – 30 minutes. Your beans flour moi moi is ready.
Pair your moi-moi with pap (Ogi/Akamu), custard, steamed cornmeal (Eko), Jollof rice, bread, etc.
Recipe: How to Make Gbegiri with Beans Flour
For newbie's, Gbegiri is one of the holy trinity of Abula which consists of Amala served with Ewedu Soup and Gbegiri.
From time to time one will yearn for this soup so badly but the stress or hard work that will go into making this delicacy will discourage you,
Hence, this easy way I present to you all.
Preparation of Gbegiri 
Ingredients
1 cup of beans powder
Pepper
Stock water
Meat/ Fish/Ponmo
Palm oil
Crayfish
Salt and seasoning cubes to taste
Water
Instruction
Add the pepper in the beans powder and mix
Add the stock water or ordinary water in case you do not have stock.
Stir continuously till it is free of lumps and make sure the mixture is not thick at all,  it will become thick when been cooked
Pour the mixture in a cooking pot
Cover the pot and allow the content to boil for about 5-7 minutes
Add palm oil
Add salt and seasoning to taste
Put the meat/fish/ponmo e.t.c.
Cover the pot and let the content boil for about 10 minutes
That's it! Enjoy your delicious Gbegiri with Ewedu (Jute Leaves Soup) & Amala for that real Abula experience!