Sandwich Toast: How to Make Nigerian Sandwich Toast Bread
Sandwich toast bread and tea was my typical weekend morning meal while growing up. I love eating bread as a kid.
Hence, it's not a revelation that toasts Nigerian bread is a favorite breakfast for millions of adults and kids not just in Nigeria, but across the globe as well.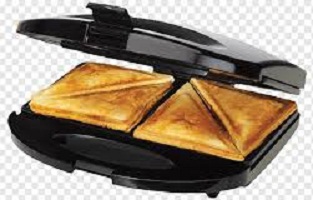 While growing up, we had a bakery at the next street (New society bread bakery). Life was good then, we always go there to help out and end up with bags of goodies.
I ate so much bread (I mean hot bread) while growing up. No day will pass without tasting bread, once I perceive the aroma I will rush there with my friends.
Looking back now, I think that was when I developed my love for baking and cooking as well. Yes!
The bread was my go-to food. I could eat it with anything for breakfast, lunch, and dinner.
With time I got introduced to other bread-related snacks like bread and stew, bread with Akara, bread honey toast, toast bread with beans, bread and egg cheese, bread and butter/jam, the sandwich toast, just name it, am already a fan.
Types of Sandwich Toast
We have different types of Sandwich Toast:
Club Sandwich
Chicken sandwich
Ham sandwich
Mayo sandwich
Turkey sandwich
Cheese sandwich
Beef sandwich
Avocado sandwich
Egg sandwich
Fish sandwich
Tuna sandwich and so on…..
My recipe on bread today is a classic and easy to make sandwich toast that offers a balanced nutritious and delicious meal for a prolific day!
How to Make Nigerian Sandwich Toast
All you need in making a Nigerian sandwich toast is a sandwich maker, if there is none, a grill pan or fry pan would do the job
Plus, 4 slices of bread and other ingredients (basically, scrambled egg and vegetable filling).
Under 5 minutes, your complete meal is ready with lip-smacking aroma filling not just the kitchen but your environs.
Ingredients for Nigerian Toasted Sandwich
6 slices of whole-grain bread (or any bread of choice)
1 cup chopped tomatoes
5 eggs
½ cup chopped onions
1 tablespoon of tiny chopped fresh bell pepper (any color; optional)
½ teaspoon of seasoning powder or ½ a seasoning cube (or less according to your taste)
½ teaspoon of salt (or less according to your taste)
¼ black pepper
A dash of thyme
A dash of crushed red pepper (optional; for extra spiciness
2 teaspoons – 1 tablespoon of olive oil to scramble/fry the eggs
Plus, one tablespoon of olive oil (to grease the bread); or butter
Instructions
First Scramble the Eggs
Firstly, add some seasoning powder to your cracked eggs. Then, add thyme, a dash of ground red pepper, some black pepper, and salt. Beat the egg and put it aside.
Secondly, sauté each vegetable (onions, tomatoes, garlic, and bell pepper) for 2 minutes in the hot oil as you add them in.
Then add the eggs, sprinkle the green onions on the eggs.
After that, gently scramble the eggs for 3-4 minutes on low – medium heat until fully cooked and firm.
Finally, scoop scrambled eggs into a clean plate to stop further cooking.
Toasting
Firstly, turn the sandwich toaster on; lay bread on a cutting board and then, use a kitchen brush or your hand or oil spray and spread the olive oil on all the sides of the bread.
After that, add a part of the egg to the center of the bread and cover it with another bread. Place in the sandwich toast maker.
Thirdly, make sure the toaster is locked and the switch light is on red.
Immediately the toaster machine changes from red to green, the sandwich is fully cooked.
Lastly, remove the toast, place on a clean plate and serve by either by itself, or with fresh fruits, tea, or with coffee.