Soya bean cake is a snack that is made from blended soya beans with some spices and deep-fried. This cake is commonly known as wara, beske, awara, or Nigerian tofu.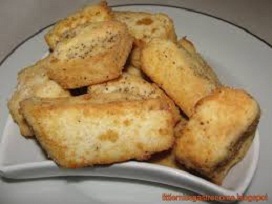 Wara Soya was a staple in Kwara State in Nigeria and other Western and Northern states.
Please Read: Soya Beans: Nutrition, Benefits, Types, Uses, and Side Effects
It often serves as a substitute for meat. It is a tasty snack that is low in calories but abundant in protein.
Health Benefits of Soya Bean Cake
High in Fiber.
High in Protein.
Aids Digestion and Bowel Movement and to Shed Body Weight.
Low in Saturated Fat.
Cholesterol Free.
Lactose-Free.
A Good Source of Omega-3 Fatty Acids.
A Source of Antioxidants.
High In phytoestrogens.
Ways of Enjoying Soya Bean Cake
Wara is very adaptable. The fried and spiced cubes are hawked and sold for ₦100 apiece for now and the wara kebabs are favored by the Ghanaians.
Other ways of enjoying soya bean cake include:
Scrambled And Curried Wara (Which Goes So Well With Fried Plantain)
Wara in Egusi Soup (Fried/Oven Roasted Before Cooking In The Egusi Soup. It Soaks Up The Soup Flavor In A Good Way)
Ehuru And Pepper Flavored Fried Wara
Oven Roasted Small Wara Bits/Scramble In Your Spaghetti Sauce Or Salads
Oven Roasted Wara Steeped Beforehand In Ginger And Garlic
Wara In Fresh Thai Spring Rolls
Oven Roasted Wara for Burger Patties, And So Much More.
The foodgasm prospects are endless. The good news is that halfway through the process, you get Soy Milk. But let's not get ahead of ourselves. Below is the recipe:
Homemade Soya Bean Cake Recipe
I likened the process of making Soya bean cake to that of making pap (ogi/akamu).
The great thing about making it yourself is that you can add in your twist.
Ingredient
3 cups of raw soya beans
Water
1 teaspoon of magnesium chloride or 75 ml of freshly squeezed lime juice or even alum
Vegetable oil
3 habanero pepper( blended)
One raw egg
A big pinch of salt
Seasoning cube
Directions
Firstly, pick the soya beans, remove all stones and dirt. Then, place the soya bean in a bowl and pour water to cover the soya bean and leave overnight or 4 – 6 hours.
Secondly, rinse the soya bean and ground it into a fine paste
Thirdly, add 3 cups of water into the blended soybean. place a sieve ( chiffon cloth) in a big bowl or pot, pour the paste into the sieve and separate the milk from the chaff
Fourthly, the chaff is what remains in the sieve and it is useful while the liquid that came out from the sieve is the Soya Milk
After that, pour the milk into a large pot and set on fire, and allow boiling.
Then, dissolve the magnesium chloride in a half cup of water and pour it into the boiling milk. Tofu will start to form. Do not stir.
Allow boiling for 3 minutes, and then turn off the heat. Leave to coagulate for 5 minutes
After that, rinse the sieve (chiffon cloth) and place it a big bowl, then pour in the contents of the pot. tie the sieve and place a heavy object on it to drain out the excess water
Lastly, wait for about 30 minutes before untying the sieve, then, remove the soya bean cake and place it in a tray.
Your tofu should be set and ready to serve.
Please note – Tofu is ready for consumption at this point, you can season it with salt and pepper and serve or process further;
To Process Tofu Further:
Firstly, cut the tofu into desired sizes and season with some salt, Maggi, and pepper.
Secondly, break the egg and add the seasoning cube with a little water in a bowl, and whisk together until you get a homogeneous mixture.
After that, place the tofu inside the egg mix and rub the eggs on it
Lastly, deep fry until golden brown. That's it. Soya Bean Cake is ready!
Soya Bean Cake/Tofu/Beske/wara can also be used in stir-fry, stews and sauces as a great meat alternative.