How to Make Yogurt at Home in Nigeria or Abroad
How to Make Yogurt is very simple, all you need is milk and a few spoonfuls of your favorite plain yoghurt to use as a starter culture.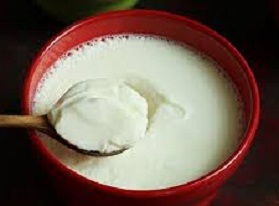 Origin: How to Make Yogurt
The word yogurt is of Turkish origin and refers to tart, thick milk. It has always been around cultures that kept animals for milk.
Especially for You >>> Yogurt: Types, Health Benefits and Side Effects
Yogurt is one of the hale and hearty food products recognized by man. Fermented dairy products like yogurt have all of the health benefits of milk without any possible side effects.
There are many methods to use if you want to know how to make yogurt at home in Nigeria.
While store-bought yoghurt may be suitable, you can't compare it to the rich, creamy, and wholesome goodness of homemade yogurt.
Yogourt making at home is a simple process and does not require any specialized equipment and it can save you a lot of money.
Regardless of the kind of milk you use, be it raw, pasteurized, or powdered milk, we have a recipe for making it.
With this recipe, you can also make a smoothie, basic, Greek, or even fruit yoghurt easily at home.
How to Make Yogurt from Scratch
Making yoghurt at home is very easy, does not require the use of Yogurt maker, Crock-pot, or Instant Pot.
All you need are two ingredients: a quality whole milk and a previously made or store-bought yogurt.
Yoghurt making at home will let your whole family enjoy the health benefits and delicate taste of yogurt.
Homemade Greek yoghurt is made the same way as yogurt. The only modification is that Greek-yoghurt is thicker and has a higher fat percentage due to the half milk and half cream in the recipe.
To Make Yoghurt from Scratch, you will need:
1-3 liters of milk
A bag of starter culture or 2 teaspoons of unsweetened active yogurt
The quantity of milk added should be subject to the amount of yoghurt you will get in the end.
Method
Firstly, heat your milk in a large saucepan until it starts boiling and continuously stir it to prevent it from getting burnt.
Secondly, remove from the heat source and allow cooling to around 40°C. Use a thermometer to find out the temperature of the milk. In case you don't have one, feel the temperature and ensure that it is warm and not hot
Thirdly, add starter culture or live yogurt in the warm milk and mix the ingredients until they dissolve in the milk.
Fourthly, sterilize your yogurt containers with boiling water before pouring both the yogurt and milk mixture into the containers.
After that, put the containers in a warm environment or cover them with blankets to maintain the temperature. Leave them for at most 8 hours then, check on your yogurt to ensure it's thickened.
At this point, there may be a small amount of whey separation on top. If so just pour that little bit off.
Lastly, let your yoghurt sit overnight in the fridge to thicken, add some sweetness to it, or consume it the way it is.
Homemade yoghurt can last for up to three days in the fridge.
Tips on How to Make Yogurt at Home
Yoghurt formation is subject to climate and weather conditions.
Fresh yogourt tastes like milk but it gets sour as it continues to mature.
When yoghurt is ready, it's tasteless but after 3 to 4 hours in the fridge, you will notice that the yogurt has a sour taste and a somewhat velvety texture.
Yoghurt can be used to make more yogurts because of the active live culture. Hence, you now have yoghurt to make more yogurt.
Yogurt Flavors
The following can be used to add flavor to yogurt
Honey
Honey vanilla
Maple
Date yogurt with silan
Mango
Coconut milk
Banana
How to Make Yogurt from Raw Milk
On the other hand, you can make yogourt from raw milk without heating up your milk. The ingredients with plain yogurt making are the same but the method is slightly different.
Instead of allowing the milk to boil before cooling it off, all you need to do is to heat it to 40°C right away and remove it from the heat source.
If you are using a starter culture, make sure you follow the instruction highlighted above, but if you are going for live yogourt, then add a teaspoon of yogurt to a cup of milk to get a quality mixture.
The end product is usually thinner when you compare to the first method. Some people prefer this method, as the milk is not pasteurized. The choice is yours, or you can consider the third option – powdered milk yogourt
How to Make Yogurt from Powdered Milk
Making yogourt from powdered milk is another alternative especially if you prefer to use powdered milk or you are unable to get regular milk.
Ingredients
2 cups of warm water
2 teaspoons of unsweetened active yoghurt
1 ½ cup of powdered milk
Instructions
Firstly, mix the powdered milk with the water and stir very well until you have a consistent mixture.
Secondly, heat the milk to a boiling point, then remove from heat and allow cooling until it reaches 40°C.
Thirdly, mix the live yogurt and the milk thoroughly and then pour the mixture into a sterilized pot or container.
After that, place the yogurt mixture in a warm environment. Check after 3 to 4 hours to make sure it's thickened.
Lastly, if you notice a small amount of whey separation on top, pour that little bit off and leave the yoghurt overnight in the fridge.
You can decide to add some sweetness or consume it like that.
Frequently Asked Questions on How to Make Yogurt At Home
Q: Where to Buy Yogurt near me in Nigeria
A: There are a thousand and one places you can buy yoghurt in Nigeria. Yoghurt can be bought in many major supermarkets in Nigeria (like Shoprite, SPA). Besides, you can buy from online vendors on Instagram, supermart, and so on.
Q: Is Habib Yoghurt Greek Yoghurt?
A: Habib yoghurt is not Greek yoghurt. Though, you can make Greek yoghurt with Habib yoghurt because it has a live culture (bacteria) which is required for making Greek yoghurt.
Q: Why Boil The Milk Before Making Yoghurt?
The main purpose of heating milk to the boiling point before fermenting is that it enhances the texture of the yoghurt.
Q: What Is Yoghurt Starter?
A yoghurt starter is a cautiously composed mix of bacteria that consume lactose. This mixture of bacteria changes the lactose in milk to lactic acid, thereby giving yogourt that classic, scrumptiously sharp taste.
If you like my recipe on how to make yoghurt at home, then am positive that you will enjoy the following healthful recipes: