Dalgona Coffee | Whipped Coffee | How to Make Frothy Coffee
Dalgona coffee is known with many names; whipped Coffee, Korean coffee, frothy coffee, cloud Coffee, magic coffee, and so on. No matter the name, this cold coffee is simply ah – mazing!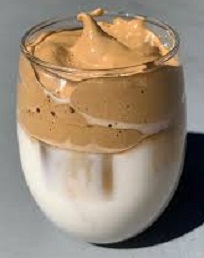 Dalgona Coffee is a cold latte drink ("coffee & milk") that comes with velvety suave and mushy coffee foam on top. The blend of cold milk and the bittersweet coffee is undeniably enjoyable.
Especially for You >>> Yogurt: Types, Health Benefits and Side Effect
What is Dalgona Coffee?
This is a 4- ingredient whipped, frothy iced coffee drink made with instant coffee, water, sugar, and milk.
This coffee has two separate layers made from whipped coffee cream sitting on top of the iced milk.
Accordingly, it is otherwise known as "frothy coffee", "whipped coffee", or "fluffy coffee."
Why Is Dalgona Coffee Popular?
Dalgona coffee started trending lately in South Korea in February 2020.
This Korean coffee drink took social media by storm during quarantine time (COVID-19 Pandemic) as the It-Drink of the moment.
Under the hashtag #dalgonacoffeechallenge many shared short video tutorials on TikTok and Instagram, homemade versions of whipped Coffee began spreading on South Korean YouTube channels.
This video became an instant hit on the internet and has now gone viral on TikTok.
Dalgona Coffee Origin
The name "dalgona" has its origin from an ancient Korean street snack that has comparable taste to honeycomb toffee.
Dalgona making sort of bear a resemblance to the regular whipped coffee, thus a TV personality named the coffee after that.
Regardless of its origin, some folks maintain that this coffee could be likened to Frappe or Indian cappuccino, served upside down with the frothy coffee on top and the milk underneath.
Recipe: How to Make Dalgona Coffee at Home
Making whipped Coffee is now a fun new challenge to do. Particularly now many people are isolating and social-distancing at home. Would you like to join the hype? If yes! Then let's go:
Ingredients
2 tbsp. instant coffee or espresso powder
2 tbsps.' of Sugar
400 ml milk
2 tbsps.' of very hot water
Method
Method
Firstly, add the instant coffee, sugar, and hot water to a medium mixing bowl.
Secondly, whip the coffee mixture using an electric hand-held mixer, until it is light brown, fluffy, and holds stiff peaks when you remove the whisk.
After that, heat the milk (optional), and then divide between two heatproof glasses.
Lastly, spoon dollops of the frothed coffee mixture on top and smooth out with a spoon. Serve.
How to Store
A big quantity of whipped coffee can be refrigerated for a few days in an airtight container (without adding milk).
Though it will dissolve eventually, but at least it will stay stable for a few days.
Frequently Asked Questions 
Q: What kind of sugar can I use?
A: You can use granulated sugar, brown sugar, white sugar, raw sugar, and even coconut sugar.
Q: Can I make dalgona coffee without sugar?
A: The sugar supports the coffee whip to a fluffy and firm texture by holding its shape for a while. You can reduce the quantity of sugar, but just know that your coffee won't be as fluffy.
Q: What kind of milk do I use?
A: You can use dairy-free milk, cow's milk, such as oat milk, almond milk, or any other kind of milk that of choice.
Q: Can I make Dalgona coffee without an electric mixer or coffee blender?
A: It will go faster if you have a Dalgona coffee blender or electric hand mixer, but a humble regular whisk, one powerful arm, and a good dose of patience and staying power will get you there too, though, it may take a little bit more time, but it's possible
Q: How do you drink dalgona coffee?
A: Here's the deal: you can only taste one layer at a time while drinking through a straw, but drinking without straw would leave you with a nasty coffee foam mustache.
However, I think for the best result you should stir the drink before drinking.
Q: Why the Name "Dalgona" Coffee?
A: The name comes from dalgona, a spongy South Korean coffee candy.
This candy has a foamy texture and surface, looking very alike to the pitted texture of whipped Coffee foam against the side of a glass.