Aju Mbaise Healing Soup for Nursing Mothers [Video]
Aju Mbaise Healing Soup for nursing mothers in Nigeria, also known as Mmiri Ogwu, is a meal peculiar to the people of Imo State's Mbaise zone. The name translates to "Mbaise wrap in English." No Yoruba word yet
Aju Mbaise Healing Soup Ingredients
The main ingredient is an herb created from a medicinal tree's leaves and bark, which are put together in a bun.
Aju Mbaise tea is a drink that can also be used to make healing pepper soup. It has a harsh taste and a rich, fragrant perfume when cooked, and it turns light yellow.
About Aju Mbaise Healing Soup
Aju Mbaise Healing Soup is a pepper soup made with aromatic spices such as uda and vegetables such as oha, uturukpa, and uziza. Fresh fish, stockfish, smoked fish, catfish, and goat meat are all popular additions.
The Aju Mbaise healing soup is traditionally prescribed to nursing moms to help flush out post-pregnancy fat and toxins that stick to the stomach.
It improves women's fertility by eliminating dead cells. Aids in ovulation regulation and detoxification for women who have had a miscarriage or abortion. It can also be used to treat early-stage fibroid and tumors.
Aju Mbaise Healing Soup Side Effect
However, the soup may be dangerous to pregnant women and their babies, and it can cause dizziness if consumed in excess.
In addition to ladies, men who want to lose weight can consume the soup.
It's better to drink the Aju Mbaise Healing Soup while it's still hot, as this boosts its effectiveness.
If you find this article educating, then am sure you will like my following write-ups on Aju Mbaise:
What are Aju Mbaise Traditional Medicine and its importance to women – folks?
Aju Mbaise Traditional Medicine is used mainly by singles, married and nursing mothers to lose weight, reduce belly fat, increase fertility, prevent fibroids, blocked fallopian tubes, Aju mbaise, and ovulation/the liver, etc.
The Aju mbaise is a fat-burning, mixture of 5 different leaves, bark, and roots of a medicinal tree enfolded together.
Aju Mbaise is a fat-burning slimming herb, a combination of 5 diverse leaves, roots, and bark of a medicinal tree wrapped together.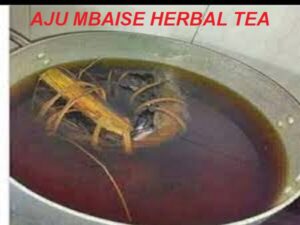 It's an Orthodox method of trimming down and bouncing back post-pregnancy fat by the Mbaise women.
It is usually cooked with uda, uziza seeds, and ehuru ingredients.
Aju Mbaise is most notably good for women to take within 2 weeks after giving birth to flatten their Tummy and give them that figure 8 shape.
How to get a flat stomach, lose weight and look good naturally can be achieved using Aju Mbaise flat tummy tea. Many Nigerians spent money and time to get the perfect body shape with no results.
What they did not realize is that Nigeria is a blessed country with varieties of natural herbs. These herbs are used in solving different difficult health-related issues.
One of the most powerful and effective herbs used is the amazing traditional wrap known as Aju Mbaise.
Aju Mbaise is a traditional method of trimming down fat especially after giving birth.
The Aju Mbaise for fertility is a traditional medicine made of fresh herbs, fertility herbs, and fruits, blended to be taken within weeks for couples trying to conceive.
This fertility herb is also very good for women suffering from the hotness of the stomach as it calms the walls of the stomach down to enable healthy sperm to settle to form a baby.
Aju mbaise herbal tea, when consumed as slimming tea, is the best traditional herbs for weight loss and flat belly from Mother Nature. Origin of Nigerian food Aju mbaise is from a town called Mbaise in Imo State, Nigeria.
This fat burner herb comprises uziza seeds, ginger roots, uda, the bark of medicinal trees and leaves, and uhiekirihio bound in a round shape. It is a golden yellow color after boiling with a delicious aroma and a slightly bitter taste.
Aju mbaise herbal tea is good for women especially nursing mothers. The herbal tea is generally active for weight loss, fertility, and correction of the irregular menstrual cycle. Men have also testified to its wonders too.