Moringa Super Nutritional Benefits You Should Know
If Ade knew the power of Moringa, he would have had a great first night with his wife.
Ade had talked Eny, now his wife, into believing he was good in bed while their relationship blossomed (before they got married).
She had waited patiently for that one night after their wedding to get to the climax she had only reached during an intercourse with her imagination.
That night came after they had said I do to each other and her hope was deflated like a balloon.
What happened? Ade was not feat. His sexual drive had failed him when he needed it most.
He was not aware the leaf of Moringa in front of his home held the solution to the satisfaction he craved for.
Yes! Moringa oleifera does a lot and kindling sexual drive is one of its outstanding benefits.
It is a multipurpose tree native to the foothills of the Himalayas in north-western India and is cultivated throughout the tropics.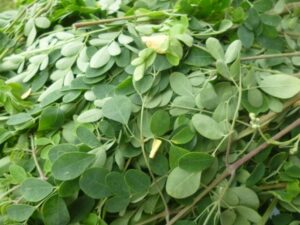 The root, fruit, leaves, seeds, and bark of this tree are used for medicine.
Moringa is one of the most nutritious plant ever studied and it includes two important classes of compounds: Antioxidants and Anti-Inflammatory.
These two compounds found in Moringa defend your body cells from the effects of free radicals and can also minimise an excess of inflammation in the body
5 AMAZING HEALTH BENEFITS OF MORINGA
Moringa is used in managing anemia, arthritis and rheumatism (an illness affecting joints-where bones or muscles are joined and they swell and become stiff and painful).
In addition to asthma, cancer, constipation, diabetes, epilepsy, headache, heart problems, high blood pressure, stomach pain, stomach and intestinal ulcers, kidney stones, fluid retention and thyroid disorders.
It lowers inflammation, kindle sex drive (as an aphrodisiac), and enhance the immune process and breast milk formation. Several others use it as a dietary supplement or stimulant.
 When applied directly to the skin moringa serves as a germ-killer or drying agent (astringent). It is furthermore used for the treatment of athlete's foot, dandruff, and gingivitis which is the inflammation of the gum, snakebites, warts, and injuries.
Oil from moringa seeds is used in preparing foods, perfume, and hair care products, and also as a machine lubricant.
This miracle tree is a vital food source in some parts of the globe.
Since it is easy to grow and affordable, and the leaves retain plenty of nutrients when dried, Moringa is utilized in Africa in food programs to combat famine.
The undeveloped green pods called drumsticks are used in the same way as green beans, but the seeds from the more mature pods are removed and cooked like peas or roasted like nuts.
WHAT IS MORINGA LEAF POWDER?
Even though the whole moringa tree is suitable for eating, one of the most valuable parts are the leaves. Today, the best way to use moringa leaves is through is leaf powder.
Regarded to be a super food, this spinach like aroma powder is made from its naturally-dried  leaves.
The green leaves are dried and ground to a fine consistency. The powder is sieved before being packaged. Moringa powder produced from the naturally dried leaf of the moringa tree is likely one of the most nutrient-dense raw whole foods on the planet.
HOW TO MAKE MORINGA TEA
The tea is really a convenient way to get many Moringa benefits.
Simply follow these three steps:
For a single cup, use between ½ to 1 teaspoon of moringa powder.
Add warm water.
Mix up with a little honey and fresh ginger (optional) to taste.
SIDE EFFECTS & PROTECTION
Moringa, when taken by mouth and used properly is not a problem to health.
The leaves, fruit, and seeds may be safe when eaten as food. Nevertheless, it's most important to restrict consuming the root and its juice because they may have a toxic substance that can trigger paralysis and even death.
There isn't adequate information to know if moringa is safe when used in medicinal amounts.
INDIVIDUAL SAFETY MEASURES & NOTIFICATION:
Moringa and Pregnancy: It's very risky to make use of the root, bark or flowers of this plant in case you are pregnant. Chemical substances in the root, bark, and flowers can make the uterus contract, and this could cause a miscarriage.
There is not adequate information on hand in regards to the protection of making use of different parts of this plant during pregnancy. So be on the safe side and avoid usage.
Moringa is occasionally used to boost breast milk production.
Some studies suggest that it's possible, but, there isn't sufficient information to know whether it is safe for the breastfeeding baby.
Therefore, it will be a wise decision to avoid using the plant in case you are breastfeeding.