Roasted Plantain or Bole: Nigerian street food
Also, Roasted plantain or bole is classic street food in Nigeria. It is native to Yoruba people of Nigeria.
Roasted plantain is commonly called Boli in South-West Nigeria and eaten with groundnut – Bole and Epa (Plantain and Groundnut)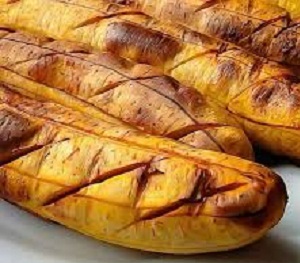 In Port Harcourt, South-South Nigeria, it is referred to as Bole and eaten with fish.
While the Eastern part of Nigerian eat roasted plantain (Ogede), with sweet hot sauce, turned orange with palm oil and mixed with oil bean (Ugba/Ukpaka).
Some like garnishing theirs with utazi leaves which I can do without.
While some eat it for pleasure or as a snack, others take it in sufficient amounts to make the main meal.
Bole is a food for all and can be consumed at any time of the day or year.
Roasted plantain is rarely made at home. It is always purchased on a street corner where women sit beside blackened bowls facing red hot coals.
Roasted Plantain – What Does It Taste Like?
The plantains are soft and sweet. Not mushy or sugary just a satisfying chewy sweetness that is matched by the savory, hot sauce and fish.
For me, it is food with a substance.
How to Make Roasted Plantain or Boli Recipe
Boli is seen as a street snack that can as well be prepared at home and be enjoyed by the entire family.
You can serve Bole with (peanuts) roasted groundnuts, pepper sauce with fish, or palm oil sauce with oil bean (Ugba) and utazi leaf
There are different ways on how to make boli either by roasting, frying, baking with or without the skin in foil paper, oven grill, charcoal grill, or microwave of both unripe and ripe plantains
Whichever method you choose from, the result turns out exquisitely.
Ingredients
Plantains (unripe or ripe)
Serve with
Groundnuts (peanuts)
Pepper Sauce with fish
Method of preparing Boli or Bole food
Firstly, wash and trim both edges and then slit one side which makes it easier to peel the coat.
Secondly, preheat your oven grill at 150 ºC. If you are using charcoal grill heat up the a charcoal, then, place the plantains on the grill and roast.
After that, make sure you turn the plantain by flipping it over from time to time until both sides are properly cooked/roasted.
That's it! Your lip-smacking and delicious bole food is ready.
Serve and enjoy!
Health Benefits of Roasted Plantain or Bole
This popular delicacy Bole or roasted Plantains are highly nutritious and delicious and Nigerians love snacking on them a lot.
Here are a few health benefits of your mouth-watering 'boli':
Roasting is a healthy method of cooking, for instance, it limits fat and calorie intake since it does not require  much oil.
Therefore, it is highly suggested in weight-conscious individuals who desire to sustain a healthy weight.
This method of cooking also conserves essential nutrients vital for body function, without losing the flavor of the food.
Plantain on the other hand is a very good source of starch and energy. It is high in fiber which helps in bowel movement and reduces constipation.
Also, it is a rich source of Vitamin A, C, and B complex including folic acid. Vitamin B and C are very good antioxidants that help in repairing damaged tissues and enhance body functioning.
Plantain is also rich in essential minerals as Magnesium, Iron, potassium, and calcium. Calcium aids the development of strong bones.
Final Thoughts on Health benefits of Roasted Plantain
When combined with fish and pepper sauce, you are sure to have more vitamins, minerals and high protein. It is highly nutritious and delicious.