Nkwobi: Easy Ibo Spicy Cow Foot Delicacy to Die For
Nkwobi – Spicy Cow foot is a delicious Cow foot dish from the Igbo tribe of Nigeria. I've always loved Nkwobi and have wanted to do a recipe for some time now.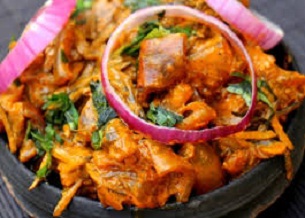 Well, how can I write about 312 articles and not write about Nkwobi? Though I mentioned Nkwobi, when writing on 27 Nigerian foods missed most while living abroad but not as a focus keyword!
Today is a special day-Easter 2020! Even though everybody is self-isolating at home because of COVID-19 and bored, I thought, what better way to cheer up the mood this festive period other than a pot of well-prepared Nkwobi?
What is Nkwobi?
Nkwobi in English is a cow foot delicacy. It is a classic and very popular dish which originated from the Igbos.
It is made with soft-cooked cow-leg mixed with thick spicy sauce. The sauce is made from mixing palm oil and Ngu (Palm Fruit head/bunch burnt into ashes). Ugba (Oil Bean) is usually added but could be optional along with Utazi Leaves to garnish.
This South-Eastern delicacy is usually ordered and enjoyed by Nigerians in exclusive restaurants and bars/beer parlors.
It is served in traditional events, festive periods, and also for family gatherings and best enjoyed with palm wine or favorite drink.
This mouthwatering recipe is simply tantalizing. Spicy or not this delightful Igbo man's delicacy is a champion anytime.
Not to be mistaken with likewise popular isi-ewu "goat head". This delicacy can be enjoyed in the four walls of your home too and here is how to make this delight.
How to Prepare Nkwobi (Nigeria Cow Foot Recipe)
Nkwobi is simple to make, the only hitch is the length of time required to cook the cow feet till its soft which most times can be up to 2 hours.
But, how long does it takes to cook cow leg can easily be solved with a pressure cooker or a slow cooker.
If you don't have either, a good substitute is to cook and freeze ahead of time.
Ingredients
Cow leg
Ground pepper (black, red)
Ground edible potash (called "kaun" or akanwu; used for thickening)
Salt, palm oil, chopped onions, ground crayfish
Sliced ugba (oil bean)
Sliced utazi (bitter native vegetable leaves)
Ground "ehuru"/efuru (a kind of seed, can be ground along with the crayfish)
Seasoning cubes
Method of Preparation
First step
This is the vital part of this dish, Ngu sauce is made from mixing palm oil and Ngu (Palm Fruit head/bunch burnt into ashes).
Alternatively, you can use kaun (Potash) potash to curdle the palm oil by first dissolved it in a small bowl of water before sieving.
Ngu is even more traditional than potash so if you can't find potash, chances are that you won't be able to get Ngu either.
That's when baking soda comes in – Yes! You can use baking soda to thicken your palm oil.
Preparation Using Kaun (Potash)
Firstly, gradually pour kaun (already dissolved with water and sieved) over warm heated palm oil and gently turn consistently.
Secondly, the red oil in the pot will begin to turn bright yellow and thicken as you continue to add the kaun water and stir until you get your desired consistency. In place of water, meat stock can also be used.
Second Step
Firstly, cut cow leg into pieces, season with salt and onions. Cook till tender, and then allow cooling.
Secondly, add ugba, ground pepper, crayfish and ehuru to the ngu sauce.
After that, stir till ingredients are well blended.
Then, add the cow leg seasoning and salt, allow simmering for three/five minutes.
Finally, mix well, and place in traditional earthenware/wooden serving bowl and your nkwobi is ready!
 How to Serve
Nkwobi is best served heated a little (warm) in a wooden bowl topped with onion rings and Utazi leaves sprinkled on the dish