Ofe Ugba Recipe: How to Make African Oil Bean Soup
Ofe Ugba in English means oil bean soup or sliced Oil Bean Soup. It is a delicacy native to Imo and Abia states and its environs from Eastern Nigeria.
Sliced oil bean seed is used in many food preparations like Nkwobi, Isi ewu, African salad, etc. The Efik/Ibibio also uses this particular ingredient in food preparation called "Ukana".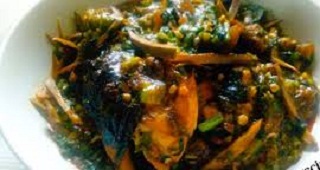 Ofe Ugba is simply Okra Soup cooked with shredded oil beans. This soup can be called ofe ukpaka as well because African Oil bean seed is called either Ugba or Ukpaka depending on the part of Igbo land you come from.
The ugba/ukpaka used for the preparation of ofe ugba is quite different from the ones used in making the ugba sauce for Nkwobi, Isi Ewu and African salad we all know.
While the ones for soup ferment more and are softer when compared to that used for ugba sauce.
Ofe Ugba is an enjoyable soup with the ugba being the major ingredient. Ugba gives a traditional taste and aroma to this soup which will always make one long for more.
How to Prepare Ofe Ugba (Shredded Oil Bean Soup) Recipe
Ingredients
2 cups ugba
1½ custard cup okro (not sliced)
1 cup crayfish (not grounded)
200 ml palm oil
1 sizable smoked fish
700 g cow meat
1 sizeable cow skin
Fresh pepper to taste
3 seasoning cubes
2 medium onions
Salt to taste
Preparation
Firstly, wash the meat thoroughly with saltwater, together with the Okro, cut, and pound, then pick, wash, and shred the ugu leaves. Put all aside.
Also, scrape the in and out of the kpomo, and cut into small sizes of choice, then wash the pepper, grind or pound with crayfish. Set all aside.
Finally, wash and de-bone the fish, chop the onions and set that aside too.
Cooking Procedure
Firstly, in a medium-sized pot, put the washed meat, add onion, seasoning cube, little salt, and water, leave cooking for 30 minutes on medium heat or until the meat is tender.
Secondly, add the grounded crayfish and pepper, kpomo, smoked fish, Ugba, Palm oil, and water to the same level of the content, leave to cook for 5 minutes.
After that, add seasoning cube and salt. Add the okra, stir, leave for 2 minutes, add the shredded Ugu, stir and turn off the heat.
That's it! Finally, our Delicious Soup is ready!
Notes on the Ingredients
With most recipes in Nigeria, particularly Nigerian soups recipes, we go freestyle when it comes to the measures of the ingredients.
The amount of all the ingredients listed above can be attuned to your taste.
Above all, allow the ugba to take the center stage