Morning Drink: 6 Best Juices to Drink in the Morning
Morning drink might be exactly what you need to stay fresh and energized until late noon.
It feels great to start the day with a morning drink filled with healthy nutrients that gives an instant energy boost that lasts for hours.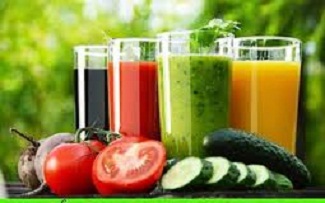 Morning drink not only keeps you hydrated but boosts your immune system, keep your energy levels up and keep diseases away
All you need to do is get your favorite fruits together with vegetables and blend for a healthy breakfast option.
While drinking the juice, drink it slowly and sit upwards as you do it.
To begin, keep it simple as your body gets accustomed, then progress from there.
Having a quality juicer in your kitchen that performs well and is easy to clean, makes the whole juicing experience so much more fun
Below I'm breaking down the top 5 Healthy Morning drink to kick start your day
The Ultimate Green Juice
We all love drinks with lots of sweet, fruity flavors. But we shouldn't overlook greens as they provide us with the most nutrients.
Traditionally, I would say green juice is the most popular of all juices because it's a blend of powerful green foods, and easy to absorb.
The trick is to get the balance right among flavor and nutrients.
Use a good variant of different types of greens, such as spinach, kale, and celery, mixed up with a bunch of green apples, great!
Ingredients:
2 Bunches of (lacinato) kale
1 Head romaine lettuce
2 Bunches of spinach
½ Bunch of celery
5 Medium-sized cucumbers
6-8 Green apples
Method:
Firstly, chop up all the ingredients and then, toss into the juicer. Done!
Cabbage, Cucumber, and Mango Juice
This morning juice comes with a lot of health benefits. All the green stuff is super healthy garnished with the edifying taste of my beloved mango.
Ingredients:
¼ cabbage
2 spinach leaves
1 mango
3 sprigs of parsley
1 cucumber
Method:
Firstly, chop up all the ingredients and then, toss into the juicer. Done!
To avoid having cases of flu and cold, a glass of orange juice packed with Vitamin C and potassium will assist in keeping the viruses at bay.
Secured with calcium it lowers cholesterol too. Wash the oranges very well and slice into pieces.
Toss them into the blender or juicer rather, and within no time you have a fresh glass of juice.
Watermelon and Cucumber Juice
This two-ingredient juice helps to hydrate the body and remove toxins in addition to improving the digestive system among other things.
Apple, Beetroot and Ginger Juice
The deep pink color of this invigorating breakfast drink is to die for. Beetroot is surely not the stress-free ingredient to juice as it often needs a bit of manual work.
However, the astonishing health benefits of this red vegetable make it all valuable.
The additional ginger gives this juice extra flavor that works well with the sweetness of the beetroot and apples.
Turmeric Ginger Carrot Juice
If you don't embrace turmeric or turmeric supplements very often in your diet, you're missing out on a lot of goodness.
Turmeric as a spice comes with its rich flavor and amazing health benefits.
Ginger gives this morning juice extra flavor when combined with the sweetness of the carrots.
Ingredients:
5 Medium-sized carrots (peeled)
2 Apples (halved and cores removed)
1 Small piece of fresh ginger (1 inch)
1/8 Teaspoon turmeric
There you have it! Some of my best and favorites morning drink to start your morning off on the right note.