Benefits of Grapefruit l Grapefruit Seed Oil & Seed Extract
Benefits of Grapefruit are surprisingly huge. It is a tropical citrus fruit known for its sweet and slightly sour taste.
It is rich in antioxidants, nutrients, and fiber, making it one of the healthiest comestible citrus fruits.
What are Grapefruits?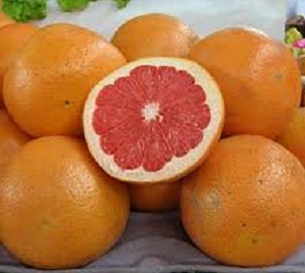 Grapefruits are fruits that are high in fiber and low in calories (source: USDA's Food Central Data), and they contain bioflavonoids and other plant chemicals that guard against serious diseases like cancer, heart disease, and the formation of tumors.
Grapefruit grows in clusters and is comparable to grapes, hence the name. It is a natural hybrid between orange and pomelo which accounts for its big size and tangy flavor.
Be they yellow, white, pink, or deep red, grapefruits have a variety of health benefits (and risks!) that differentiates them from other fruit.
Grapefruit Nutrition Facts: Calories, Carbohydrates, and More
The United States Department of Agriculture (USDA) offers the following nutritional information for a one-cup serving of whole grapefruit sections with juice:
Calories: 74
Total fat: 0.23 grams (g)
Carbohydrates: 18.58 g
Dietary fiber: 2.5 g (10 percent of daily value [DV])
Protein: 1.45 g (2.9 percent DV)
Sugars: 16.05 g
Calcium: 28 milligrams (mg) (2.8 percent DV)
Iron: 0.21 mg (1.17 percent DV)
Magnesium: 18 mg (4.5 percent DV)
Phosphorus: 18 mg (1.8 percent DV)
Potassium: 320 mg (6.8 percent DV)
Zinc: 0.16 mg (1.1 percent DV)
Vitamin C: 79.1 mg (131.83 percent DV)
Nutritionally speaking, the grapefruit is perhaps best known for its vitamin C content
Benefits of Grapefruit
One thing for sure, grapefruit is filled to the brim with vitamin C. Vitamin C significantly boosts the immune system and helps shorten colds.
Unbelievable Boost to the Immune System
Kidney Stone Prevention
Natural Fat Burner-It could help keep fat from building up in artery walls and prevent diabetes
Boots Your Metabolism and keeps you hydrated
Liver Cleanser
Assists in Protecting Against Prostate Cancer
Lung Cancer Prevention
Benefits of Grapefruit Seed Oil
Grapefruit seed oil is a common essential oil. It is normally derived from compressed grapefruit peel, which is used for skin and hair care.
Grapefruit seed oil is not only common for its beauty benefits; its fragrance is also quite alluring!
Below are the amazing beauty benefits
Benefits of Grapefruit Seed Oil
Boosts hair growth
A natural hair conditioner
Healthy skin
Treats dry skin
Fights against skin infections
Treats dandruff issues
The Health Benefits of Grapefruit Seed Extract
Discovered in 1972 by Dr. Jacob Harish, a physicist, grapefruit seed extract (GSE) has been used globally for the wellness of people, plants and animals.
Grapefruit extract is used as an antibiotic, disinfectant, antiseptic, and as a preserving agent in food and cosmetics.
Grapefruit extract is also non-toxic, ecologically safe, and quickly bio-degradable.
It causes no side effects and is often less expensive than existing treatments or chemicals for similar applications, animal, human, or agricultural in scope.
Benefits of Grapefruit Seed Extract
Today, many folks use the extract to treat many conditions, including:
Acne/rosacea
Psoriasis
Wart removal
Lice
Toenail fungus
Ringworm
Tinea versicolor
UTI Infections
Blood pressure
Blood sugar
MRSA
Side Effects
While no side effects were reported, the extract may have contraindicated with hypersensitive individuals.
However, people who frequently consume the fruit should raise it with their doctor to make sure that the citrus won't cause a possibly dangerous interaction.
Also, if you experience any rash, itching, or swelling emerges, particularly in the throat, or face, tongue, or having difficulty in breathing or experience dizziness after drinking the juice, seek medical attention.
These warning signs could be from an unusual, but severe, allergic reaction.
For more on grapefruit seed extract please visit:
http://www.everdependup.com/EN_Products/MSDS/EN_MSDS_AT30.htm