How to Prepare Isi Ewu (Goat Head): A Step By Step Guide
Isi ewu means goat head (which is the main ingredient) in the Igbo language. It is a spicy delicacy made using goat's head.
When both the goat head and the offals are used in the preparation, it is referred to as Isi Ewu (Ngwo Ngwo)/Ngwo Ngwo.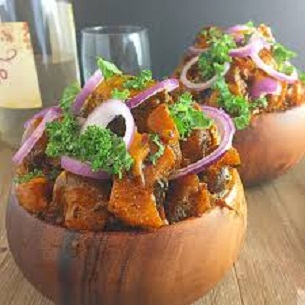 Isi Ewu vs. Nkwobi, any Difference?
The method of preparing Isi ewu is so comparable to that of Nkwobi that lots of people find it hard to distinguish between the two of them.
The main difference is that Nkwobi is prepared with cow foot while Isi Ewu which literally means goat head, is prepared with goat head!
Isi Ewu just as the name symbolizes is another form of goat meat recipe. This is one of the most requested traditional Ndi-Igbo foods.
This Ndi-Igbo delicacy is a common sight during traditional marriage, chieftaincy title or special traditional gatherings. Simply put, a celebration is not complete in the absence of Isi Ewu.
This meal is served in small mortars called okwa in most Nigerian restaurants alongside palm wine, Abacha or beer.
Most people go to bars to enjoy this kind of meal not knowing they can easily do it in the comfort of their homes.
Isi Ewu Recipe – How to Prepare Isi Ewu (Goat Head)
You can make Isi Ewu that is even tastier than the restaurant style at home to enjoy with your loved ones using rich spices and herbs.
Ingredients
1 Goat head
2 teaspoon of Ehuru (calabash nutmeg)
1 teaspoon of edible potash (akaun)
3 cubes of seasoning
1 cup of palm oil
2 medium-sized onions
1 handful of sliced Utazi leaves
2 tbsps of blended fresh pepper
1 tbsp of crayfish (optional)
Salt to taste
Please Note:
Goat head has a dense bone and quite tough. Scrape and singe the hairs from the head until all the airs are off. Then, wash the head thoroughly with a rough sponge or brush.
Cut into pieces while ensuring that the vital parts remain whole such as the tongue, ear, and the brain.
Set the brain aside from the rest of the meat and use it as a thickener for the sauce.
While cooking, use little water for the stock.
Method
Firstly, put the meat with the brain in a medium-sized pot, adding onion (grated), seasoning, a tablespoon of pepper, salt, water and allow boiling until the meat is tender. A pressure/slow cooker will do a better job.
While the meat is boiling, slice the other onions into rings, dissolve potash with a little amount of water and sieve. Put aside.
Then, remove the brain when it's ready and put in a small mortar, add blended pepper and mash. Put aside.
Separate the stock from meat when the meat becomes tender and set aside.
After that, pour palm oil in a separate pot. Gradually, pour potash into the oil and stir with a spatula until the red oil turns yellow and curdle.
Add the mashed brain, the stock of the meat, ehuru, crayfish, and continue to stir until well blended.
Then, add the meat to the mixture and stir. Bring to the boil and simmer gently till the Isi Ewu is piping hot.
Lastly, garnish with sliced onion rings and utazi leaves. Serve in a small wooden mortar.