Southern Black Eyed Peas Recipe with Ham Hock
Southern Black Eyed Peas or Hoppin' John is a traditional hearty, warm and comforting food that is packed with rich flavor.
You cannot get more Southern than black-eyed peas, and this version is simple and flavorful, even if you start with dried, fresh, or frozen peas.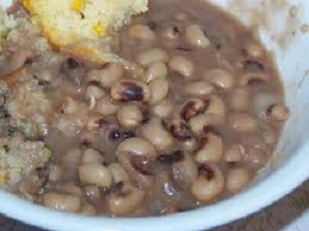 This Southern black-eyed pea's recipe is smokey, spicy with a deep yet not too overpowering bacon flavor.
Plus, in the Southern United States, eating black-eyed peas or Hoppin' John (a traditional soul food) on New Year's Day is thought to bring prosperity and good luck in the New Year
History of the Recipe
For more than centuries, history has it that eating Black Eyed Peas on New Year's Eve brings good luck!
This was formerly a Jewish custom made to celebrate Rosh Hashanah, the Jewish New Year.
The recipe was introduced with the arrival of Sephardic Jews to Georgia in the 1730s.
Nowadays, not many folks are interested in the history of this recipe but their symbolic existence of good fortune is never forgotten.
There is nothing better than a plate of soulful black-eyed peas over rice, served with cornbread, and collard greens!
Also, Black Eyed Peas can be eaten in almost a stew-like manner.
However, there are a couple of other ways you can enjoy your peas
Recipe – How to Cook Southern Black-Eyed Peas
Follow these four steps for perfect black-eyed peas always.
Sort Them
Soak Them
Simmer Them
Sneak a Bite
Firstly, Sort Them
At times bags of dried beans (sure, black-eyed peas are beans!) may have small stones.
Make sure to sort through and remove anything that does not belong there.
Secondly, Soak Them
You need at least 6 hours to achieve this. Place black-eyed peas in a large bowl and add three cups of water for every one cup of peas.
Then, cover, place in the refrigerator and let the beans soak for six hours or overnight.
After That, Simmer Them
Cook your beans with low heat, preferably in a slow cooker.
For real Southern-style black-eyed peas, add a smoked ham hock to your pot.
After a while, the meat will permeate the black-eyed peas with a rich, smoky flavor, turning a humble bean into a hearty meal.
Then, stuff up your beans even more with the addition of collards and sweet potatoes.
Or make the classic Low country Hoppin' John dish.
Lastly, Sneak a Bite
Make sure to test a black-eyed pea be certain they are cooked very well.
A well-cooked black-eyed pea should be tender but still have a bite, not mushy.
Also, canned black-eyed peas are great in recipes that don't require slow cooking or long cook time, which can make them mushy.