Aju Mbaise Traditional Medicine: Uses, Health Benefits & Side Effects
What are Aju Mbaise Traditional Medicine and its importance to women – folks?
Aju Mbaise Traditional Medicine is used mainly by singles, married and nursing mothers to lose weight, reduce belly fat, increase fertility, prevent fibroids, blocked fallopian tubes, Aju mbaise, and ovulation/the liver, etc.
Aju mbaise is a fat-burning, mixture of 5 different leaves, bark, and roots of a medicinal tree enfolded together.
Related >>> How to Get a Flat Stomach | Lose Weight | Look Good
It is a traditional method of reducing the fat after pregnancy by Mbaise women when cooked with uda (Negro Pepper), uziza, and ehuru. One of the most powerful and effective ways to lose weight is via the Aju Mbaise recipe.
Aju Mbaise: Origin
Aju mbaise herb got its name from the producers, a community called Mbaise, in Imo State, Nigeria. It's a blessing from Igbo land. No Yoruba or English name for it yet, except later.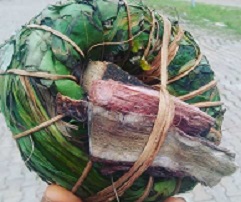 The remedy is often taken by young mothers and women who want to slim down. That's why nowadays, Aju Mbaise is often packaged in the form of a "slim tea" product for those looking for weight loss.
Aju Mbaise Traditional Medicine: How it got to the Market:
It was made known to local Igbo markets when they started inter-marrying from other Igbo communities.
Therefore, Aju Mbaise embarked on a tour of circulation in several Nigerian markets and some locals even traveled to other countries with it when they noticed noteworthy results.
Though the remedies work well, the fake ones are also in the market. Hence, be careful when buying
 4 Types/Categories of Aju Mbaise Traditional Medicine
Aju Mbaise for weight loss and flat tummy and weight loss (omugwo boosts)
The Aju Mbaise for fertility boost (combine with nettle leaves, red clover, fertility roots, and spices)
Aju Mbaise menstruation irregularities, for infections,
The Aju mbaise for fibroid treatment infused with infection roots, soursop, fibroid roots, maca roots, and burdock roots
Aju Mbaise Traditional Medicine Uses: Who Can Use the Herbs? 
Anybody can use the herb subject to what you need it for!
Nursing mothers: Aju Mbaise herbs are often taken by women, particularly those who just put to bed. It helps to detoxify the body and cleanse the abdomen after childbirth.
Women with protruding tummy who have given birth before.
Finally, single ladies who want to slim down.
Aju Mbaise Health Benefits: Importance of Aju Mbaise Herbal Tea
Nutritional and Phytochemical Properties of Aju Mbaise
A 2019 study was piloted to decide the phytochemical constituent of ethanol extract of Aju Mbaise herbal mixture.
The study brings into being that the herbal decoction contains an astonishing amount of phytochemicals.
The phytochemical outcome revealed the presence of alkaloids (8.69%), flavonoids (19.10%), glycosides (6.86%), hydrogen cyanide (0.92%), phenols (31.56%), saponins (0.83%), steroids (0.94%), tannins (16.80%), and terpenoids (14.31%).
Included also are the additional wonderful health benefits of Aju Mbaise herbal tea
Flat tummy and weight loss (Aju Mbaise herbs for weight loss):  Used for weight loss and abdominal flattening particularly after childbearing within 3 to 4 weeks of intensive planning.
Bad blood removal (infection flush): It removes old and bad blood from the womb, the surplus fluid, and all postnatal substances that may be left behind, therefore letting the abdomen to return to its normal size.
Aju Mbaise and Menstruation irregularity (menstrual disorder control tea): It also assists the woman's cycle to return to normal and be ready for conception. Prevents agonizing and scanty menstruation.
Aju Mbaise and Pregnancy: This fertility tea herb helps women to be susceptible to pregnancy.
For detoxification (Ajumbaise flat stomach tea):  A woman who has just had a miscarriage or abortion can also take that to remove dead particles.
Improves fertility (Aju mbaise for fertility) in women by purging unwanted dead cells.
Also Related >>> Aju Mbaise for Fertility, Tummy Fat Burner & Weight Loss
Ovulation correction (Aju Mbaise and Ovulation): It's also used by those dealing with ovulation inconsistency and dilution of painful ovulation.
Ajumbaise for fibroid shrinks fibroid and tumors at an early stage.
Aju Mbaise and the liver
It prevents mouth odor that comes out from inside the stomach and it promotes skin health.
Prevents fallopian tubal blockage. It fights – diabetes, cancer, tumors, ovary cysts, and malaria.
Aju Mbaise Preparation for Flat Tummy – Herb for Nursing Moms
An Aju Mbaise herb for new moms is prepared like pepper soup. This Aju soup is similar to any type of pepper soup, such as goat meat pepper, catfish pepper soup, and so on.
Whether using it fresh or dried, this herb is very effective and the nutrient intact. This soup can also be taken by people in other categories –
You can prepare Aju Mbaise for fertility
Cook Aju Mbaise for flat tummy
Prepare aju mbaise for weight loss >>> Checkout >>> Aju Mbaise Herbal Tea for Weight Loss | Flat Tummy
Cook Aju Mbaise after CS (cesarean operation)
Aju Mbaise after delivery – for Nursing mothers which we will be discussing in this write-up
Aju Mbaise Ingredients
1 dried wrap Aju
½ long prekese
½ big spoon uda seed- grounded
1 tablespoon uziza seed "
2 medium dried fish
1 tablespoon of grounded ehuru
½ teaspoon grounded black dry pepper
1 cup crayfish
1 ½ seasoning cube
Salt to taste
Water (2 bottles of small ragolis or big Eva water)
Please Read >>> Aju Mbaise Herbal Slimming Tea | Wright Loss | Fertility and Side Effects
Aju Mbaise Preparation: Tummy Flattening Herbal Tea/ Belly Fat Burner
Firstly, wash the whole wrap with water; do not loosen it up so your pot will not be full with Aju Mbaise leaves.
Secondly, put it in a big pot. Pour in water to fully cover the Aju Mbaise.
Next, set to boil for 15 minutes or till you see the brewed color. It should be thick like coffee color. By now the 2 bottles of ragolis water must have reduced to 1 ½.
After that, remove the wrap and drain it. Use for a maximum of 3 times.
Carefully, sieve the water into another pot and apply heat.
Then, add the cooking spices – (spices to add to aju mbaise for weight loss include uda seed-negro pepper, ehuru, uziza, pepper, (all dried and grounded) as well as dried fish and washed prekese. Allow boiling for 30 minutes.
Add salt to taste. Leave to boil for an additional 5 minutes
Finally, remove from heat and enjoy. Allow cooling a bit, then drink. Warm it whenever you're about to drink it. Discard after 3 times.
Aju Mbaise Tea Dosage: When is the best time to drink this wonder tea?
Drink a cup in the morning before food and night after food.
When prepared with fresh aju mbaise: 1 big cup of teacup in the morning before breakfast and in the night 2 hours after dinner.
Aju Mbaise Traditional Medicine Original Taste
By itself, the juice from the Aju Mbaise herb has a bitter-sharp taste, due to the spices it contains, but the aroma is very appealing.
The juice can be taken alone as a form of tea, or it can be used for cooking. Even though people who want immediate results, such as those who need it to lose weight, would rather simply drink the tea.
What You Can Combine It With (Optional)
Yam pepper soup
Beef pepper soup
Lime or lemon juice in the teacup.
In case you want to make yam pepper soup, when you remove the Aju Mbaise wrap, add your yam and your stockfish which has already been boiled soft.
Moreover, you can add any other dry fish of your choice. Do not add oil, no crayfish (you can use the black local crayfish).
Do not add any seasoning cube. No fresh pepper or fresh meat please or fresh fish. Everything must be dry.
Your yam pepper soup made with Aju Mbaise is ready. Enjoy and wait for testimonies!
For Effective Result:
Take it warm, not cold… Yes! So that your body feels the warmth
Eat balanced meals and exercise often, remember-moderation is the keyword here.
Side effects (Disadvantages) Of Aju Mbaise
Firstly, too much Aju Mbaise dosage causes light-headedness.
Secondly, drinking too much while on exclusive breastfeeding slims down the baby and causes drowsiness.
Thirdly and most importantly, Aju Mbaise is good for mothers whose babies are taking solids and milk.
Lastly, it suppresses hunger, try and feed well if you're nursing a child.
Where to Buy Aju Mbaise in Lagos/Abuja/Ibadan/Port Harcourt?
From Nigerian Local Markets. I have seen Aju mbaise at Oyinbo market at Ebute-Metta-Lagos. Alternatively, you can order online & pay on delivery anywhere within Nigeria.
Reviews
Aju Mbaise provokes hunger, so eat less, but more often. The fertility tea herb helps them to be susceptible to pregnancy.
Aju Mbaise is not advisable to be taken by pregnant women. If you are pregnant, the remedy may cause miscarriage, so check yourself before starting.
Aju Mbaise is suitable for mothers whose babies are taking solids and milk.