How to Make Soya Milk Powder for Babies
What Is Soya Milk Powder?
Soya milk powder is soy milk without water. It is usually white or beige and mixes well with either warm or cold water, smoothies, or other beverages. Soy milk is made by using whole soybeans.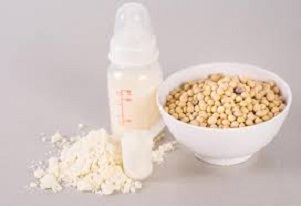 Soy milk powder can be the best substitute for those who are allergic, lactose intolerant, or just uninterested in consuming cow's milk.
Soya Milk Powder and Babies
When you prepare food for your child, you need to make sure that it has enough healthy nutrients.
Please read: How to Make Soya Bean Cake: Nigerian Tofu/Soya Wara
I love soybeans because of their high protein content that is good for my baby. And when I process it, I'm sure that it's appropriately processed for best results.
The benefits of soy milk are huge! Hence, you should prepare soya milk for your baby. Soya milk will keep the immune system of your baby strong and healthy.
Benefits of Soya Milk for Babies
Soy is a good source of low-fat and plant-based protein. It is cholesterol-free, has less saturated fat than cow's milk, and lowers the LDL in the body.
Soy milk key benefits are its high protein content, vitamin, minerals, and insoluble fiber vital for the healthy development of infants.
Plus, it is low in fat, which may help in maintaining healthy body weight in infants. It can further lower the risk of heart issues and child obesity in infants.
It can be a good course for babies above one year old who are bigoted to lactose or are sensitive to whole cow's milk.
Soya Beans Powder Milk Recipe For Babies
Main Ingredients
•Soya beans seeds (4 cups)
Optional Ingredients
•Smoked Prawns or crayfish
•Unripe plantain (fried or roasted)
•Fried groundnuts ( 1 cup )
•Cashew nuts (1 cup )
Preparation
Firstly, before cooking any beans including soya beans ensure you pick the seeds to remove dirt, stone, and the bad bean seeds from the bulk.
Fry your /unripe plantain flakes/cashew nuts/groundnuts/peanuts or buy already fried ones from the market.
Select your prawns or crayfish from dirt and sand.
Instruction – There are 2 methods of making powdered soya beans milk.
1st Method
Firstly, stir-fry the soya beans on low heat in an empty pot or frying pan, till the soya bean seeds start turning slightly brown and the skin can easily peel off like well-fried groundnut.
Secondly, allow cooling before proceeding to the mill for grinding. Loosely grind to scatter the bean seeds for easy cracking in order to separate the shaft from the beans.
Thirdly, blow off the chaff and then ground again into a smooth powder.
After that, add all or any of the optional ingredients of your choice, like (unripe plantain, peeled fried groundnuts, smoked prawns or crayfish, and fried cashew nuts) and finally.
Finally, spread out and allow cooling on a tray before storing in airtight containers or bottles.
That's it! Your soya beans milk powder is ready.
2nd Method
Firstly, parboil the soya beans for 25 to 30 minutes or pour very hot water on your soya bean seeds and allow soaking for 30 minutes, then drain off and rinse with cold water to stop the cooking process.
Please Note: Parboiling is good to extract the excess acid the soya beans contain.
Secondly, remove the hulls or skins from the soya beans seeds and dry. You can dry under the sun for 2 to 3 days or in the oven for a few minutes.
Thirdly, fry your dried soya bean seeds on low heat and allow cooling.
After that, blend the fried soya beans adding all or any of the optional ingredients of your choice and grind to a smooth powder.
Finally, spread out on a tray to cool, before storing in airtight containers or bottles
Powdered Soy Beans Milk Preservation
Soya beans powder can be stored in airtight containers or bottles, for up to eight weeks.
How to Serve Powdered Soya Beans Milk
Firstly, Soya bean milk powder can be added to your pap/Akamu and tea.
Secondly, it can be served with milk for the baby.
Then, you can add this soya beans powder to water, to make soya milk or you can use it for desserts, smoothies, or even in any recipe of your choice to increase the protein content of the food.
Lastly, add roasted cashew nuts, prawns or crayfish to grind with the soya beans, if you are preparing it for your baby.
Side Effects
Soy can cause some mild stomach and intestinal side effects such as constipation, bloating, and nausea.