Sponge Cake Recipe in Nigeria: Light, Moist, Fluffy and Soft
Sponge cake is a light cake made with eggs, sugar, and flour; it is at times leavened with baking powder.
The feel and taste of the sponge cake is a delight to embrace. Few cakes are as adaptable as simple sponge cakes.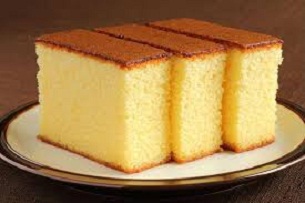 It falls squarely in the class of foam cakes, which means those that obtain their structure and loft from whole eggs (or just the whites) and beaten to several degrees of foaminess.
Specially for You >>> Cake Making in Nigeria: A-Step-By-Step Guide
Sponge Cake also known as Swiss Roll is one of the first known sweet goods together with angel food cake.
You can bake in sheet, cake, or tube pans, and can dress up the cake by adding icings, frostings, chocolate, and whipped cream, or served simply as a slightly sweet supplement to tea.
Sponge cakes depend on well-beaten eggs to give them volume and softness, but you can modify the texture of a sponge cake by the quantity of fat you use.
A simple classic sponge cake that uses butter can be made in sheet pans or cake pans. It's fluffy, light, and rolls easily.
This classic cake is quite easy to make unlike some other types of cakes.
Sponge Cake Recipe
This cake may be light and airy, but it's also permeable, which means it works well with fillings and frostings
The secret to its light and fluffy texture is the beating of the eggs!
Ingredients
4 eggs
2 cups granulated white sugar
1 tsp. vanilla extract
1 cup milk
¼ cup butter lightly salted
2 cups all-purpose flour
2 tsp. baking powder
¼ tsp. salt
Instructions
Firstly, beat the eggs in a large mixing bowl with a paddle attachment for 4 minutes. Do not skip this step!
Secondly, add sugar, and continue beating for another 4-5 minutes until light and fluffy. Add vanilla and stir gently until well combined.
Thirdly, in a separate bowl, sift together dry ingredients. Then, add to eggs and sugar on gently until well combined.
After that, in a saucepan, heat milk and butter on low heat until the butter has melted and then, add to batter, beat until combined.
Then, pour into two greased and floured 8″ round cake pans. Bake at 325 for about 35 minutes or until the middle springs back when touched, or a toothpick inserted in the center comes out clean.
Finally, remove from the oven and let stand in pans for 10 minutes. Then turn out onto wire cooling racks and allow cooling completely.
This cake can be for birthdays and weddings or even as cupcakes!
Recipe Note
Tip-off: when you start to smell the cake just know that they are close to being ready.