Asian Milk Bread (aka Hokkaido Milk Bread) Recipe
Milk bread is a type of enriched bread, which means it relies on fats to give the loaf its soft texture. This softest, milkiest bread will make the best sandwiches or dinner rolls!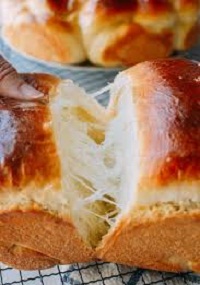 Although Uyu Sikppang or Milk bread  was developed in Japan in the 20th century but now, its fame has spread to not just in Korea but in many Asian countries including China and Taiwan.
It is also called Asian Milk Bread, Hokkaido Milk Bread, and Japanese/Chinese Milk Bread (Shokupan).
What is Milk Bread?
Milk Bread is a light, moist and pillowy soft white bread found in many Asian/Korean style bakeries or Korean coffee shops, served in thick slices normally with jam and butter.
This Hokkaidō milk bread/Japanese milk bread in English, are enriched bread rolls known for its incredible feathery center and lightly sweet, milky flavor.
The method for making Hokkaido milk bread involves a water roux (or tangzhong) a slush made from liquid and flour, which is the secret to a slice of incredibly soft, springy, delicious bread.
In Japanese, this type of Asian milk bread is called shokupan, which is a consistent loaf of bread that you slice and eat.
There are two popular shapes: the domed, "mountain-shaped" loaf, yamagata shokupan, or the boxy, rectangular loaf kakushoku.
Milk Bread Recipe
There are many milk bread recipes on the internet, but this Asian milk bread recipe is a winner.
Features of Milk Bread: Why This Recipe Is So Great!
This is about the softest, tastiest, and yet, somehow a little chewy bread that makes the perfect milk bread rolls.
It's addictive, honestly, you can't stop at one! I dare you to not eat them right out of the oven! Even in their simplicity, they are still terrific!
It does not 'crumble' like most American chic sandwich bread. This bread is what Panko bread crumbs are made of.
The recipe is very easy and adaptable
The procedure for making Hokkaido milk bread involves a water roux (or tangzhong) which is the secret to soft, springy, and delicious bread.
What Is Tangzhong?
Tangzhong is a roux made with water (and sometimes milk) and flour.
It is cooked to make a thick pudding-like paste and allowed to cool to room temperature. After that, it is then added to the flour mix when kneading the dough.
It's other name is water roux because it is by tradition made with water.
How to Make Milk Bread
This recipe is similar to making regular white sandwich bread, but with the addition of the tangzhong.
The procedure is really simple. Surprisingly, milk bread with an unrivaled crumb and buttery taste is a snap to make at home.
However, because the dough can be very soft, it's best to allow the dough chill for a few hours if you can, to make shaping the dough much easier.
Ingredients
TangZhong: (Part 1)
13 g bread flour
63 ml of water
The Main Dough: (Part 2)
250 g bread flour
10 g milk powder
40 g caster sugar
50 g eggs
40 g butter
3 g active dry yeast
2 g Salt
55 ml of water
Instructions
TangZhong:
Firstly, mix the bread flour and water in (part 1) in a small pan, and then heat it up slowly over low heat.
After that, when the slurry starts to become thicker, you can draw lines while stirring it and when this happens, remove it from heat.
The Main Dough:
Firstly, sprinkle and dissolve the active dry yeast in water, then wait for five minutes until the yeast is active.
Secondly, combine the water/yeast and flour in part 2 and mix for half a minute and then set aside to autolyse (An autolyse is the gentle mixing of the flour and water in a bread recipe) for at least half an hour.
Thirdly, add the TangZhog and the rest of the ingredients in part 2 (except butter) into the flour/water mixture. Combine with a dough hook for eight to ten minutes.
Fourthly, add the butter and mix for another two minutes or until you can stretch the dough to form a semi-translucent film without breaking it.
After that, cover the dough with a kitchen towel or cling film. Allow the dough to ferment at room temperature until it doubles in size.
Now, punch down the dough. Place the dough on a working surface. Portion the dough and divide it into pieces of uniform weight.
Form each portion into smooth, round balls. Allow the dough rest on the working surface for ten minutes to let the gluten relax.
Then, roll out the dough as thin as possible, and roll it up as if you're making the Swiss roll. Put them in an oiled bread pan.
Wrap it with a damp cloth or cling wrap to retain moisture.
Leave them in a warm place until it doubles in bulk.
Lastly, apply some egg wash on the surface. Bake at 180°C/350°F for 25 minutes or until the crust turns golden brown.
Notes
You can replace two teaspoons of milk powder with 40 ml of milk. So that the 55 ml of water will become 40 ml of milk + 15 ml of water (for the main dough)
How to Serve and Enjoy
This Japanese bread is easier to cut through when it's at room temperature because of how soft it is. But you're more than welcome to tear right into it while still warm!
Enjoy it as it is, or in a sandwich or anyhow you like