Banana Leaves benefits: Uses and Storage
Banana Leaves Health benefits: Uses and Storage Tips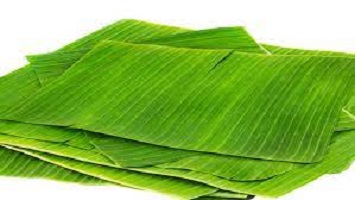 In every manner, eating on banana leaves is beneficial. It's high in polyphenols, which are natural antioxidants present in green tea as well.
These polyphenols fight all of the body's free radicals and keep illnesses at bay. Polyphenol oxidase, an enzyme used to treat Parkinson's disease, is abundant in banana leaves.
Banana leaves benefits for skin and hair
The leaves have long been used to treat a variety of skin ailments.
Banana leaves have been shown in lab experiments to have antibacterial and antioxidant qualities, making them an ideal ingredient for skin creams and lotions.
These leaves have a reputation for slowing down the aging process and preventing wrinkles and fine lines.
What are the advantages of drinking
leaf water?
Banana tea is brewed with bananas, boiling water, and cinnamon or honey if desired.
It contains antioxidants, potassium, and magnesium, all of which can help with heart health, sleep, and bloating.
Banana leaves Uses
Banana leaf can be used in a variety of ways.
They're used as plates, and they give your food a distinct aroma that enhances the taste. They're huge, flexible, and waterproof.
Apart from adding flavor to your cuisine, The leaves are high in antioxidants, and even though you can't eat the leaf, the antioxidants are absorbed into the dish throughout the cooking process.
It is popular in places such as India, Indonesia, Africa, and the Caribbean. Weddings, parties, and housewarmings are all occasions where Hindus utilize them as decorations.
Good for Banana leaf drawing illustration
Cooking with banana leaves
They can also be used as a substitute for parchment, foil, and waxed sheets. The leaves impart a smokey flavor to your food when you cook it with them.
Banana leaves can be used to make a variety of dishes.
Moi, moi
Eko
Ofada rice
meat/Chicken/Fish
Baking Puddings
How to Keep Banana Leaves Fresh – Preservation Techniques
When not in use, store them in the freezer; they may be stored for up to 6 months and still be very good to use; if kept in the fridge, they last approximately a week.
To avoid dryness, keep them in a plastic bag before refrigerating or freezing.
If you're buying banana leaves fresh, here are some storage suggestions.
Clean the leaves with a wet cloth
Then dry them with a clean paper towel
Cut them to the sizes you'll need in the future
Place it in a pot of boiling water for 30 seconds
Take them out and place them on the counter to dry.
To keep the leaves from drying out, fold them and place them in a tight bag or Ziploc bag.
Then put it in the freezer until you're ready to use it.
What are the banana's drawbacks? Disadvantages of banana
Bloating, gas, cramps, softer stools, nausea, and vomiting are all possible side effects of banana consumption.
Bananas may induce high potassium levels in the blood if consumed in large amounts. Bananas can cause allergic reactions in certain people.
FAQ
What can you make out of banana leaf?
Banana leaves can be used for a variety of things.
Similar to cooking "en papilotte," banana leaf is used to wrap marinated fish or meat for grilling or sticky (glutinous) rice for boiling.
The leaves are frequently used as a liner for bamboo or wooden platters or dishes on which food will be served.
What does the banana leaf plant contain?
Polyphenols, which are natural antioxidants, are abundant in banana leaves. These can be found in a variety of plant-based foods as well as green tea.
Food placed on banana leaf absorb polyphenols, which are thought to protect against a variety of lifestyle diseases.