How to Make Suya | Suya Spots in Nigeria 2023
How to Make Suya | Suya Spots in Nigeria 2023
Suya meat is a spicy meat skewer that is a common West African food. These savory kebabs, known as suya, are tasty Nigerian street food at its finest.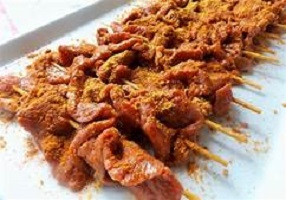 How to Make Suya in Nigeria ~ Suya Origin
This roasted stick meat made popular by the Hausa/Northern people of Nigeria isn't known as 'SUYA.' At least not in the eyes of the locals.
'TSIRE,' which means 'Stick meat,' is the right term. The term SUYA means 'fried,' but that isn't exactly how the meat is prepared.
I guess that the word has been borrowed and embraced by non-native speakers to the point where even modern native speakers have begun to use it because it is simple and they understand what you say.
It's also known as "Agashe" in Sudan.
Suya food is a skewered meat dish made of beef, ram, or chicken. Kidney, liver, and tripe are among the innards used.
The thinly sliced meat is marinated in a mixture of spices like peanut cake, salt, vegetable oil, and other seasonings before being barbecued.
Suya Nigerian food is eaten with extra dried pepper and spices, as well as sliced onions.
How to Make Suya in Nigeria
In Nigeria's northern regions, halal meat preparation methods are commonly used. Kilishi is the dried version of Suya.
It goes well with Garri and Ogi, and as a side dish for any meal. For example chicken suya with jollof rice and plantains
There is no traditional formula for making the complex mixture of spices and additives that go into making the Suya marinade (called Yaji) and the spice mix served with it.
Please Read >>>> Homemade Yaji: Nigerian Suya Pepper Spice Blend
Personal and regional preferences can influence the ingredients used.
Suya originated in Nigeria's northern regions, but it has since spread throughout the country, as it is affordable to all and available everywhere.
In southern, western, and northern Nigeria, it has been defined as a unifying factor.
Suya has become a national dish in Nigeria, with different regions claiming dominance in their recipe and preparation methods, but similar grilled meat recipes can be found in many West African countries.
Why is Suya sold at night in Nigeria?
On Quora, different people gave their thoughts on why they think suya is usually sold at night. Ibrahim Gusau summarized the answer by saying and I quote:
This is the time when people unwind and entertain themselves after the day's work. SUYA serves as the perfect meal to complement or end the day.
Because most people want it fresh, it is done when people are gathered at a market Square or routes where people pass, so they can see for themselves that the meat is fresh.
This is a lot of work and it usually takes a quarter of the day. Roasting starts when the Sun begins to set which is mostly at 4 pm CAT. Hence suya street vendors/sellers are usually ready by nighttime
It was and still is a marketing strategy to gain people's attention because they had less to do in the evening
How to make suya | How to make Nigerian suya? Can you make suya without skewers?
Absolutely! You can make suya with or without the skewers recipe. For more information on how to Nigerian Suya, Please Read:
Nigerian Suya Spots in the West
The street food culture in Lagos, Nigeria, is as vibrant as it gets, and it is an important part of the region. Local food, such as grilled plantain with ground nuts, fish, and other products, is sold in makeshift restaurants.
Suya, the region's version of shish kebab, is the most popular street food in all of its types. The best suya huts in Lagos for Northern suya are listed below.
Glover Court Suya (Ikoyi)
Bukka Hut
Eko Hotel Suya Spot
The University of Suya
The Banana Island Patisserie