Nigerian Lamb Suya – A West African Street Food Shish Kebab
How to make tchintchinga | Dambu Nama | Rago Suya | Nigerian Lamb Suya is a West African street food shish kebab
This Lamb Suya is a one-of-a-kind West African dish that needs much more effort to prepare than a kebab.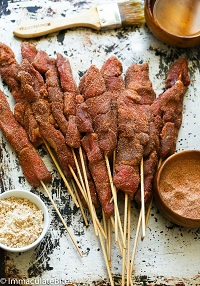 Suya is a Nigerian lamb dish with many variations. You can eat it on a skewer or as grilled meat on the grill. Subject to the time of day and how energetic you are.
Related >>> Homemade Yaji: Nigerian Suya Pepper Spice Blend
Nigeria is a diverse country with over 400 different languages spoken by people from all walks of life.
About Nigerian Lamb Suya
Some recipes seem to have died out in the north and other parts of Nigeria, but I'm seeing them revived and even improved by various bloggers and chefs these days.
Today we are visiting northern Nigeria through the dish known as Tchintchinga | Dambu Nama | Rago Suya Tchintchinga | Dambu Nama | Rago Suya Dambu – a fried and shredded meat made with suya seasonings that are primarily considered to be a staple among Nigerians in the north.
Despite its reputation as a northern delicacy, Nigerians all over the country enjoy making this street snack.
Suya originated in Northern Nigeria and has since spread across West Africa and Sudan.
Since several West African countries have similar grilled meat recipes, it is said to be a unifying force in the region.
Suya, Dambu nama is creating an uproar in Nigerian homes and diaspora.
Nigerian Lamb Suya Recipe
Though there are no measurements for this recipe, picturing it will produce a delicious plate.
Ingredients
Beef (trim fat)
Red bell peppers (sliced)
Tomatoes (sliced)
Onion
Suya Spice ( a blend of uda, ehuru, calabash nutmeg), garlic, ginger, bouillon, and peanuts)
Bouillon (optional)
Coconut or peanut oil
Salt to taste
Detailed instructions
Firstly, season the beef with all of the ingredients except the suya powder and oil in a mixing bowl. Cook the meat until it is almost dry in its own juices;
After that, add some water, season to taste, and continue to cook until the meat is soft and the liquid has evaporated. Shred the meat with a mortar and pestle, a fork, or a food processor.
Toss in some suya spice, taste for seasoning, and if needed, add a little bouillon. Ginger powder, Cameroon, or Chili pepper (as needed).
Finally, heat 1-2 tablespoons of oil in a pan and fry the shredded meat. For a healthier choice, bake the beef at 350 degrees instead of frying it.
Enjoy!