Shrimpvocado – Best Shrimp with Avocado Recipe
Shrimpvocado – I'm not sure where this delicious appetizer came from, but I first saw it on https://www.naijachef.com/?recipe=shrimpvocado.
I've since seen it on other pages when surfing the 'internets,' and despite the lack of a name for it, I've decided to call it 'Shrimpvocado!' which means shrimp with avocado.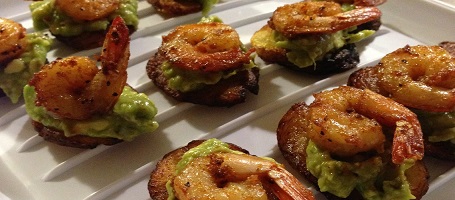 It might seem to have a lot of steps, but it's actually very easy!
Related >>> How to Make the Best Classic Shrimp Scampi
Shrimpvocado Recipe | Recipe for Shrimpvocado
Ingredients
| | | |
| --- | --- | --- |
| ·     Ripe Plantain (Firm) | | 1 |
| ·     Vegetable oil (or other oil of your choice for frying) | | 1 cup |
| ·     Salt | | To taste (roughly 1/2 tsp.) |
| ·     Shrimp (large) | | 12 |
| ·     Ripe Avocado | | 1 |
| ·     Cajun Seasoning | | 1 tbsp. |
| ·     Ground red Pepper | | ½  tsp. |
| ·     Pesto | | ½ tsp. |
| ·     Minced garlic | | ½  tsp. |
Phase 1 of tShrimp Preparations
he Shrimp Preparations
You will typically purchase shrimp frozen. Pre-soak these in water, while you work on the guacamole and plantain
The Guac
Absolutely slice the avocado, making sure to cut through the pit in the center.
Scoop out the avocado and combine it with all of the ground pepper, pesto, and minced garlic in a small bowl. Season with a pinch of salt to taste.
Note: What you mix into the avocado is entirely up to you; this is simply my preference for something basic but flavorful with a kick!
Cover the bowl in plastic wrap and place it in the refrigerator.
The Plantain (Dodo)
Firstly, peel the plantain and then, cut the dough into tiny ovals.
After that, heat your oil on medium heat (reserve 2 tbsp. for the shrimp).
Now, fry the bits in batches until they are finely browned. Remove the fish from the oil and drain it on a paper towel.
Note: It's crucial to stay with the plantains the whole time, flipping them until both sides are golden brown; otherwise, they'll burn quickly.
I've burned a lot of plantains just by walking away to look at my phone or something else.
The shrimp
Firstly, toss the shrimp with the cajun seasoning and a pinch of salt to taste in a small bowl. (Trust me on this, use only the cajun seasoning.)
Secondly, heat the 2 tablespoons of oil in a small frying pan over medium heat for around 2 minutes.
After that, add the shrimp. Make sure each shrimp is flat against the plate.
Then, flip each shrimp after 5 minutes (seafood cooks quickly). Set aside once done
The Shrimpvocado
It's time to put the pieces together! Firstly, take a small scoop of each of your guac mixes and put one on each plantain piece with a teaspoon.
Finally, place a shrimp on top of each. If needed, poke a toothpick through the stack
And that's it! You're done! Bon Appetite