Oatmeal Chocolate Chip Cookies
Oatmeal chocolate chip cookies are soft, chewy, buttery, and best of all chocolaty. This type of cookies has more fiber and protein than chocolate chip cookies thanks to the oats but they also contain more calories. Therefore, it is always advisable to bake your cookies at home where you can moderate the ingredients to suit you.
Please Read: Oven Baked Chicken Breast
Oatmeal Chocolate Chip Cookies Recipes
Ingredients
1 3/4 cups (222 grams) all-purpose flour
1/2 teaspoon salt
1 teaspoon baking powder
1/2 teaspoon baking soda
1/4 teaspoon ground cinnamon
1 1/2 sticks (170 grams) unsalted butter, at room temperature
3/4 cup (150 grams) granulated sugar
1 1/4 cups (250 grams) packed dark brown sugar
2 large eggs plus one egg yolk
1 teaspoon vanilla extract
3 cups (270 grams) old-fashioned rolled oats
1 1/2 cups (255 grams) semisweet chocolate chips
How to Make Oatmeal Chocolate Chip Cookies
The procedure for making these oatmeal chocolate chip cookies is easy and same from your standard cookie recipe:
beat together wet ingredients,
add dry ingredients, mix,
And then chill the dough. Chilling the dough makes a huge difference in both the flavor and the texture of the cookies. Without chilling the dough, your cookies will widen and you will not have the soft chewy texture.
Directions
First of all, preheat the oven to 350°F. Line the large baking sheets with parchment paper.
Then, in a medium bowl, whisk together the flour, salt, baking soda, baking powder, and cinnamon.
Now, use an electric mixer in a large bowl to beat the butter, granulated sugar, and brown sugar on medium-high speed until smooth and well combined, about 1 to 2 minutes.
Slowly, beat in the eggs and vanilla. Gradually add the flour mixture and egg beat until well combined. stir in the oats and chocolate chips.
Next, use a spoon and drop 3-tablespoon sized balls of dough onto prepared baking sheets. flatten slightly with the palm of your hand.
Finally, bake for about 12 to 15 minutes, or until the edges are slightly browned, rotating baking sheets halfway through. let the cookies cool on baking sheets for 5 minutes before serving.
Enjoy
Oatmeal Chocolate Chip Cookie FAQS:
Are Oatmeal Cookies Healthier Than Chocolate Chip?
 When compared to chocolate chip cookies, peanut butter and sugar cookies, oatmeal cookies are slightly more nutritious. When you compare cookies of similar size, an oatmeal cookie has fewer calories than peanut butter, or sugar cookies.
Oatmeal chocolate cookies contain less fat and more protein, fiber, and calcium than the others because of the oat content. However, these cookies contain between 54 and 72 calories.
Can I Freeze Chocolate Chip Oatmeal Cookies?
Yes, you can! To freeze baked cookies:
First of all, bake your cookies according to the recipe. Then, place completely cooled cookies on a baking sheet and freeze until solid.
Next, place the cookies in freezer bags layering parchment paper in between each row of cookie. Freeze for up to 3 months!
To Freeze Unbaked Cookies:
Place shaped cookie dough balls on a baking sheet and freeze until solid. Place frozen cookie dough balls in a freezer bag.
When ready to bake, you do not have to thaw the cookie dough, simply place the frozen dough onto a baking sheet and bake for 2-3 minutes longer than the recipe indicates.
3) What Can I Substitute For Oatmeal In Cookies? (Oat Substitutes)
You can change the oats in an oatmeal cookie recipe with the same amount of ground flax, quinoa flakes, rice bran, or chia seeds. Ground flax has little flavor and is prone to produce cookies that taste alike to the recipe with oats, with a little grainy texture.
4) Are Oatmeal Cookies Unhealthy?
Even with healthy additions like ground flax, quinoa flakes, rice bran, or chia seeds, an oatmeal cookie is still a cookie. Enjoying one occasionally is good. Oatmeal chocolate chip cookies may contain more nutrients than other cookies, but they still contain large amounts of fat and sugar, which are not so healthy and may be harmful to your health.
5) Can I Substitute Oatmeal for Flour In Chocolate Chip Cookies?
You may substitute oats when baking for up to one-third the amount of flour using either quick or old fashioned oats.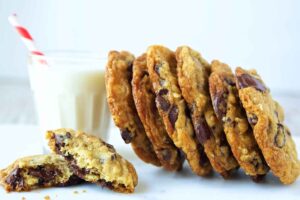 Do you like the recipe? Why not give it a try. Kindly click the share buttons and drop a comment below. i take pleasure in reading from you. Thanks for visiting 9jafoods today.