Classic Green Bean Casserole Recipe From Scratch
Hello, lovelies! 9jafoods is here again, this time we are re-discovering an American classic called Green Bean Casserole. This beans casserole is the dish everyone is expecting on the holidays.
Actually, it's difficult to imagine any holiday table without a creamy green bean casserole with a crunchy, crisp topping. But since it is so easy to make, you can serve it any day without waiting for the holiday.
Origin of Green Bean Casserole
This classic casserole is essentially a green bean gratin. It was created in 1955 by Dorcas Reilly in the United State who developed it with Campbell's cream of mushroom soup.
What Is Green Bean Casserole
Green Bean Casserole is a holiday/thanksgiving side dish, made with Creamy mushroom sauce surrounded by tender green beans, topped with the flavor of crispy fried onions.
Simple holiday green bean bake is ready in just 40 minutes – for a Thanksgiving dinner that is full of flavor the family will remember for years.
Making a green bean casserole from scratch is really easy. You will feel so good about serving this to your loved ones!
Green Bean Casserole Recipe
Green bean casserole Thanksgiving is a holiday dinner side dish. With our other favorite holiday recipes like:
INGREDIENTS
2 ½ pounds fresh green bean or 6 cans if using canned
2 cans of condensed cream of mushroom
1 cup shredded cheddar cheese
11/3 cups fried onions use French's
¼ cup milk
1/8 tsp black pepper
Cooking Tips
Never Skip The Fried Onions
One ingredient that is as important to green bean casserole as green beans is French fried onions. They are salty, crunchy and totally compulsory. It gives it that tasty reminiscent touch.
Fresh, Frozen Or Canned Green Beans Can Be Used
Green beans are not always in season, frozen green beans have been conserved at their peak, so they can be compared to the fresh green bean in terms of taste. However, you can boil frozen or fresh ones to get them tender but not with canned green beans.
Fresh Green Beans: Cut the ends, put in a microwave safe bowl with a tablespoon of water and wrap with a wet paper towel and microwave for five minutes. Drain and pat dry.
Frozen Green Beans: Microwave the green beans long enough to soften, drain and pat dry
Canned Green Beans: No need to microwave after draining the water and patting green beans dry.
Now, Let's Get Down To the Cooking Proper
First, preheat the oven to 350 degrees.
Next, mix the green beans, mushroom soup, milk, black pepper, cheddar cheese and fried onions in a large bowl. Mix thoroughly.
Then, add the mix to a baking dish.
Furthermore, cook in the oven for 25-30 minutes.
Finally, top with remaining fried onions and cook for an additional 5 minutes before DIGGING IN!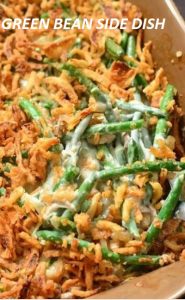 How do you make green bean casserole? Can you liken it to mine?  Why not give it a try!  Kindly click the share buttons and drop a comment below. I take pleasure in reading from you. Thanks for visiting 9jafoods today
Have a great weekend everyone, and stay well!