The Perfect Baked Potato Recipe in Nigeria
The perfect Baked Potato is the ideal side dish to mostly anything on the grill! This super simple side dish can easily turn into a main dish by topping them with chili or any other type of meat. They are great with just about any meal, especially a meal with steaks or chops.
Potatoes are a great source of fibre that will keep you satiated for a long time. It's a super-healthy dish, loaded with a variety of minerals and vitamins. In Nigeria, we eat a lot of potatoes: baked potato, fried potato, boiled potato, and even mashed potato.  One of our preferred ways to consume this starchy tuber is the traditional baked-in-the-oven method.
Baked Potatoes are a simple, staple side dish that is just so delicious. Nothing can be compared to a classic, fluffy, perfect baked potato. There is something about this baked potato that is somehow perfect! Personally, I love eating any meal prepared with potatoes like Sweet tasty casserole-tasty fiesta and Best sweet potato Mash recipe ever
.
5 Baked potato Questions and The answers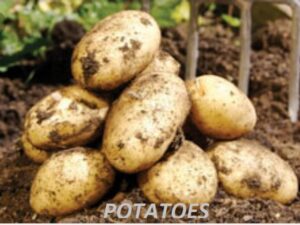 What type of potato is best for baking?
In Nigeria, we use Irish potato normally gotten from northern Nigeria. Outside Nigeria, Russet potatoes are the most commonly used for making baked potatoes; they have the fluffy starchy texture we love in a baked potato. Good alternatives are Yukon gold, red skinned potatoes, and purple potatoes. They are all yummy when baked too although their textures are more buttery.
What is the best way to bake a potato in the oven?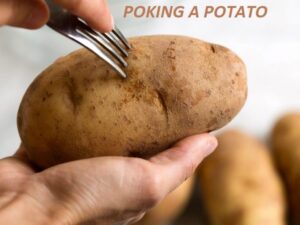 To achieve crispy skin baked potatoes, here's how you can get it. Scrub the potato and poke it with a fork as above. Generously, rub olive oil all over the outside of the potatoes, and then rub salt on them.
If you prefer a softer skin on your baked potatoes, cover them in foil before putting in the oven. This helps to steam the skin keeping it from crisping up as much (although some people still prefer the skin to be crispy!)
Do not to use foil if you are making baked potatoes in the microwave.
How long do I bake a potato in the oven?
Cooking times for baking potatoes varies depending on the size of the potatoes and the temperature of the oven.  Hence, the easiest way to test them is to poke with a fork. A perfect baked potato should be soft inside with a crisp skin.
Baked potato cooking times:
250°F 100 to 120 minutes
300°F 80 to 90 minutes
350°F 60 to 75 minutes
375°F 50 to 60 minutes
400°F 40 to 50 minutes
Adjust the cooking time accordingly If the temperature is adjusted to match whatever else is cooking
What is the difference between a baked potato and a boiled potato? / Are boiled potatoes good for health?
A baked potato is cooked dry in an oven, and boiled potatoes are usually peeled, cut up and cooked in boiling water. Potatoes contain vitamins, minerals, and antioxidants, which make them extremely healthy. Potatoes come with a variety of impressive health benefits which includes improved blood sugar control, higher immunity and reduced heart disease risk.
What Is the perfect baked potato recipe?
You will find that just below. This method of making The Perfect Baked Potato is easy and the result is a potato that is crispy on the outside and light and fluffy on the inside. Follow this recipe and the basic instructions for perfect baked potatoes every time.
Ingredients
6 large baking potatoes
1 tablespoon olive oil
Optional: Coarse kosher salt
Instructions
First, preheat oven to 375°F.
Then, scrub potatoes to remove any dirt or debris and dab dry.
Now, poke holes over the potatoes with a fork in about 4-5 places on each potato. This allows steam to escape while the potatoes are baking.
Next, coat the outside of each potato with olive oil and if desired, sprinkle with or roll in coarse salt.
Gently, place potatoes directly on the middle rack of your oven and bake 50-60 minutes or until the potatoes are tender and a fork can easily pierce through.
Finally, serve hot with your favorite toppings
Do you like the perfect baked potato recipe? Why not give it a try!  Kindly click the share buttons and drop a comment below. I take pleasure in reading from you. Thanks for visiting 9jafoods today
Have a great week everyone, and stay well!