Am very exhausted, having published a recipe on oven baked chicken breast a few hours ago. I have not slept for a while and need to sleep.  But I have to publish this article to wrap up the weakened since tomorrow is Work! Enough said of my 9ja hustling spirit.
Read Also: Oven Baked Chicken Breast
I have some chicken breast left over's in the freezer from my earlier in the day chicken dish. So I do not have a choice but to cook another chicken recipe called chicken rice soup.
Chicken rice soup is a healthy soup that deserves to be on your menu. It's just the best food for warming you up on a cold night or providing comfort when you're feeling under the weather. It's loaded with vegetables and brown rice, simmered in chicken broth and finished with a touch of creaminess.
Soup is pretty much my favorite way to get loaded up an all kinds of healthy stuff, and this one is no exception. Chicken and Rice Soup recipe is a Homemade Luxury. It's the easiest soup ever, ready in under an hour and will give you high returns for minimal efforts.
Chicken Rice Soup recipe
Ingredients
Tablespoon oil
1 onion minced
3 large carrots peeled and diced
2 

celery ribs

 

cut into 1/2-inch-thick slices

(traditionally called Achara in Igbo)
1 teaspoon minced garlic
1 teaspoon dried parsley
½ teaspoon dried thyme
5 cups low sodium chicken stock/ broth
2 chicken breasts
1 cup brown/white rice
1 teaspoon salt
1/8 teaspoon black pepper
Direction
First of all, heat oil over medium-high heat in a big sized soup pot
Then, add onion, carrots, and celery and cook and stir for 4-5 minutes or until onion begin to turn golden.
Next, add garlic, parsley, and thyme and cook for 1 minute.
After that, add the chicken broth, chicken, rice, salt, and pepper. Mix well and bring to a boil over medium-high heat.
Now, reduce the heat to medium-low (or to a simmer), cover the pot and cook for 30 minutes, turning every 10 minutes, or until vegetables and rice are soft.
Finally, remove the chicken breast from the pot and shred then put it back and serve hot.
Enjoy.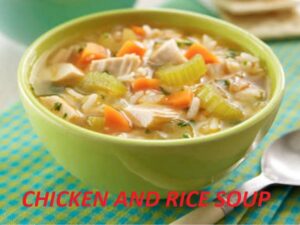 Do you like the recipe? Why not give it a try. Kindly click the share buttons and drop a comment below. I take pleasure in reading from you. Thanks for visiting 9jafoods today.