How to Make the Best Classic Shrimp Scampi
Classic Shrimp Scampi is on the table in 30 minutes! So buttery and enjoyable, the whole family will love it. Great with pasta, rice, bread, or with a veggie side like salad.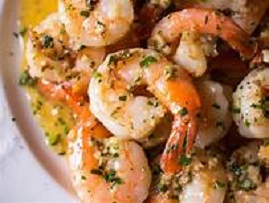 Scampi are small, lobster-like crustaceans with pale pink shells (also called langoustines). Alive with fresh flavors, this garlic butter shrimp comes together easily in one pan.
Related >>> Yamarita with Shrimp and Mushroom Sauce
This traditional recipe makes easy garlic, white wine, and butter sauce that can be paired with a pile of pasta or with a hunk of crusty bread.
Classic Shrimp Scampi Recipe
This shrimp scampi recipe is a must-have in your cooking store. It's a total rescuer after a busy day as it comes together so speedily and easily.
Classic Shrimp Scampi with Wine or Without
Is it possible to make shrimp scampi without the wine? The addition of white wine to this scampi's olive oil, butter, and lemon juice sauce gives it a depth of flavor that will not ever leave your memory in a hurry.
However, the wine's alcohol cooks out and vaporizes while boiling, making it best for kids or those who refrain to eat.
But if you choose to skip the wine, alternate half chicken broth and half water in lieu of the wine.
Shrimp Scampi Recipe: How to Make Shrimp Scampi from Scratch
This low carb recipe is the perfect way to make simple look elegant with large shrimp bathed in a garlicky, lemony butter sauce then dished up as an appetizer or served as a main with zucchini noodles,  pasta, or over rice.
 Ingredients
4 tablespoons butter divided (1/2 stick)
2 tablespoons olive oil
1/4 cup dry white wine or chicken broth
2 pounds large shrimp peeled, tails on
4 cloves garlic minced
1 teaspoon lemon zest
2 tablespoons chopped fresh parsley
1/4 teaspoon red pepper flakes (optional)
2 tablespoons lemon juice (about 2 lemons)
Salt and freshly ground black pepper
Method
Firstly, in a large skillet over medium-high heat, add 2 tablespoons butter and olive oil and heat until butter is melted. Stir in the garlic and lemon zest until fragrant, for about 30 seconds.
Secondly, stir in the wine, red pepper flakes if using, and salt and pepper to taste (I like 1 teaspoon salt and 1/2 teaspoon pepper). Bring to boil. Then, add the shrimp, cover, and cook until the shrimp are slightly translucent about 2 minutes.
After that, reduce the heat to medium and cook until the shrimp are just cooked through, about 2 minutes longer. Remove from heat and stir in lemon juice and remaining 2 tablespoons butter.
Lastly, season to taste with salt and pepper and garnish with parsley. Serve with pasta, rice, or crusty bread if desired.