Jollof Spaghetti: How to Make Easy Nigerian Spaghetti Jollof
Jollof Spaghetti is easy to make recipe particularly if you already have Nigerian stew in your freezer, then this Nigerian Jollof spaghetti will be a breeze.
Jollof Spaghetti or spaghetti Jollof is a delicious substitute to our daily Nigerian Jollof rice. This recipe is amazingly delicious and cooks way faster than the rice version.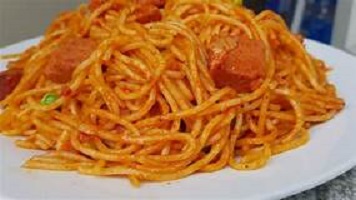 Spaghetti is a widespread food in the Nigerian diet. Similar to rice, this food can either be cooked plain and served with stew or prepared the Jollof way.
The spaghetti is usually broken into 2 or 3 parts because it is easier to wrap the broken parts around the fork.
Best for any time of the day, you can also serve this if bored with everyday spaghetti and sauce for a change.
Jollof Spaghetti is quite simple to prepare and can be made with or without vegetables.
In the recipe below, I'll show you how I prepare mine with the ordinary vegetable
Jollof Spaghetti Recipe
I have a preference for Golden Penny spaghetti because it is not as starchy as other brands though you can use any Nigerian spaghetti of choice.
If you love eating pasta or spaghetti, then this spaghetti Jollof is for you. You can even prepare your indomie noodles with this super easy recipe too.
Ingredients
227 g Spaghetti
A cup Pepper Sauce
½ lb ground beef Minced Meat
1 Onion small
One Tomato large
3 green Onions Sprigs of
6 oz. mixed vegetables
3 Tbsp. vegetable Oil
2 Tsp. curry powder
3 Bay leaves
1 Tsp. Thyme
¾ Tsp. soup base or 1 stock cube
Salt to taste
Instructions
Firstly, stir fry the Onions, scallions and bay leaves in the Oil for about a minute or 2 then season with curry powder, soup base Thyme and then, add salt to taste.
Secondly, add the ground beef and break into somewhat big chunks and then, allow cooking in its juice until it's almost done (about 90 percent done)
Thirdly, add the sauce and cook for a while in the meat juice for about 2 to 3 minutes then add some water to thin it out.
Now, break the spaghetti into 2 to 3 part or just cook it the way it is and add it into hot boiling water.
After that, add salt to taste and cook for about 8 minutes then take it off the heat and drain the water.
Add the boiled pasta to the sauce together with the mixed vegetables, sliced Tomatoes, and the rest of the scallions.
Lastly, allow simmering for about 3 more minutes and take it off the heat.
Serve and Enjoy!
If you enjoy this Nigerian Spaghetti Jollof recipe, you might as well like these: