Best Shito Sauce Mania: Ghanaian Hot Chili/Pepper Recipe
Best Shito Sauce is one of Ghana's most loved sauces. It is served as a sauce or condiment or with the main meal as a side.
It is a delicious conventional Ghanaian hot black pepper oil/ sauce. Shito means spicy in Ga, a Ghanaian language from Accra, the Ghanaian capital.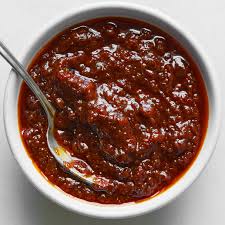 This dark-colored famous Ghanaian sauce has a rich umami taste which just makes everything taste better.
Easy Ghana fresh Shito sauce is very versatile and can be served on a variety of meals. In the local Ghanaian cuisine, it is similar to a chili sauce or ketchup.
Related >>> How to Prepare Shito – Ghana Pepper Sauce
It can also be used as a side, dip, or even dressing. It is locally eaten with kenkey (which is an obsession for me), banku, waakye, and many other Ghanaian dishes.
Shito tastes amazing as a spread on bread, in a stir-fry or salad, stirred into pasta; on barbecue meat, fish, or vegetables; in fact on anything.
This is one of Ghana's fast foods, picnic foods, or beach foods. You can practically make it anywhere you like.
What Is Ghana Best Shito Sauce?
Shito is a black/dark brown pepper sauce that is popular in Ghana. People refer to it as kpakpo shito after a very popular round green pepper mixed with spices.
It goes well with both fish (dry) and meat and can be plate up with almost any dish. These include kenkey, steamed rice, Eba, and waakye (rice and beans).
Its usages can weigh up to that of local ketchup, hot sauce or chili oil. Also for marinating or as a dressing, dip, spread or topping Ghanaian foods.
How to Make Ghana Best Shito Sauce (Shito Sauce Recipe)
Shito sauce can either be coarse or smooth, and medium or extra hot subject to how much chilli you like, and this is how you will see it labeled on some supermarkets and African grocers' shelves.
To prepare shito pepper sauce, you need the following ingredients:
Vegetable oil
3 red onions cut into small cubes
4 cloves garlic, very finely chopped
1 (3-inch) piece fresh ginger, peeled and finely grated
1 tablespoon thyme
4 green kpakpo shito peppers (or green Scotch bonnet peppers, or 2 tablespoons dried green pepper flakes), diced with seeds
6 tablespoons tomato purée
Chili powder
Ground dried shrimp
Smoked fish powder
1 teaspoon black pepper, freshly ground
1 teaspoon salt
Method
First, the preparation of shito pepper sauce begins with the frying of red onions in oil. The sweet taste of this variety of onions goes particularly well with chili peppers.
Secondly, add your Garlic, ground green chili peppers, grated fresh ginger, thyme, and diced kpakpo shito peppers.
Thirdly, mix well and fry for a few minutes, stirring frequently before adding your tomato purée.
After that, Pour in the chili powder and continue cooking, stirring constantly until the preparation becomes a fairly dense paste.
Then, add the dried shrimp and smoked fish powder and then cook over low heat for 20 minutes. Stir almost continuously to prevent the sauce from sticking to the pan and tasting bitter.
Now, the paste should change from dark red to very dark brown (almost black) and the oil will rise to the surface when the sauce is ready.
Finally, taste and adjust the seasoning if necessary. Allow to cool, then spoon into sterilized glass jars. Cover the jars and keep them in the refrigerator for up to a month.