Nigerian Fried Yam and Fish Sauce Recipe
Fried yam and fish sauce is a popular street snack in Nigeria, in today's recipe, I will be sharing Fried yam with healthy fried fish accompanied with special chili sauce.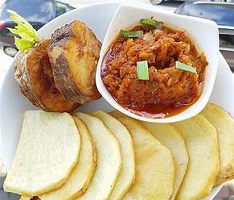 For Non-Nigerians reading, feel free to try the recipe with fewer spices as (we) Nigerians prefer spicy foods.
Fried yam is a deep-fried yam recipe that you can combine with a wide range of Nigerian stews and sauces (fish sauce).
Related >>> How to Make Fried Yam and Pepper Sauce – Ata Dindin/Shito
The yam is fried in such a way that the outside of the chips is crunchy while the inside is moist.
The technique at achieving a soft fried yam is by adding water to the oil, as odd as this sound it is the best way to do it.
If you've seen where the locals fry their yams, you'd know they add salted water to the frying yams at intervals. That's what makes it tasty, well fried, and soft.
The yam will soak up the water and the oil will remain for later use.
If you do not want to be left with golden dry yam, focus on the yam while frying.
Do a fork test on some of the sliced yams and if the fork penetrates through, then it is ready to be squeezed out of oil.
Recipe for Fried Yam and Fish Sauce Ingredients
For the Yam
Yam
1 table-spoon Salt
3 cups of water
For the Fish Sauce
This super-simple sauce is made primarily from fish and your regular pepper and tomato puree.
Fish Sauce Ingredients
Fish (any type of fish can be used)
4 Tomatoes or 1 can of diced tomatoes
2 fresh peppers – Green and Yellow Bell peppers
1 bulb of onions
One cooking spoon of vegetable oil
A lump of butter
1 teaspoon of curry
A pinch of thyme
2 tablespoons of salt
3 seasoning cubes
1 tablespoon of cayenne pepper or dry Cameroonian pepper
Method
For the Fish Sauce
Firstly, clean out the Fish (remove scales, remove gills, wash the blood out)
Secondly, season the fish with salt and ½ tablespoon of cayenne pepper
Then, fry the fish in a deep fryer till brown or for 10 minutes
Fourthly, heat the lump of butter and fry half of the onions (cut the onions in a ring shape) and bell pepper.
After that, add 1 cooking spoon of oil to the frying onions and pepper then add the diced tomatoes and fresh pepper
As you fry the tomatoes mash them and let it fry for 5 minutes on medium heat
Then, add your salt, pepper, seasoning cube, curry, thyme and leave to fry for 3 minutes
Afterward, add the rest of your onions and add the fried fish to the sauce and stir in. Do not stir excessively as the fish may fall apart.
A tactic would be to turn the fish back and forth and pour the sauce on it as opposed to stirring the way you would stir a soup.
Lastly, allow simmering for 3 minutes
How to Fry yam
Firstly, peel and cut yam into half, slice the halved yam into thin slices about 10-15mm thickness
Secondly, rinse yam till the water runs clear. Add enough water to cover and add salt to taste
Thirdly, place a frying pan on medium-high heat, add enough oil, and heat till hot
Now, carefully drop sliced yams into hot oil (please be careful with hot oil and reduce the heat
After that, add a little bit of water to the yam being fried after about 2 minutes, it would foam on top, don't worry it will settle down in minutes.
Lastly, repeat this process till you have exhausted the yam. Drain yam on kitchen towel
Food is ready.
If you want the street vibe to linger, serve Nigerian Fried Yam and Fish Sauce on an old newspaper,