Nigerian Meat Pie: How to Make Meat Pies Nigeria Recipe
Nigerian Meat Pie:  How to Make Meat Pies Nigeria Recipe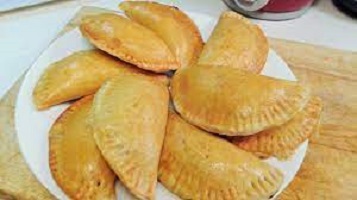 The best Nigerian meat pie includes a filling of minced meat, potatoes, and carrots and is juicy and delicious.
The meat pie Nigeria's distinctive taste is derived from the filling, which is typically well-seasoned. You would get the essence of what I'm saying if you've ever eaten a Mr. Biggs meat pie.
It's not much of a wonder that the West African meat pie has a lot of similarities with the British pasty since that is where it originates from.
Even so, Nigerians have discovered a way to make their own pies to their liking over the years.
How to Make Meat Pie
How to Make a Meat Pie
Vegan Nigerian Meat pie
How to Make Meat Pie
Meat Pie
Nigeria Meatpies Recipe
Meat pies Ingredients
Meat Pie Nigeria
Nigerian Meat Pie Recipe
Meat Pies Nigeria Recipe
Meat pie Recipe Nigerian – an Overview
The Nigerian meat pies are delicious pastries stuffed with meat mince, potatoes, meat, and carrots
The filling is juicy and tasty, and the pastry has light flakiness and a very rich flavor. In Nigeria and West Africa, these meat pies are very well-liked.
They are the ultimate comfort meal, therefore if you haven't tried a Nigerian meat pie, you must do so immediately! They are suitable for snacking or eating for breakfast or brunch.
As long as it is properly prepared, West African Meatpie or Meat Pie Nigerian is a delightful, moist snack that doesn't crumble when consumed.
You can bake the best meat pie recipe with the assistance of the instructions provided here.
Ingredients for Nigerian Meat Pies
The size of the meat pie cutter you use will determine how many meat pies you will obtain.
With the components listed below, an 8-inch (20-cm) meat pie cutter will yield roughly 10 meat pies.
How to Make Nigerian Meats Pie Recipe – Easy Meat Pie Recipe
The richly flavored mincemeat is baked inside the buttery shortcrust pastry. You won't be able to stop at just one since it is so good.
Do you want to discover the secret to making the best meat pie? You should try this recipe.
Both the beef mince filling and the shortcrust pastry must be flawless for the meat pie to avoid being dry and chewy.
Making shortcrust pastry can be challenging, but with a lot of practice and patience, you would master it and know what works for you.
Nigerian Meat Pie Ingredients                       
For the pastry:
4 cups (500g) of all-purpose flour
200g cold Butter, cubed
2 Eggs
1 teaspoon salt
1 teaspoon baking powder
¼ cup (60ml) cold water
1 tablespoon sugar
For the filling:
¾  pound (350g) Ground beef
1 Potato, peeled and diced into small cubes
1 Large Onion, chopped
2 tablespoons flour
1 Large Carrot, peeled and diced
1 cup (240ml) Water/beef broth
Salt to taste
Pepper to taste
1 teaspoon thyme
2 tablespoons Oil
1 egg for brushing
Firstly, make the pastry: In a large bowl combine together flour, salt, sugar, and baking powder. Add cubed butter and rub it with the flour pending when you get a crumbly texture.
Secondly, beat 2 eggs with cold water and add them to the flour blend, mix pending when the dough is formed. Do not over the mix! Then, wrap the dough with cling film and refrigerate for about 30 minutes.
Thirdly, make the filling: In a large pan heat the oil. Then, add onion and sauté for 5-6 minutes, or until translucent. Add diced carrots and cook for about 3-4 minutes. Also, add the meat and cook, breaking it apart, for 4-5 minutes, till it is no longer pink. Now, season with pepper, salt, thyme, and flour, stir and cook for 2 additional minutes more.
After that, add cubed potatoes and stir well. Pour in the water/broth. Stir again
Meanwhile, bring to a simmer over medium-high heat. Then, reduce the heat to low and simmer for 15 minutes, until thickens. Set aside to cool.
Preheat the oven to 350F (175C).
Cut the dough into 2-4 pieces (you also can roll the whole dough, sharing it just making it easier to work). Roll out the dough into 1/8-inch (1/4 cm) depth. Cut out a round shape with your desired size. Then, pool all the leftover dough and roll it again to make more circles.
Put about 1-2 tablespoons of the meat mixture in the center, brush the edges with water and fold over the dough. Close it with your fingers or with a fork. Poke the pies with a fork to generate a steam outlet while baking brush the pies with beaten egg.
Bake for 25-30 minutes, or until golden. Allow cooling slightly before serving.
FAQs
What are the tips for making a perfect pie?
Keep ingredients cold
Refrigerate the dough after every step
Handle the dough as little as possible
Bake plain crusts or filled pies in a hot oven to set the crust's structure
Use as little flour as possible when rolling out the dough
Vent double-crust pies
Use aluminum foil or "pie shields" to protect the crust.
What makes up a meat pie?
It must have a minimum of 25% "meat flesh" per the current Code.
Any animal's skeletal muscle, along with any connected rind, fat, connective tissue, nerve, blood, and blood arteries, is considered meat flesh.
How do I thicken the filling in my meat pie?
Getting the proper consistency is one of the challenges of making a meat pie, stew, or sauce, as anyone who has done so can attest.
You don't want it to be either too thick or too runny. One of the most typical strategies you may have employed in this situation is to add a small amount of flour or corn starch.
Why is my Nigerian meat pie so hard?
This is because different ovens have different heating capacities, and by testing it you would be able to tell when the meat pies start to stiffen and brown.
Make careful to remove them from the oven as soon as it is through baking and let them cool outside rather than within.
Should you bake a pie on the bottom rack?
The bottom rack of the oven is where pies should be placed.
The worst pie mistake to make is underbaking the bottom crust, which results in a soggy, doughy mess.
If you bake your pie on the bottom shelf, the bottom crust will be perfectly golden brown.
Should pie crust be chilled before baking?
Since the gluten has had time to relax, chilling the dough before baking also helps to prevent your crust from shrinking excessively in the oven.
The dough needs time to slightly soften, so take it out of the fridge a few minutes before rolling it out for the best results.
Is blind baking necessary for a meat pie?
Blind baking is required if you're creating a pie that doesn't call for baking the filling.
Blind baking is particularly essential if you are baking a pie with a custard-like filling or a filling that is quite dense.
What are the different types of meat pies?
Five Marvelous Meat Pies
Steak and Guinness Pie. A staple in British pubs, the Guinness pie is made with round steak (feel free to upgrade with sirloin, ribeye, or hanger steak), onions, and bacon
Natchitoches Meat Pie
Pasty
Sfeeha (Middle Eastern Pie)
Pigeon Pot Pie
Fun Facts About Pie
Why are meat pies unhealthy?
The average individual meat pie has about 450 calories, but the 12g of saturated fat it contains-more than half the daily recommendation-is the major issue.
The amount of fat in your meal will increase if you add buttery mashed potatoes or chips. Pies should only be consumed seldom.
What meals pair well with meat pies for dinner?
A traditional side dish for meat pies is mashed potatoes. Buttery, fluffy mashed potatoes are ideal for soaking up any delicious remaining gravy.
Excellent substitutes for the traditional Sunday roast are roasted potatoes. Baked beans are a quick, simple way to add some sweetness to dinner.
How do you thicken pie filling with flour?
In order to get the same thickening effects, you will need to use nearly twice as much flour as cornstarch or tapioca, teaspoon for teaspoon.
Your pie filling will become murky and pasty and taste strongly of flour if you add too much flour.
How do you seal the top and bottom crust together?
Before putting the top crust on the pie, wet the bottom crust's edge with water to ensure a tight seal between the top and bottom crusts.
When the two crusts are squeezed together, this will aid in producing a strong seal.
Can the baking powder be used for a meat pie?
The Meat Pie dough
In a large bowl, combine the 1 kilogram of flour with 2 teaspoons of baking powder and 2 pinches of salt. The meat pie dough truly doesn't require a lot of salt.
The filling will give the meat pie much of its flavor. Thoroughly combine these dry ingredients.
How do you know when a meat-pie is done?
As per your recipe's instructions, move the pie to the upper rack of your oven and bake it for an additional 25 minutes or so, or until the crust is golden and the filling is bubbling and steaming
How can you prevent meat pies from going bad? From Spoiling
The refrigerator will hold a freshly baked meat pie for about 3 to 5 days if it is covered with aluminum foil or plastic wrap.
Can beef pie be frozen?
Yes, you can freeze meat pies by either placing them in heavy-duty freezer bags or carefully wrapping them in foil or plastic freezer wrap.
How do you keep the bottom of a meat pie from getting soggy?
Before filling and baking in the oven, sprinkle crushed cornflakes, dry breadcrumbs, or other types of cereal on the bottom crust.
By doing so, the filling won't cause the crust to become mushy.
At what temperature should a pie be baked?
Bake. Set the oven to 425 °F. Place the pie on a baking sheet covered with parchment paper (to catch any drips), and put the pie and baking sheet onto the lowest rack of your oven.
Why does the bottom of my pie crust not cook?
Your filling might have been excessively liquidy. Perhaps as you were baking, you were watching "Oh Brother Where Art Thou?"
Though it will be difficult to solve, there is yet hope. Try placing the fruit pie on the bottom rack of the oven for a few minutes to bring the underbaked bottom closer to the heat source.
What is the golden rule in baking?
The Maillard reaction is what causes this. Even more, this process clarifies why baked goods taste so nice.
The Golden Rule
The Maillard reaction basically refers to the browning process that happens whenever you heat a mixture of proteins, amino acids, and sugars in food molecules.
What is the key to a delicious pie crust?
Initially, use refrigerated ingredients. A pie crust made of butter is robust and crunchy.
To prevent the production of gluten in the flour, it is crucial to keep all ingredients cool.
To prepare the dough, use cold water and butter that has just been removed from the refrigerator.
The Top 8 Best Meat Pies in the World
Aussie Meat Pie
Beef and Guinness Pie (Ireland)
Sfija/Sfeeha (Lebanon)
Shepherd's Pie (Great Britain)
Kreatopita (Greece)
Pork Pie (Great Britain)
Pastilla (Morocco)
Pirog (Russia)
What is meat pie pastry called?
Open-crust pastry (not tops or lids) were known as "traps.
These pies were baked without a pan more like a contemporary casserole and contained various meats and sauce ingredients (the crust itself was the pan, its pastry tough and inedible).
For these crusts to withstand many hours of baking, they were frequently constructed several inches thick.
What is a British meat pie called?
Shepherd's pie, a hot and savory meal resembling a casserole and made with minced lamb or mutton, onions, carrots, Worcestershire sauce, thick gravy, and herbs including marjoram, parsley, and black pepper, is one of the most well-liked comfort foods in the UK
Nigerian meat pie calories ~ how many kcal are in a meat pie?
There are 258 calories in 1 piece of Meat Pie.
Is Nigerian meat pie healthy?
Due to the nutritious value of the ingredients, Nigerian meat pies are healthful.
These meat pies are appetizing to the palate and satisfying to the body thanks to the inclusion of carrot filling, potatoes, beef, and eggs, which are a fantastic source of protein.
Nigerian Meat Pie near me ~ where can I buy the best meat pie in Lagos?
Mama Cass
bile Foods & Lounge Ilupeju
Chicken Republic – Ilupeju
Kobis Foods Oregon
Magrellos Fast Food & Bakery
Biggs
 Price of Meat Pie in Nigeria
The average cost of roadside meat pies is N250, and many customers have complained that the majority of them typically don't have enough meat filling to be worth the price.
However, the meat pies sold in some fast-food restaurants are more expensive, ranging from N450 to N500, with better products offered as they still have more meat filling