Beans Porridge: How to Make Nigerian Ewa Riro/Stewed Beans
Beans Porridge: How to Make Nigerian Ewa Riro (Stewed Beans)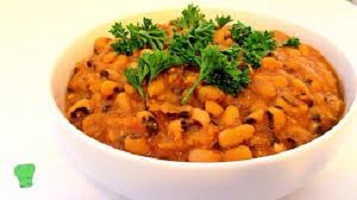 Nigerian Beans Porridge or Jollof beans, also known as stewed beans is a delicious one-pot recipe that is inexpensive, healthful, and simple to prepare.
It is especially useful for vegetarians and people who are trying to lose weight.
Nigerian women believe that beans Jollof is nutritious and would help their children grow taller; therefore, they make it a regular part of their supper menu.
Many folks are put off by this dinner because of the " Bloating, flatulence, and indigestion " that come with it.
Related >>>>
The majority of individuals refuse to consume beans for one reason or another. However, having beans on the family menu is recommended, especially if you have young children.
To be honest, that doesn't change the fact that it offers a slew of advantages, including being a rich source of protein and fiber, as well as aiding bowel movement and digestion.
Cooking beans takes time, depending on how old they are, but using a pressure cooker will drastically reduce the time.
What exactly are beans?
Beans, in general, are members of the legume family of crops.
Beans come in a variety of shapes, sizes, colors, and flavors around the world, but kidney-shaped, black-eyed, and brown beans are the most popular in Nigeria.
Although not all Nigerian beans are brown, brown and white beans are the most favored.
Health Benefits of Beans Porridge
Porridge made with beans is high in:
Plant protein
Iron
Fiber
Vitamin B.
Types of Nigerian beans / what type of beans are Nigerian beans?
White beans (big Kano white-iron beans, little white-Potiskum beans) and brown beans (brown beans-Olotu in Yoruba), light brown beans-Oloyin) are the most frequent in Nigeria (in Yoruba).
The light brown beans, also known as Honey beans (Oloyin), are extremely tasty for Nigerian beans porridge, but be aware of counterfeit packaging.
The seeds of regular brown beans, Olotu, are all the same uniform shade of brown. The seeds of honey beans, Oloyin, on the other hand, are not uniform in color.
What can you include in beans Jollof? What are porridge beans made of?
Beans from Nigeria are usually cooked with a variety of ingredients.
You can add stockfish, mackerel, vegetables, dried fish, fresh fish, shrimps, and plantain to make it your own, but I prefer mine plain with bread or fried plantain.
What to serve with stewed beans?
Nigerian beans porridge hot is best served with Agege bread (a type of Nigerian bread) or any other type of bread.
Aside from bread, fried plantain and boiled yam is a delicious classic combination.
It can also be served with rice, cassava flakes (also known as Garri), or pap (also known as Ogi in Yoruba).
Variations
It comes in a variety of forms, including mixed rice and beans, moi-moi, akara, and bean soup. Cocoyam, yam, sweet or Irish potatoes, and even tomatoes can be used to make bean porridge.
Also, fresh corn can be used to make corn porridge. Cook with the beans, or drain the water from the sweet corn in the tin and add once the beans have been taken off the fire.
You can serve sweet potatoes or plantains separately if you don't want to boil the beans with the yam, potatoes, and plantains.
Calories per serving of Bean Porridge
307 calories of Beans, white, (1 cup)
38 calories of Red Ripe Tomatoes, (1 cup, chopped or sliced)
14 calories of Onions, raw, (1 slice, large (1/4″ thick))
6 calories of Pepper, red, or cayenne, (1 tsp)
2 calories of Rosemary, (1 tbsp)
1 calorie of Basil, (2 tbsp)
Beans Porridge Recipe – How to Make Nigerian Beans fast
Ingredient
The cooking process outlined here will assist in removing the difficulties that come with beans.
3 cigar cups (approx. 750g) brown/black-eyed beans
1 medium-sized onion
Red palm oil (with enough to color or without palm oil)
a pinch of black pepper
a pinch of salt (to taste)
500g Yam/Plantain/Sweet Potatoes/Baby Corn
1 large stock cube (Optional)
Crayfish can be added if desired, however, I prefer not to do so because it gives the beans an over-seasoned flavor.
Preparation
Before you start making the Beans Porridge, make sure you have everything you need.
Firstly, soak the beans for 5 to 8 hours in cool water. Remove the beans from the water after 5 minutes of boiling.
Set aside the beans after washing them in cool water. This soaking and pre-cooking procedure will aid in the reduction of gas-producing ingredients.
Then, dice the onions, grind the crayfish (if using), and season with salt and pepper.
After that, wash, peel, and cut yam/plantain/sweet potatoes into 1inch cubes and keep away if using. Rinse, and set aside if using baby corn.
Directions for Preparation
Firstly, bring 400 mL of water to a boil in a kettle, then add the beans and begin cooking.
Secondly, cook until the beans are soft, adding extra water as needed. Keep the water at the same level as the beans so that the porridge does not become overly watery when the beans are done.
Then, add the onions, crayfish (if using), pepper, and spice when the beans porridge is soft.
After that, cook for another 5 minutes on medium heat with the red palm oil and salt to taste.
Lastly, remove from the heat, stir in the baby corn (if using), set aside for 5 minutes, then turn the porridge with a wooden spoon.
It's time to eat the bean's porridge.
Serve with fried plantain, fried yam, or fried sweet potatoes if you made the beans Jollof without any of the extras.