Nigerian Stewed Beans Recipe at their Finest
Stewed Beans – Best Stewed Nigerian Beans and Fried Plantain combo, Nigerian beans stew with warm Agege Bread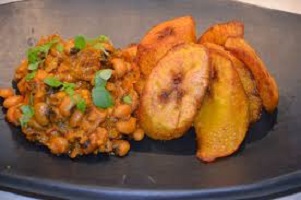 I love beans, and if I had to cook with only one ingredient for the rest of my life, it would almost certainly be beans.
From Moimoi to Akara, rice and beans (simple), rice and beans (coconut), rice and stewed beans (Jollof)
Gbegiri, agoyin beans, and so on, I can't even begin to list the number of great bean recipes I have on this blog.
For me, the texture of a superb bean dish is important; the beans should be incredibly soft but not mushy.
Soaking is my go-to method for accomplishing this. This softens the beans significantly, allowing them to cook more quickly without breaking apart.
There are also other health benefits including potential reduction to the flatulence effect of beans.
How many calories are in a cup of stewed beans?
Nigerian [Yoruba] – Stewed Beans (Ewa Riro)
One cup (171 grams) of cooked pinto beans contains roughly (40): Calories: 245
Stewed Beans Recipe
So here is how to go about making that perfect Nigerian Stewed beans.
Ingredients
3 cups cleaned beans (brown or black-eyed)
1/3 cup palm oil
2 tbsps. coconut oil (optional)
1-2 tbsps. ground pepper
1 tsp. ginger powder
1/3 cup crayfish powder
2 Maggi cubes (optional)
Salt – to taste
Note: You can blend 2 bell peppers, 1 hot pepper, and 1/2 small onion as an alternative.
You can use an instant pot to cook your beans
Direction
Firstly, soak the beans in lots of water and then, leave to soak overnight or for up to 24hrs. Strain.
Secondly, place a large pot on medium-low heat, add in beans. Add in 6-8 cups of water.
Allow simmering for 1 hour or until beans is soft to the touch. Turn off the heat and leave the beans in the water while you make the sauce
After that, place another pan on medium heat, add in palm oil and coconut oil if using. Add in the chopped onion. Fry until the onion is translucent.
Now, add in stew base, ginger, crayfish, Maggi, and salt. Simmer covered for 12-15 minutes
Lastly, strain the beans (but reserve the water).
Cooking Tips
Add strained beans and 2/3 cup of the strained bean water to the sauce for thick "woroworo" Beans. Mix things up a little.
To taste, season with salt and pepper. Cook for another 30 minutes on low-medium heat, covered.
For "mushy" thick beans
Remove a third of the cooked beans from the colander and mash them with a fork until smooth.
Combine both mashed and unmashed beans in the sauce. 1 to 1.5 cups strained beans' water Mix things up a little.
To taste, season with salt and pepper. Cook, covered, for another 30 minutes over low-medium heat.
Serve stewed beans with fried plantain, warm bread, or garri, beans are wonderful.