Oxtail Recipe: What is Oxtail and How to Cook it
Oxtail Recipe: What is Oxtail and How to Cook it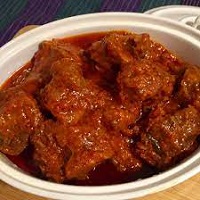 Easy oxtail recipe instant pot, Pressure cooker, slow cooker, Oven. Oxtail Recipes South Africa, Nigeria, Zimbabwe, Filipino.  Jamaican, Asian, African, UK, Portuguese, African, etc.
What is Oxtail?
The oxtail is the beef cattle's tail. The beef is high in gelatin, which gives it a luscious, juicy flavor.
Because the cut of meat is so high in gelatin, it's usually cooked slowly or braised.
The gelatin, in combination with the bones, creates a flavorful stock and broth.
a Must Read >>>>
Ingredients for Oxtail Recipe
Olive oil – Sunflower, safflower, avocado, grape seed, or vegetable oils can be used instead.
Oxtails – Make sure they're fully thawed before starting.
Salt & pepper – Season to taste.
Onion – White or yellow work best.
Green onion – use as much or as little as you like; this is just for decoration.
Fresh garlic and ginger are the best!
Tomato paste – make sure you get the paste, not the sauce or pureed version.
Habanero – Use as much or as little as you like. Depending on your tolerance, you can use different pepper varieties. This stew will be spicy enough with just one small habanero pepper.
Seasonings – Allspice, smoked paprika, thyme, and bay leaves
Soy sauce – Worcestershire sauce can be added if desired.
Beef broth – While other broths will work, the beef broth will provide the most flavor.
Lima beans (also known as butter beans or white/navy beans)
Cornstarch (to thicken the stew)
Oxtail Stew Preparation ~ Oxtail Recipe
Sear the oxtails: In a large braiser or dutch oven, heat the olive oil over medium-high heat. Season the oxtails with salt and pepper before browning them on all sides. It's possible that you'll have to do this in batches. Remove the oxtails from the pan and place them on a plate.
Sauté: Add the onion to the pot and cook for 3-5 minutes, or until translucent and softened. Cook for 1 minute after adding the garlic, ginger, and habanero. Cook for 2-3 minutes, until the tomato paste browns slightly, after adding the allspice, smoked paprika, soy sauce, and tomato paste.
Return the oxtails to the pot to braise. Bring the beef broth, thyme, and bay leaves to a boil in the pot. Reduce the heat to low and cover with a cracked lid. Simmer for 2 hours, then remove the lid and stir in the butter beans, then cover and continue to cook for another 30-45 minutes.
Remove the bay leaves and thyme sprigs before serving. To make a slurry, whisk together 1 tablespoon cornstarch and 1 tablespoon water. Stir the slurry into the pot and cook over medium heat, stirring constantly, until the mixture thickens. Garnish with green onion that has been freshly chopped.
Oxtail Recipe: How to Serve Oxtail Stew
This recipe is traditionally served with "rice and peas," a dish of spiced white rice and kidney beans.
If you're looking for something quick and easy, simply serve it over white rice. Your stew will be bursting with flavor!
You can serve it over potatoes, egg noodles, or just eat it by itself. If you want to add some variety to the table, serve with homemade bread to soak up the delicious stew and a light salad. Try out these recipes:
Oxtail Recipe: What to do with leftovers
Store leftovers in an airtight container in the refrigerator for 3-4 days.
Reheat in the microwave or over the stovetop. Heat the stew in a skillet, saucepan, or pot over medium heat.
If necessary, add more beef broth. Simmer for 5-10 minutes, or until the oxtails are thoroughly warmed.
In an airtight container, your stew will keep for 6-12 months. While it's best to let the stew thaw overnight in the fridge before reheating, you can reheat it in the microwave or on the stovetop right away.
Recipe for Jamaican Oxtails: Oxtail Recipe
A simple Jamaican oxtail recipe with big, bold flavors. It's made with hearty, wholesome ingredients like root vegetables, herbs, scotch bonnet pepper, and spices that are simmered and stewed with oxtails.
It yields perfectly cooked oxtails that are incredibly juicy and tender, falling apart and melting in your mouth.
With a big, bold flavor, one bite will make all the effort put into making this dish worthwhile.
Jamaican Oxtail: What Is It?
Jamaican oxtails are beef cattle tails that have been stewed in their own fat with root vegetables, herbs, scotch bonnet pepper, and spices until the meat is tender and succulent and literally falls off the bone.
Meat is frequently served with rice and peas, as well as plantains.
What Do I Serve With Jamaica Oxtails? Oxtail Recipe
The elevated dish is traditionally served with Jamaican rice and peas with plantains, but it can be served with almost any side dish.
It goes well with rice and beans, spaghetti, and couscous.
Storage of Oxtails
If you don't plan on cooking the oxtail right away, you can keep it in the refrigerator for three to five days or wrap it tightly and freeze it for up to a year.
Oxtails are fatty, so they have a lot of flavors. However, you should trim the fat as much as possible to keep your stew from becoming too greasy.
Habanero pepper is used in Jamaican oxtail stew to increase the heat level. If you don't like spicy foods, you can reduce the amount of habanero. It's best not to leave any of the listed ingredients out of this recipe.
Please do not skip allspice if you choose to skip any!
I like to use chicken bouillon to give the stew a little kick, but if you don't have any, the all-purpose seasoning will suffice.
It's best to make more than you'll need for this recipe because any leftovers can be kept in the fridge for up to three days and freeze well.
Simply freeze in freezer-safe containers with a tight-fitting lid until needed.
Jamaican Oxtail Stew Ingredients
This oxtail recipe can be summarized in two words: soul-satisfying!
Many of my readers and I have made it our undisputed favorite. It is, in fact, one of the most popular recipes on the blog.
If you're still undecided, please read the wonderful reviews below to see what I'm talking about.
You'll need the following ingredients to make this delicious and simple Jamaican Oxtail Stew:
Oxtails – Check out an ethnic market or your local butcher at a specialty meat shop if the star of the show isn't in your local supermarket (ask someone in the meat department). The next best option is beef neck bones or shank.
I also changed up the recipe by seasoning the oxtail meat first with bouillon powder, garlic, green onions, thyme, salt, and pepper before browning it.
Seasonings – Onion, garlic, thyme, curry, beef bouillon, ketchup or tomato paste, Scotch bonnet or habanero pepper, allspice (pimento seeds), Worcestershire sauce, and homemade curry powder all contribute to a flavor explosion. Feel free to tweak these beauties to suit your preferences. For a kid-friendly version, you can even leave out the spicy ones.
Butter Beans – Also known as lima beans, these soft, melt-in-your-mouth legumes are a crowd-pleasing crowd-pleaser. Any large white bean, such as cannellini or Great Northern beans, can be substituted.
Browning Sauce – This is a color enhancer that is completely optional. It's basically browned sugar, so it balances out any tartness from the tomato paste while also adding a beautiful chocolate brown color. If you're trying to avoid sugar, leave it out.
Oxtail Recipe: How to Make Oxtail Stew in Jamaica
Season the oxtail with salt, pepper, minced garlic, thyme, bouillon powder, and green onions and rub them in. Refrigerate for at least 2 hours or overnight, tightly covered.
Remove the oxtail meat from the fridge and shake off any visible onions or herbs before cooking. Place aside.
Brown the meat first. Heat the oil in a large pot over medium heat until it is hot, and then add the oxtail and cook, stirring frequently and scraping any browned bits from the bottom of the pot until the oxtail pieces are browned. Drain the oil, leaving 2-3 tablespoons if desired.
Seasonings – Stir in the onions, garlic, thyme, pimento seeds, or allspice for a minute. Stir in the browned oxtails, and then add the Worcestershire sauce, browning sauce, tomato paste, bouillon powder, curry powder, and green onions.
Pour in Water – Pour in about 4-6 cups of water, starting with 4 cups and adding as needed.
Cook it Low and Slow – Bring to a boil and cook until the oxtails are tender, about 2-3 hours (4-5 hours at high altitude), stirring occasionally to keep it from sticking to the pan.
Add the Beans – Add the broad beans and scotch bonnet pepper about 20-30 minutes before turning off the heat. Water or stock can be used to thin the soup.
Finish by simmering for 2-30 minutes and seasoning to taste.
Recipe Substitutions
More Vegetables Please – Do you want more vegetables in your braised oxtail? Feel at ease!
Some of our readers have added the following:
Carrots
Potatoes
Sweet potatoes
Corn
Mushrooms
Mustard green (added in the last 20 minutes of cooking)
Stewed tomatoes (added with broad beans at the end)
If you want to make Jamaican Chicken Stew without the beef, reduce the cooking time to half an hour, then add the broad beans and cook for another half hour.
Tricks and Tips on Oxtail Recipe
I like guys who have something to bite into and enjoy nibbling on the bones – it's a cultural thing.
However, you can have the butcher cut them into medium pieces, then remove the meat from the bones after the stew has cooled. Save the bones for bone broth and reheat the boneless beef in the pot before serving.
Requesting that the butcher cut them into smaller pieces cuts down on cooking time. Simply choose the ones with the least visible fat.
Oxtail requires low heat and plenty of time to tenderize. Cook them on low heat for three hours, or until they are tender. The meat should almost fall off the bone.
Instructions for Preparation Oxtail Recipe
Stews are fantastic for making ahead of time. Allow the stew to cool before refrigerating it for a day or two. Stew can also be frozen for up to three months.
Serving
Serve this Jamaican oxtail stew over rice or mashed potatoes, steaming hot.
Reheat
If the oxtail stew is frozen, thaw overnight in the refrigerator before reheating on low heat.
Serving Ideas for Jamaican Oxtail Stew
This stew is the ideal complement to the following side dishes.
Rice and Beans from the Caribbean
Grits Recipe
Coconut Rice
Cornmeal Coo Coo
Skillet Cornbread
Jamaican Beef Patty or Meat Pies
Jamaican Pigeon Peas and Rice
Please keep in mind that nutritional data is a rough estimate that varies greatly depending on the products used.
Serving: 200g| Calories: 470kcal (24%)| Carbohydrates: 14g (5%)| Protein: 50g (100%)| Fat: 22g (34%)| Saturated Fat: 9g (56%)| Cholesterol: 166mg (55%)| Sodium: 800mg (35%)| Potassium: 243mg (7%)| Fiber: 4g (17%)| Sugar: 1g (1%)| Vitamin A: 195IU (4%)| Vitamin C: 6.3mg (8%)| Calcium: 57mg (6%)| Iron: 7.8mg (43%)
Recipe for Braised Oxtail in Wine
Since it makes the meaty flavor so good, braising is one of my favorite cooking methods. During the holidays.
On a cold day, nothing beats cuddling up with family and friends over a hearty stew and a glass of wine.
Braised meat, in my opinion, should be served with a glass of red wine, such as cabernet or merlot.
Cakebread Cellars Cabernet Sauvignon is currently my favorite.
It not only enhances the flavor of the braised oxtail, but it also complements the final dish.
Ingredients, Substitutions, and Modifications
Oxtail – Because of how good it tastes when cooked properly, oxtail is one of my favorite cuts of beef. Because of the toughness of the meat, braising is the best way to prepare it. If you don't have oxtail, you can substitute short ribs.
Leeks, onions, carrots, and garlic – These vegetables give the broth sweetness and other delicious flavors. Yellow onions can be used in place of leeks. Daikon and shallots are two other vegetables to consider.
Soy sauce – Gives the braised oxtail an umami flavor. Substitute tamari for soy sauce to make this dish gluten-free.
Rice wine vinegar – The acidity of the vinegar helps to balance the umami and rich flavors. If you don't have rice wine vinegar, white distilled vinegar will suffice.
Bay leaves and thyme – These herbs give the dish more flavor. Sage and rosemary are two other aromatics to consider.
Cakebread Cellars Cabernet Sauvignon – This Cakebread Cellars Cabernet Sauvignon is the ideal wine to pair with this braise.
Blackberry, dark chocolate and sweet oak notes complement the rich flavors of this oxtail stew perfectly. It also goes well with other red meats.
Beef stock – In order to braise the oxtail, it needs to be submerged in liquid, so I used beef stock.
As a substitute, you can use chicken or vegetable stock.
Tomato paste – Tomato paste thickens and enhances the stew's flavor.
Parsley (Italian) – Parsley is used as a garnish to add some freshness to the dish.
Making Oxtail braised in wine recipe
This easy recipe cooks low and slow, so it will take some time to prepare, but it will be well worth it in the end!
Preheat the oven to 275 degrees Fahrenheit (135 degrees C). Season the oxtail with salt and pepper to taste.
1 tablespoon oil, heated over medium-high heat in a dutch oven Sear the oxtails on all sides until brown. Transfer to a plate once seared.
In the same dutch oven, add another tablespoon of oil. Then add the carrots, leeks, onions, and garlic. Add a pinch of salt and pepper to taste.
Cook for 3-5 minutes, or until they turn translucent. Stir together the soy sauce, rice wine vinegar, bay leaves, and thyme.
Cakebread Cellars Cabernet Sauvignon is used to deglaze the pan. Cook until the alcohol has evaporated. By smelling the liquid, you can tell if the alcohol has burned off.
It has burned off if it no longer smells like alcohol. Combine the beef stock and tomato paste in a bowl.
Cook, stirring constantly until the liquid begins to boil. Reduce to low heat. Finally, return the oxtail to the Dutch oven.
Cover and bake for 3 1/2 to 4 hours, or until the oxtails are tender and fall apart easily.
Serve with a glass of red wine and rice or baguette!
Tips for making the best wine braised oxtail recipe
What happens if I don't have a dutch oven on hand? Instead, what should I do?
Make everything in whatever pot you have on hand, and then transfer the dish to a large baking dish when ready to bake. Bake for 3.5–4 hours, covered.
What can I serve with this braised oxtail?
This dish can be served with rice or any other grain. Bread is another good option. Personally, I'd rather have a baguette.
Finally, you can add some cooked pasta to the stew.
Nigeria Oxtail stew (African Oxtail Stew) ~ Oxtail Recipe
A tasty oxtail stew is always a winner. Delicious, with a hint of spice, and versatile in terms of side dishes.
Roasted peppers are the secret to this easy Nigerian-style oxtail stew, and it's delicious. Are you looking for a delicious oxtail stew recipe?
Allow me to demonstrate how simple it is to prepare African oxtail stew at home.
Recipe for Oxtail Stew
You may have noticed from my introduction that this is not Jamaican oxtail stew, but rather African (Nigerian) oxtail stew.
I'll be sharing the Jamaican version soon, so stay tuned and subscribe so you don't miss out.
If you're sick of eating chicken, try oxtail in your Nigerian stews and soups.
What distinguishes this Nigerian/African Oxtail Stew from others?
This recipe was improved by roasting bell peppers, tomatoes, onions, and habanero peppers.
I'd never roasted peppers before making this oxtail stew, but I'll never do it again after trying it.
It's so simple to roast bell peppers, and I love the hands-off effect. Place it in the oven, set the timer, and walk away.
You literally leave (not far, but not far enough to worry about your tomato purée burning on the stovetop due to lack of constant stirring).
Ingredients and instructions for making the best Nigerian oxtail stew
Using roasted peppers in any stew is a game changer. This oxtail stew from Nigeria is a winner every time.
30 minute prep time
Time to cook: 25 minutes
55 minutes total
Course Stew\sCuisine Nigerian\sServings 10 people or more
Calorie count: 486 kcal
Oxtail Ingredients
Oxtails, 1150 g (precooked)
6 large red bell peppers (washed, deseeded, and set aside for roasting) (to be roasted)
2 habanero chilies (to be roasted)
2 cups meat stock (or enough to water down the puréed roasted peppers)
4 medium onions (2 to be roasted and 2 chopped)
1 medium green bell pepper
salt/bouillon powder to taste
3 garlic cloves crushed
112 cup choice of cooking oil (canola vegetable, coconut oil, etc)
Instructions
Preheat the oven to 450°F for roasting the peppers.
Fill a baking sheet with cleaned and cut bell peppers, tomatoes, and onions.
Transfer to one and roast for about 30 minutes • Remove from heat and cool slightly before blending to a smooth paste. This post shows you exactly how I do it.
Preparing the stew
In a saucepan, heat the oil, then add the chopped onions and crushed garlic and cook until the onions are translucent.
Combine the roasted peppers, curry powder, and thyme in a blender. After that, stir fry for about 2 minutes.
Stir in the meat stock thoroughly. Season to taste and make any necessary adjustments.
Reduce the heat to low and bring it to a boil. Add the cooked oxtail when the stew starts to boil.
Simmer for 15 minutes on low heat, stirring occasionally. This allows the oxtail to absorb the stew's flavor. Please do not leave your child alone. It would catch fire.
Toss in the chopped green peppers last, stir, and remove from heat. Allow cooling for a few minutes.
Serve with rice, boiled yam, plantains, or beans, as desired.
FAQs on Oxtail Recipe
Is it possible to cook oxtails in a slow cooker?
You certainly can! Simply follow the directions given in the recipe box.
After that, reduce the water to about 2-3 cups and pour it into the slow cooker.
Slow cook for 5 hours or longer, depending on the size and preference of the oxtail.
How long does it take to cook oxtails?
Braised oxtails are delicious and take a long time to cook — about 2-3 hours (4-5 hours at high altitude).
Slow cooking breaks down the connective tissue, making the meat fall apart tender and delectable.
Is it possible to make oxtail stew in a pressure cooker?
Despite the fact that I haven't tried making this recipe in a pressure cooker, one of our lovely readers took the time to leave instructions on how to make oxtail stew in a pressure cooker.
For the first three steps in the recipe box, start with the "Saute" setting and carefully brown the oxtail pieces on both sides – about 2-3 minutes per side.
Remove the oxtail and cook the onions, green onions, garlic, thyme, allspice, Worcestershire, and smoked paprika for about a minute, stirring constantly.
Add the Scotch bonnet pepper, tomato paste, bouillon, and curry powder, and continue to stir for another minute.
Return the browned oxtails to the pressure cooker, deglaze with water or stock, and pressure cook for 40-45 minutes, depending on oxtail size.
Finally, add the beans and continue to cook for 5-10 minutes, or until the sauce has thickened and the butter beans have warmed.
How long do Oxtails Take to Cook on the Stove? Oxtail Recipe
It takes about 2 to 3 hours to complete, but the results are well worth the wait.
Are Oxtails Healthful?
Yes! Oxtail is beneficial to your health. It's a meat that's high in gelatin, as well as protein and iron.
How Long The Oxtails Should Be Marinated? Oxtail Recipe
I recommend marinating the meat pieces for 6 to 8 hours to achieve those wonderful and mouthwatering flavors (overnight).
If you're in a hurry, the oxtail can be marinated for as little as half an hour, but it tastes best if you leave it in the marinade for as long as possible.
What Is The Taste Of Oxtail? Oxtail Recipe
Oxtail isn't like any other steak cut. Because of its higher fat and gelatin content, elevated beef has such a powerful and rich flavor.
The bones enhance the dish's flavor in the middle of the cut of meat, which is slowly cut off
Where Can I Get A Good Deal On Oxtails?
I prefer to purchase oxtail from a Mexican butcher. African and Caribbean markets are also worth visiting.
It is, however, usually found in other specialty markets or at a local grocery store. Make sure you get a good deal on the cut of meat by shopping around.
Although it used to be very cheap meat before it became popular, the cut is now more expensive.