ORZO ~ Healthy and Tasty? It's Possible
ORZO ~ Healthy and Tasty? It's Possible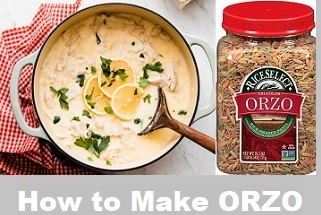 Have you ever wondered how many types of rice there are around the globe? Of course, a lot. Each rice variety has its own characteristics and properties.
Today, we are going to learn how to make orzo, a little bit about its origin, and nutrients. And perhaps, you will be kind of surprised by this information.
Let's get started
Orzo originated in Italy and it is also known as risoni. It is usually confused with a rice variety, but it is actually a type of short-cut pasta, with a shape similar to a large grain of rice. Did you know that?
Orzo is commonly made from flour, specifically from semolina.
What about its nutrients?
As it is a type of pasta, orzo is a great source of energy full of carbohydrates. But it also provides protein, fiber, and iron. So, it is a great choice to combine with other ingredients when the cooking time arrives! It matches meat, vegetables, fish, and anything you want.
How to prepare it?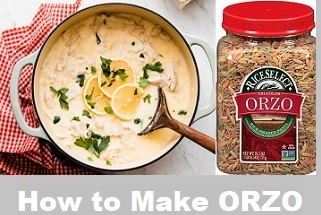 There are several options to prepare orzo, among which we can find in soup, as part of a salad, a pilaf, baked in a casserole, or even alone. It tastes exquisitely with beans and saffron.
Pasta and cheese: the best choice
Who doesn't like pasta? Apart from its practicality and the energy it provides to our body, which obviously is great benefits, we can't deny how delicious it is.
I want you to picture this in your mind: imagine you get home after a tiring workday and you are starving. You go to the kitchen and you find orzo, Parmesan, cream, and garlic. What can go wrong with this combination? Nothing! It is like being in heaven.
Can we skip to the good part?
This garlic Parmesan orzo pasta is a one-pot recipe for tender orzo and cheesy cream sauce that will blow your mind. It is really easy to prepare since it takes just about 20 minutes to be ready and you need to follow just three simple steps. There are no excuses! You will look like a professional chef.
Ingredients
2 cups of chicken broth.
1 cup of orzo.
2 cloves of garlic.
1 cup of cream.
Parmesan cheese.
Parsley
A pinch of salt and pepper.
Recipe
To begin with, take a pan and add the chicken broth, the orzo, the chopped cloves of garlic, salt and pepper. Bring it to a simmer and reduce the heat. Continue simmering while you stir often until all the liquid is absorbed.
After that, add the cream and the fresh Parmesan and mix everything.
Finally, garnish with parsley.
Cook's tips
This exquisite dish will last 4-5 days in the fridge in an airtight container and it can also be frozen. You can store it in the freezer for 2-3 months. Once you are ready to enjoy it, just heat it up in the microwave for a couple of minutes. Enjoy!
This recipe makes a very tasty vegetarian starter and you can add some vegetables to the side. If you are a meat lover, you can also combine it with some chicken breast or beef and enjoy this garlic Parmesan orzo pasta as a side dish.
And always remember to let your mind be creative: you can spice it up a little bit by adding some red pepper flakes, or you can brighten it up with some splash of lemon juice.
I can't think of many other options when looking for a tasty and quick bite that is also healthy and versatile.
So, what are you waiting for? I bet you have most of these ingredients at home. You just need to turn the heat on and in 20 minutes you will be having a flavor party!
You will become an orzo fan and you won't regret it!