Healthy Seafood Recipe to Spice My Life in Lagos, Nigeria
Healthy seafood is any type of aquatic life looked upon as food by humans. Although, not popular in Nigeria, most Nigerians, especially those who live in the coastal area, particularly in south-south Nigeria, enjoy healthy seafood.
Lagos is surrounded by water, making it a haven for some of the freshest fish, Lobsters, crab, cod, tuna, salmon, shrimps, calamari, and prawns. The seafood names list goes far beyond that.
Healthy Seafood is very diverse and has a unique taste and texture qualities compared to meat products. They include:
Fish is among the healthiest seafood on the planet and is high in many important nutrients.
It contains high-quality protein, iodine, and various vitamins and minerals. It's also rich in omega-3 fatty acids and vitamin D.
Crustaceans-Common crustaceans include Shrimp, Lobster, Crabs, and Craw fish. Unique by species, they have firm, smooth, white meat with a mild sweet flavor.
Shellfish – Shellfish include Mussels, Oysters, Clams, and Scallops. They however, have a briny flavor and firm, tender texture with a creamy center.
Squid and Octopus – When cooked properly, they have a luxurious meaty texture with a mild flavor and finally, echinoderms (sea cucumber and sea urchins).
Seafood Benefits
Firstly, seafood is rich in Omega-3 fatty acids, some health professionals suggest that seafood food can help with the following:
Secondly, it guard against diseases like cancer, arthritis, high blood pressure, strokes and heart disease.
Thirdly, it helps to reduce the risk of depression, ADHD, Alzheimer's disease, dementia, diabetes.
Also, it assists in healthy brain function and infant development of vision and nerves during pregnancy.
In addition, it aids the relief of asthma symptoms in children.
Above all, it aids to recover memory problems.
Healthy Seafood in Pregnancy – Side Effects
Mercury is a concern with seafood. Besides, some larger fish, like shark, swordfish and marlin, contain this metal that can cause brain and nerve damage.
Pregnant women and small children should evade these fish, and others should limit their consumption to once per week. Luckily, the fish highest in healthful omega-3 fats are the lowest in mercury.
Healthy Seafood Recipe
If you are looking for a flavorful, easy to prepare a dish with perfect health benefits, seafood is the tastiest way to go.
From okra seafood gumbo to rich chicken and shrimp fried rice, there are about as many seafood recipes as there are fish in the sea!
Seafood Fried Rice
This recipe is a combination of basmati rice, herbs, mixed seafood, and peppers. Try it today!
3 Cups Indian Basmati Rice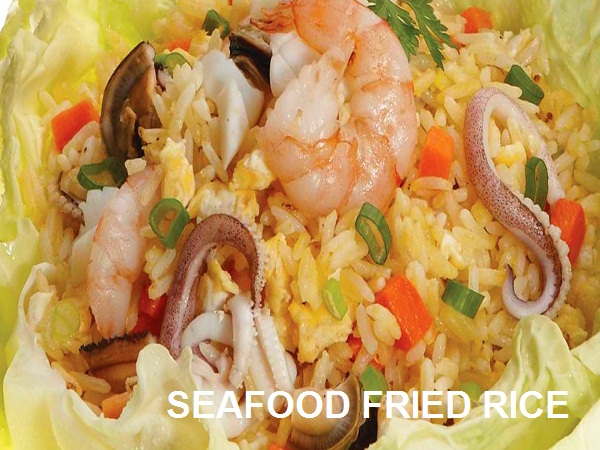 2 Cups Seafood Mix (Calamari, Shrimp, Fish)
1 tbsp. Ground Crayfish
1 tsp. Ground Smoked Crayfish
1 Medium Green Bell Pepper
2 Maggi Crayfish Cubes
1 Medium Red Bell Pepper
1 tbsp. Ginger
1 Medium Yellow Bell Pepper
1 tsp. Garlic
4 tbsp. Olive Oil
1 Medium Onion, Chopped
1 tbsp. Thyme
1 tsp. Salt
Firstly, bring water to a boil in a saucepan. Add rice, Knorr crayfish cubes, salt, thyme, ground crayfish, and salt, then stir.
Secondly, reduce heat, cover and simmer for 20 minutes. Then, set aside and allow the rice to cool.
Thirdly, heat a large skillet or wok for 2 minutes. Then, season calamari, prawn and fish flakes with salt, olive oil. Mix well and cook for 3 minutes before removing out of the pan.
Similarly, add a tbsp. of olive oil to the same pan and when it heats up, add onions, ginger, thyme, green, red and yellow bell peppers, and chopped carrots. Also, add Maggi crayfish cubes and sauté.
Then, add seafood mix, and portion into plates so that the rice can be stir-fried in batches.
After that, add a serving spoonful of the vegetable and seafood mix in the pan, along with 2 or 3 serving spoonful of cooked rice. Then, combine and stir-fry for 3 minutes.
Lastly, taste for seasoning and adjust if necessary.
Seafood Restaurants near Me in Lagos, Nigeria
Seafood Fast Food on Line Delivery in Lagos, Nigeria
Vendors that delivers less than 1 hour
Seafood Markets Near me in Lagos, Nigeria
Makoko Fish Market
Epe Fish Market
Oyingbo Market
Ijora Olopa
Ojah Fish Market